It has been many months since the last dev diary was posted to YouTube and unfortunately a sequel has not been forthcoming. In fact, the only news related to HE has been the recent 1.3 patch which probably came as a surprise to everyone (as it did me) and was fraught with issues on release not unlike the original 1.0. Fans of the mod would be forgiven for thinking that progress has stalled or that the project has been abandoned altogether.
In fact, work towards Version 2 has been steaming ahead at a furious pace and the change log already dwarfs the entire Version 1 log in both length and substance. There have, in fact, been far too many changes to list in this post and possibly too many to advertise effectively. I will instead attempt to review only the most significant changes and hope to continue posting more diaries in the future. In this first installment, I will address the most fundamental and perhaps controversial change: the re-combination of the Breeland and Northern Dunedain factions.
Edain of Eriador

Fans of vanilla TATW will recall that the Breeland and Northern Dunedain factions were originally a single faction called the "Free Peoples of Eriador". It was this faction, which was a merger of the more numerous Middle Men with the more noble and lethal Dunedain, which was able to unite Arnor. In DAC, the Breelanders have no claim to Arnor and the Dunedain, although led by Aragorn, are by design a ranger-type faction for the entire campaign with the culture (user interface, text descriptions, etc.) to show for it. This was a fine design choice for maximizing the number of factions on the map, but it doesn't provide a reasonable backstory for the formation of major military powers like Arnor. Neither the Breelanders nor the Rangers have a logical or canonical basis for becoming military powers in Eriador. It is my opinion that neither of these factions, on their own, could unite the Kingdom of Arnor. But together...
After much deliberation, we have revived the Free Peoples who now go by the name "Edain of Eriador" (EE) reflecting the distantly shared ancestry of the Dunedain and Middle Men (the Atanatári). The new faction is completely unlike any of its predecessors. It is as close to a symbiosis of two races as is possible in the Medieval 2 engine. The base faction religion ("culture" in-game) is Middle Men but the leader and heir are Halbarad and Hirvegil respectively. Generals and diplomats are split between Dunedain (20% chance) and Middle Men (80% chance) with these traits and strategy models being inheritable from one generation to the next. Spies are 100% Dunedain and admirals are 100% Middle Men. Likewise, buildings are split between increasing Dunedain culture (Dunedain Encampment) and Middle Men culture (Town Hall).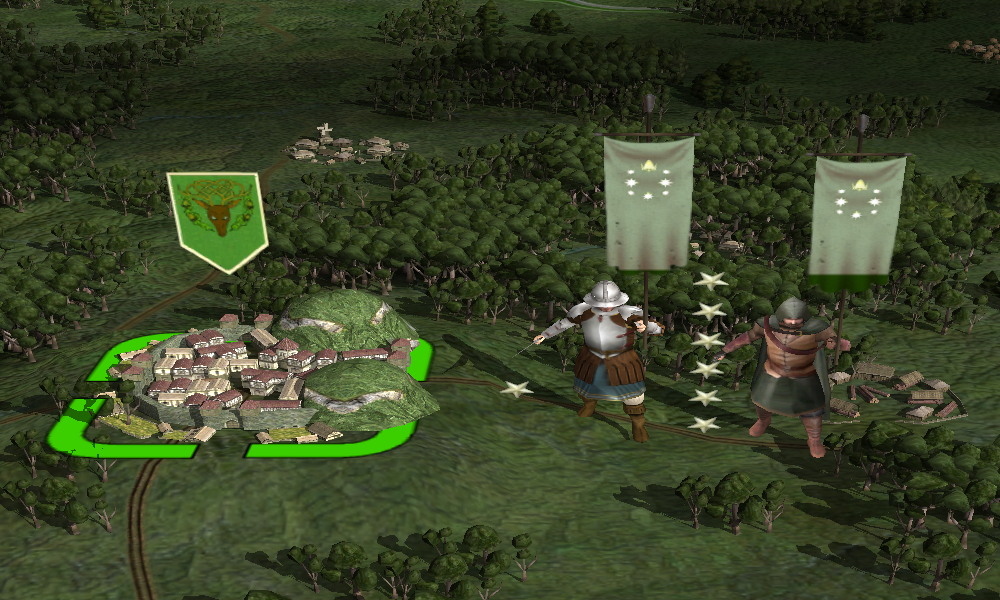 Faction Summary
Focus: trade, militia units
Faction Leader: Halbarad of the North
Faction Heir: Hirvegil
Demographics: 20% Dunedain, 80% Middle Men
Religion/Culture: Middle Men
Can form Arnor: yes
Max Armor Level: 3
Bonus: global trade income, Breeland Embassy building, militia replenishment rate
Malus: weak units, lacks naval units, lacks cavalry units
Starting Disposition
The Edain begin with only the regions of the Breeland (capitol) and the Shire. Halbarad and Hirvegil garrison some forts on the periphery of these lands with a few Dunedain units which can be retrained slowly but not recruited. Bree itself can recruit only the most basic militia units. However, more units can be recruited from economic buildings such as farms, roads, and markets which will quickly diversify the Breeland army. With three of the four Farthing regions now moved to the north and south, Bree truly feels like an island of habitation in the wasteland of Eriador. But make no mistake, there are threats from all directions. Dunland and Enedwaith no longer have a Breeland faction to slow their expansion in Minhiriath. Angmar has been given a floating turn 2 auto-expansion region in Northern Arthedain (on VH difficulty) and Ered Luin has lost their "foothills" region making them more submissive to a highly aggressive Angmar.

Over in the Shire, which is has been condensed into a single region, there is only a single unit of Watch Shirriffs for the defense. No general garrisons the settlement as Bilbo has been converted into a diplomat with a custom strat model. On the near-term agenda is the Shire autonomy script which will prevent the player from building or recruiting in the Shire unless a general is put in the settlement. The autonomous Shire will contribute to the king's purse, send Hobbit units to battle, remain at a high level of settlement order, and possibly even allow process_cq (automatic building queue completion) for other settlements on occasion (depending on how ambitious I am with the script). The Shire is a profitable region which will serve only an economic role and not a military role.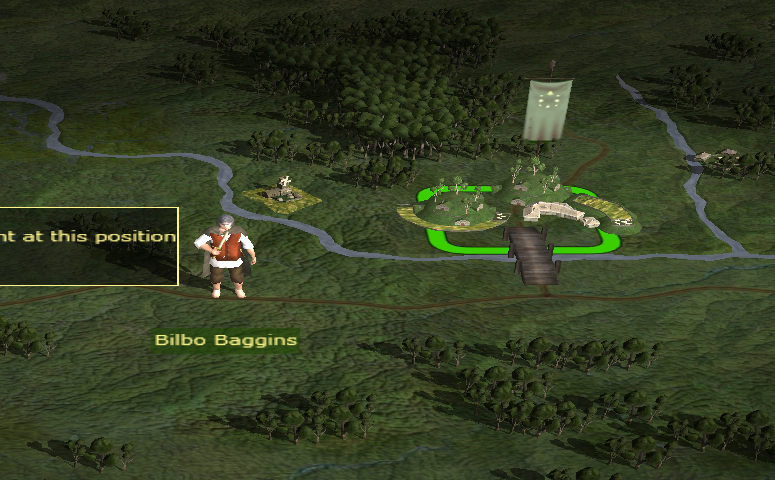 Roster
The faction's roster has been set up to allow the player to survive (perhaps with difficulty) until Arnor is united without having to pick a successor kingdom. In that case, it will play similarly to the Breeland faction in DAC with the Dunedain Rangers and Horsearchers being the only Dunedain units available. The Breeland Council Hall building will unlock heavier Eriador Retainer units and signals to the game that the player does not intend to unite a successor kingdom.
Lumbermen (Lumber Camp)

Woodland Hunters (Hunting Camp)

Farmhand Pikemen (Farms)

Spear Militia (Barracks)

Archer Militia (Barracks)

Gatekeepers (Walls)

Greenway Guards (Roads)

Merchant's Guard (Market)

Merchant Cavalry (Market)

Dunedain Rangers (Dunedain Encampment)

Dunedain Horsearchers (Dunedain Encampment)
Cog (Dock)
Eriador Retainers (Barracks)

Retainer Spearmen (Barracks)

Retainer Archers (Barracks)
All of the Retainer units and the Gatekeepers have been given full level 5 plate upgrades which will only be available when Arnor is united (see below). The Gatekeepers are unique among pike units in that they will switch to their secondary swords in close quarters. However, both their pike and sword attacks have been greatly improved making them deadly with proper micromanagement especially in narrow streets and gateways.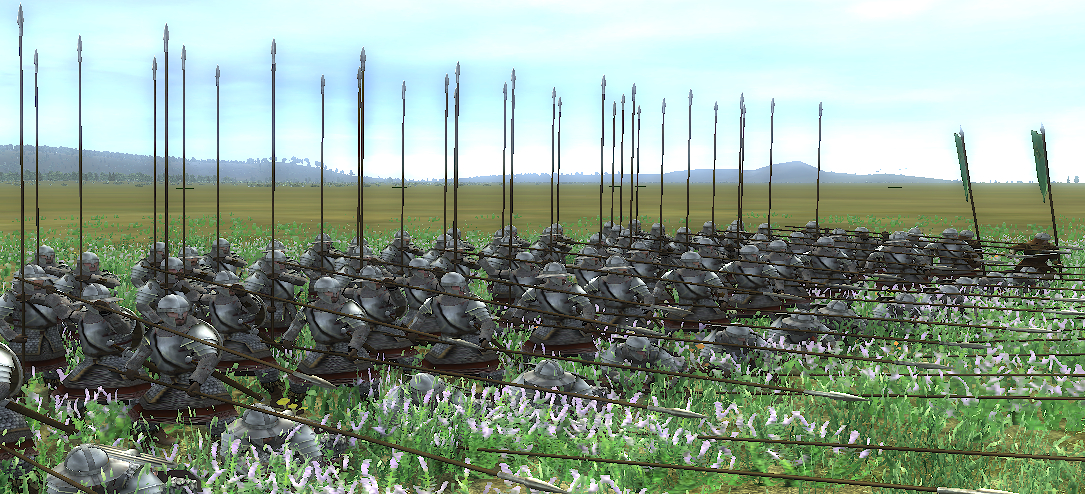 This roster is augmented with the Breeland Embassy building. This building can upgrade into an embassy from one of eight foreign nations with which the Edain of Eriador can have an alliance: Lindon, Ered Luin, Woodland Realm, Dale, Erebor, Rohan, Rhun, and Harad. Each of these allied factions can send 2 mid-to-high-tier units to be recruited at the embassy, however, only one embassy can exist at a time. If the alliance is broken, the building will be destroyed. This building and script replace the "Bree choice" script in DAC.
Successor Kingdoms
I suspect that most players will not want to stick with the Edain of Eriador until Arnor is united. The pathway process for successor kingdoms has been greatly streamlined. The convoluted and restrictive "defend Fornost > scout Carn Dum > meet at Weather Hills" script has been scrapped. Now, simply capturing any two regions of a successor kingdom will give a prompt asking if the player would like to start the pathway for that kingdom. This allows for a much more organic early game.
I will plan on writing individual previews for each successor kingdom, but for now, I will leave you with this crude diagram. Only the Edain of Eriador (no successor) and Arthedain will be able to unite Arnor. Whereas the EE will feel somewhat like the Breeland, Arthedain (especially during the pathway) will feel somewhat like the Northern Dunedain. By contrast, Cardolan and Rhudaur will, hopefully, feel like their own factions. Like all other factions in DAC, their mainline units are not AOR restricted and they have many unique buildings and bonuses which will hopefully guide unique play styles.

Rhudaur and Arnor will change the faction icon. Arthedain may change the icon as well if we do not use the last available faction slot before V2.0 is finished (which is likely). The successor kingdoms will not automatically change the Edain of Eriador faction name but one of the great things about a hotseat campaign is that the faction name can be changed at any time just as easily as renaming a settlement. But that is another discussion that will have to wait.
Next Up: Kingdom of Rhudaur