So... Had some personal issues, and I had to shorten my CS from 8 chapters (maps) to 4 chapters. Have a nice day and let's hope you'll like it.Don't be too serious, BTW. It's my second custom story, first one being Fractured Life (can't find it anymore). Can't do much, because time is so short nowadays I barely have time to work on any CS. But if there would be a lot of time, incredible progress would show.
So much motivation, so little time...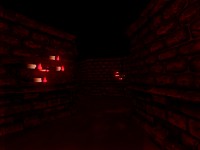 The photo above is a small update on Chapter 4 (how it looks like). Strange, but remember, each nightmare is unique.