Hey everyone! Cole here, to talk to you about one of SotP's next big additions: the Covenant Patrol Station. You may have heard us mention it on occasion as an upcoming feature, but now we are ready to give you a full briefing on the mechanic.

So, what is the Patrol Station? What does it do?
The Patrol Station is our answer to the problem of how to defend Covenant systems - Ever since the release of 0.75.1 we have heard complaints that the Covenant have a real hard time protecting their colonies, and this station is going to be the solution to that issue. The station functions as the Covenant's analogue to the UNSC SMAC, but works on a different premise. Rather than act as a static defense, the Patrol Station will call in what we call Patrol Ships to defend your world.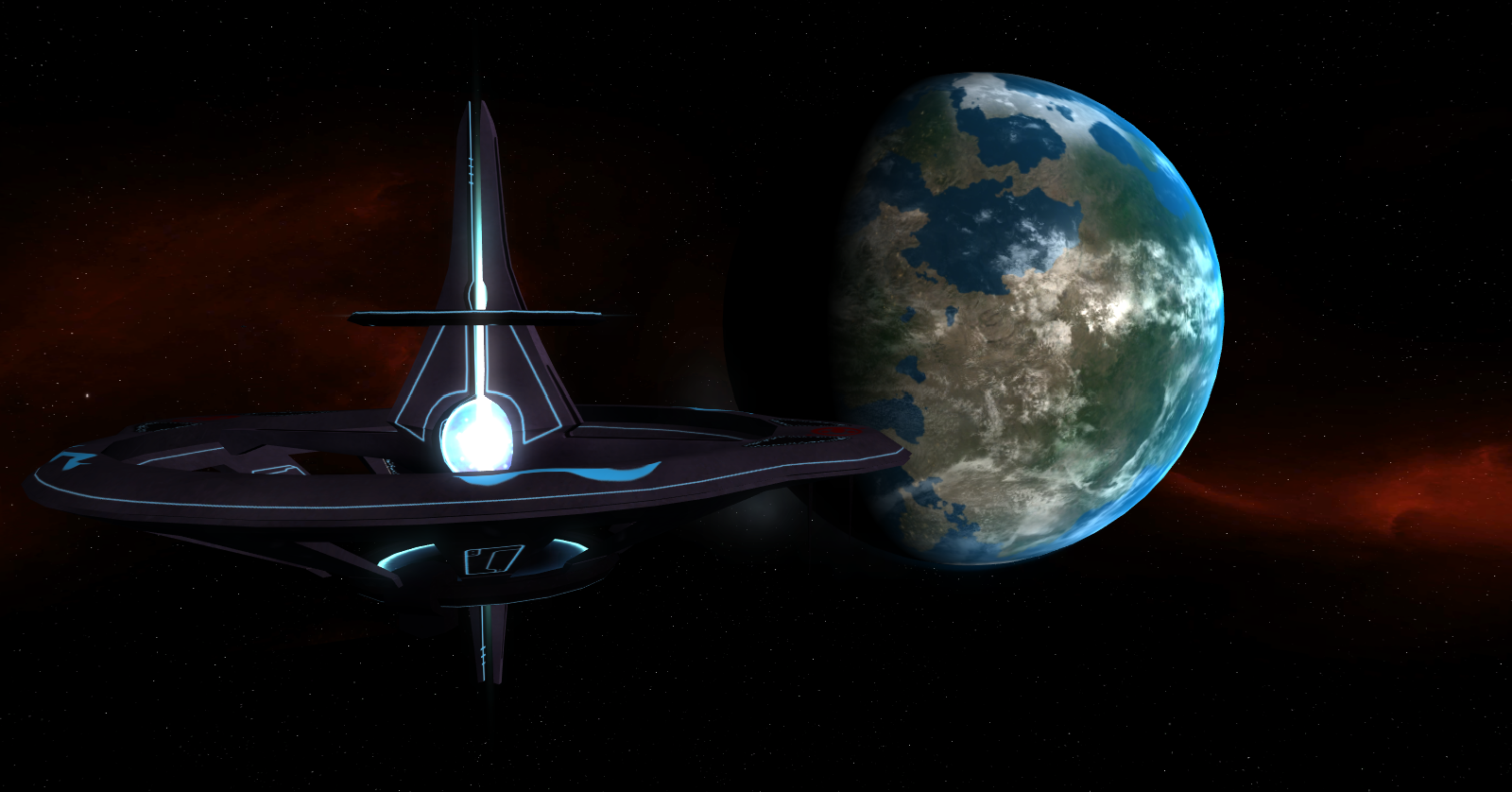 A 'Patrol Ship-class'? Never heard of it.
That's because patrol ships are not one class in particular, but rather multiple ship-classes, picked from the Covenant ship roster (with a unique addition, or two). These ships will function similar to the regular versions you could see built at any frigate factory, the only major difference is they are unable to perform slipspace jumps, and will despawn after a few minutes. This means that Patrol Ships can only stay at, and defend, the world they have spawned at.

What classes of ships make up patrol fleets?
ADP-class - These ships are at the heart of patrol fleets, and are an exclusive to them. Stat wise, these small ships are currently synonymous to the UNSC Paris-class.
Lich - Another patrol fleet exclusive, these small ships are comparable in design to Vanilla SoaSE:R corvette ships.
SDV-class - The starting frigate of the Covenant also makes an appearance in Patrol fleets, and functions like the version you can build.
CAR-class - The Covenant's standard AA frigate will also appear, again it functions exactly like the normal version.
RCS-class - The exact details of this ship are still in the works, but we can say that it will be an important part of the patrol fleet.
Commander CPV-class - Do you see that commander prefix? That is because this CPV is different from the constructible CPV classes, and acts as a lead ship in patrol fleets. It will come with a TBD special function, that will set it apart from the normal CPV, and will make it a very useful ship to patrol fleets.
Commander CCS-class - These are the flagships of patrol fleets, and are synonymous to conventional CCS-class cruisers, with one huge difference: it can call in more ships the longer it is alive. Each Commander CCS-class will be able to spawn another small patrol fleet to support it. Enemy commanders be warned - if you see this ship, eliminate it quickly!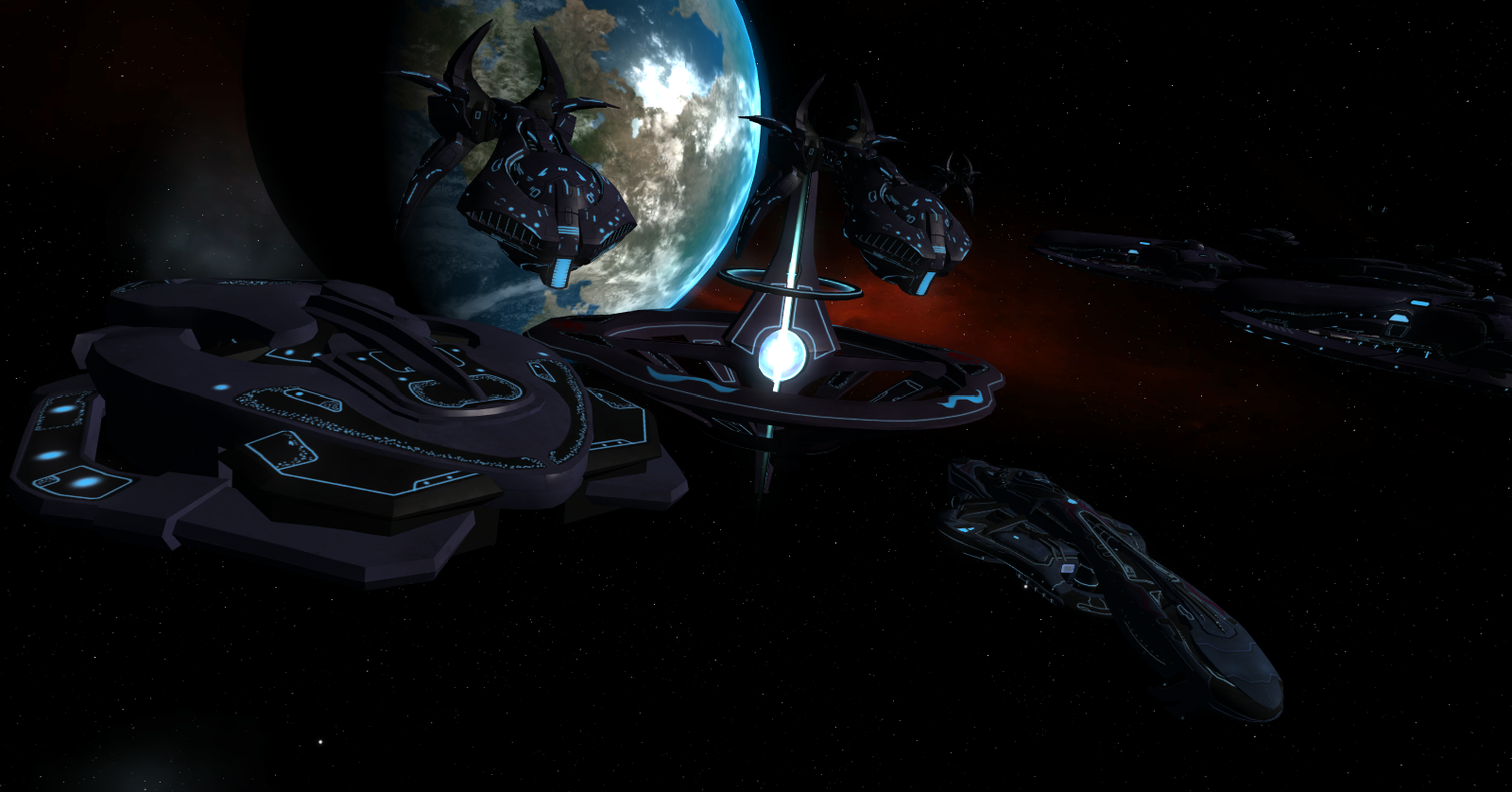 Do I get all of these ships in my patrol fleets from the start of the game?
No, different ships are unlocked for the Patrol Station at different "Tiers", which are represented as different techs in the research tree. The Tier system on the patrol station allows patrol fleets to advance in firepower, and size, as you get further into the game. Four Patrol Fleet Tiers will exist, each one stronger than the last, and granting you a new ship class to add to the fleet. The current tier system works like so:
Tier I - Unlocked with station; has the ability to repel small early game raids. Ships unlocked with this tier:
Lich
ADP-class
SDV-class
Tier II - Unlocked with Tier II tech, which requires CAR and RCS tech; has the ability to combat mid-game incursions, or early game invasions. Ships unlocked with this tier:
CAR-class
RCS-class
Tier III - Unlocked with Tier III tech, which requires CPV, and all prior Tier techs; has the ability to combat mid-game battle groups. Ships unlocked with this tier:
Commander CPV-class
Tier IV - Final Tier, Unlocked with Tier IV tech, which requires CCS tech, and all prior Tier techs; can hold it's own in late game, against all but gigantic fleets. Ships unlocked with this tier:
Commander CCS-class
How many ships are called in per Tier?
This isn't something we are quite ready to discuss yet, as the number will likely bounce around a lot from now to release - but it is safe to say that you will get all the ships you will need.
That's all the details we have for now folks, if you have any questions, comments, or concerns, please ask below!
Unikraken's Note:
There's been a concern raised about the defense fleet's origin and where proper credit is due and I want to try to address that. I proposed the idea of Covenant defense fleets to the team around late April of last year, but it was shot down by the coders because they felt it would have too many issues. A few months later Lord Set, from Dawn of the Reapers and sometimes SotP dev, showed us work he and Psychoak had done on a similar idea. Seeing it working in a mod created a lot of discussion in our group about it's viability. When the Canon Fodder post revealing the ADP-class Escort came out in September of last year, I finally had enough lore clout behind me to press the concept into an official part of the plan. So, while the idea was concepted long ago, Set and his Mass Effect mod had a large hand in proving the concept wasn't too error-ridden to try and I want to ensure he get's a very public thanks for that. The public build of his mod Dawn of the Reapers has a working defense fleet mechanic so encourage you all to go take a peak!
Moddb.com