Hello everyone,
I am back once again to bring you all some more work that I've been working on since last update. First up; the Covenant shipyard. Large enough to fit a CCS class Battlecruiser or even a CAR class Carrier in it, this shipyard is the backbone of Covenant starship productions. In its shell it protects the ship being build from harm.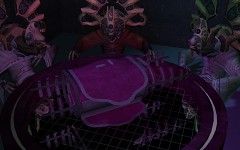 Next up is the CRA class light Cruiser. A very old model that was refitted several times to keep up with the advancing Covenant technology, it is often regarded as the grandfather of the Seraph, which had its design based off this heavily. Though it doesn't have any torpedoes, its heavy lasers will tear ships up with ease.
And yet another Covenant model; the CLS class Frigate. It still needs a texture, but I wanted to show it anyway. As you can see, its design is heavily based on an Elite's helmet. Together with its brother, the CHS class Frigate, this Frigate is used a lot within the Covenant navy.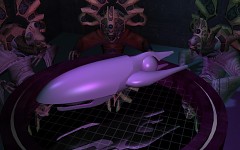 Apart from that Prades1994 has once again been working on a model. Right now he's moving to a new place and he'll send me his model once he's all set. Because of this I decided to wait with the trailer till I've got that model and then I'll release those two together. This way I can fine-tune the trailer a bit more. Trust me, it'll be worth it.
Since I was a little disappointed with the number of comments on the question in my last update, here it is again for those who hadn't replied yet.
What to do with Halo: Fleet Command now that Nexus 2 is planned?
A: Continue this mod for Nexus and focus on finishing it
or
B: Switch this mod to Nexus 2 and for the time focus on finishing all models and start updating all older and uglier models.
Until next time,
Ciao,
Abyssinian