Hey lads, Freno from Halo: First Offensive here, as usual.
This time, the Halo: First Offensive team has sad news... (Well, it's actually not that bad)
Our "Massive update" has been pushed back for a little while. This is due to the fact that we're a tad short-staffed in a certain area as explained later, so I'll have to hope you're content with what I've got to show today...
First up -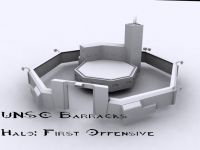 The UNSC Barracks are the first structures a planet needs to begin the requisition of troops. The Barracks produce the infantry of the UNSC forces, including Marines, Heavy Marines, ODST's and much more, which I'm not revealing just yet. :P All the infantry need this to be constructed, so you'd better protect them if you want absolutely any chance of holding back the Covenant tide. Infantry are the core of all armies, and as such, Barracks should be used to their full advantage during the heat of battle.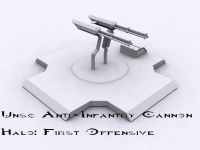 The UNSC Anti-infantry emplacements are the bane of Covenant ground troops. Utilizing the full power of two triple-barreled chain guns (Similar to that of the Warthog, but stabilized and using different loading techniques) the cannons are capable of ripping through enemy infantry at a truly terrifying rate. The 360 degree field of fire is what really makes the AI gun shine, as it will track the most dangerous targets and eliminate them before they can cause havoc. However, the lack of mobility hinders the effectiveness if countered properly with long-range artillery or vehicles, when the cannons are rendered useless by superior armour or range. They will form the core of base defences, and could be the difference between a swamped defeat or a massive victory.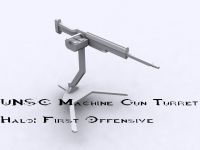 A step down from the Anti-infantry emplacement, the UNSC Machine Gun Turrets are a smaller, but still potent anti-infantry structure. Using a single-barreled drum-fed style of fire, it is also capable of extremely high rates of fire and sustaining them for long periods of time, yet are not quite as tough as their larger counterparts. However, these guns are available much earlier during the game, and are cheap enough to place anywhere you deem to be vulnerable to infantry attacks. The downside of these guns are that friendly infantry have to garrison the gun, and as such are extremely vulnerable when unsupported. A limited field of fire also reduces the effectiveness if placed incorrectly, while range is not as fantastic either. On the plus side, they are relatively effective against light troops when circumstances are right, and will form a major part of your battle line.
As for our 'Massive Update' being pushed back, it was because of lack of staff members who specialise in the Sound or 2D art areas. We can't find a skinner to help skin our beautiful models...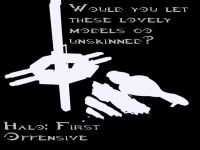 If you can Skin or Texture, please apply now, as we need all the help we can get in this department right now. Our current skinner needs a well-earned break (after modeling most of the above pictures to boot!) and we need someone who specialises in that area. You will be required to have at least a basic knowledge of skinning, but we don't expect you to be proffesional artists. We just need to have someone willing to see the mod through, providing skins or textures throughout the time periods. Of course, you'll be full staff and get all the perks and bonuses...
We also need someone capable of providing sounds and music throughout the modding process, for trailers, in-game music ect. You will, of course, also receive staff access and get the advantages of being mod staff.
Well, sorry to have to push the 'Massive Update' back, but be safe in the knowledge that every second of delay means you're seeing a much higher quality mod...
Adios laddies,
Freno -|- Halo: First Offensive
Forums -
Petroglyphgames.com
Eawnexus.com