In lew of spring break, and since most of the staff(Many Modelers) have gone on vacation there will be no update this week. I am sorry to say this, but you may have to wait untill spring break is over, since I have no new renders to show you. I and those others who's work you never see (Coding/Information/Writers), have been working all day. Although we haven't finsihed much since no Mod Tools have been released, I am sorry to say that we haven't been doing much in the terms of actual seeable work. But, we shall all be working untill this is finished.
I lied, I've got stuff to show you!
First up: The Apoc Frigate, no MAC on this baby(Might change). This is perfect for taking down anything smaller than a Covie Destroyer. Use these in groups and you can hurt anything.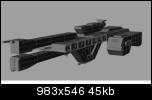 Next: The Iris Cruiser, this is your tactical command Cruiser. With experemental sensors it can see longer and fire further than any other ship.