It's been a while since we released HoM to the public. After quite a bit of well deserved rest, the team has started to discuss the possibility of creating another mod. The engine or the theme has not been decided yet, but you can rest assured that the quality and gameplay of whatever we produce in the future will match or improve upon the quality of our last release.
I have been toying with the idea of also dusting off my copy of Max Payne 2 and adding a few bug fixes and adding a couple of the features I planned to add to HoM before we got worn out of developing for it but I'm not quite sure if there is enough public interest to warrant it, seeing as the MP2 community has grown quiet as of late.
As a means of gauging the interest in another release of HoM and any of our future projects, I've decided to advertize our Gameflood mod profile. If you liked the mod and would like to see some more from us, please click on the link and vote for us!
Also in case you were wondering what features I was talking about up there, here's a screenshot to help illustrate the point.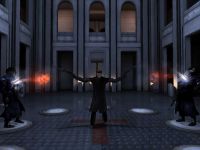 Thank you all for your support!