Hello, here's the latest news on Half-Life: WAR, i'm going to be talking about what's going on with this mod, what's done and what's planned.
#1. What's currently done?
There are a couple of levels done for the mod's demo, they still need some work though, here's some screenshots of the levels:
This is the start of the level after the trainstation (see the oldest pics and the trailer)
Still the same level, but now you are inside a terrorist hideout.
Now it's a different level, a large cavern area that still needs a bit of work, also featuring the new SMG with placeholder textures
Different level, here you have to destroy one of the computers that block the way to another terrorist hideout.
Here's an office area, where almost every object here can be broKen, here's a video of it here:
This is where the mod starts, in the player's house, right now only this room is finished, but later other parts of the house are going to be made. Fun fact: this room is based on my room, well except the half life and terrorist takedown posters.
Also the HGrunt is replaced with a terrorist from Counter-Strike.
#2. What's planned?
New weapons, right now only half life weapons are included, and the new SMG is only a reskin of the mp5, so i'm planning to include:
The Cleaver (melee)
Basically a better version of the default melee weapon (fists), model is done (textures too!)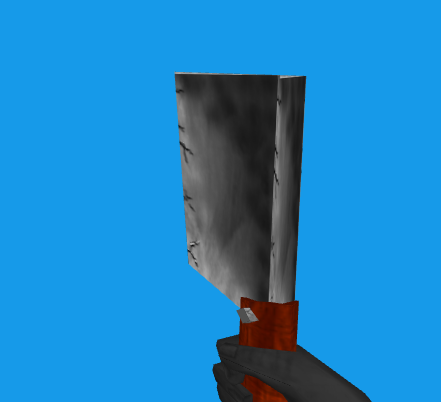 AK47
This is the weapon that the terrorists use, it's going to be a version of the SMG that deals more damage, but has no grenade launcher. (no pics for now)
Friendly Soldiers
Those are going to be fellow soldiers from The Hole, and are going to help you in some fights.
Okay, that's it for now, thanks for reading and i hope you will like my mod! :D you can check out the mod here: Moddb.com