Hello everyone! We have some important details to discuss on the status of the mod, but the main idea is, we are moving extremely fast! Chapter 3_Section 1 is almost done, Chapter 1 has been completed, and Chapter 2_Section 1 has also been finalized! We have some screenshots for you, and details on the third chapter of the mod as well! So, here we go.
First off, I want to say that Chapter 1 is completely finished, and that Chapter 2_Section 1 is also completely done. Chapter 3_Section 1 is also nearing completion! We are now progressing on Chapter 2_Section 2. The reason we have made such extreme progress? Teamwork. My creative director and partner(Jgoodroad is his alias) is a fast mapper, and together we have wrapped up and finished Chptr1_sec1 and chptr2_sec1, along with chptr3_sec1 in about three weeks.
By the way, in case you are wondering of what-the-fuck is Chptr#_Section#, its our system of maps and chapters. The first collection of characters represents the chapter, and the second collection of characters represents the section of the chapter. Each section is one(1) level change.
Not only does he help me get the core maps done, he goes back and touches up on the maps while I work on public relations, music, adding things to the mod to make it more interesting. In fact, I have some screenshots of some things he added/modified in the mod.
As you can see here, he has added more detail to the starting area of Chapter 1.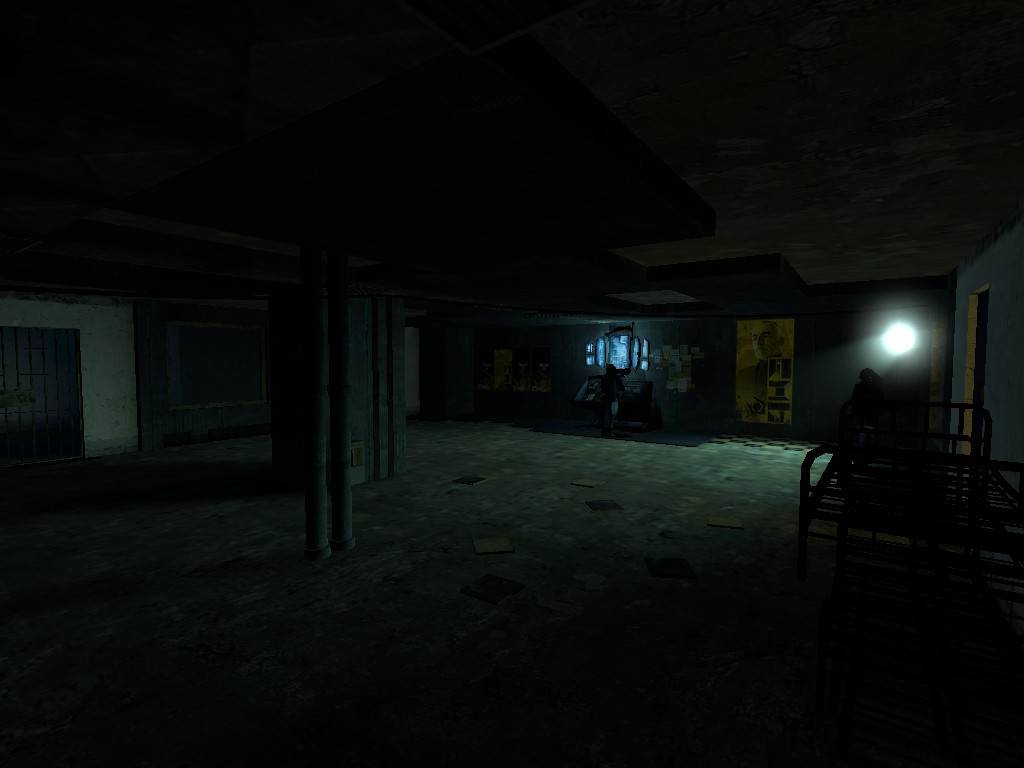 Here in a hallway that follows a storage room, he has changed the lightning, add "dustmotes" and also added some stuffy smoke to make it more "stuffy."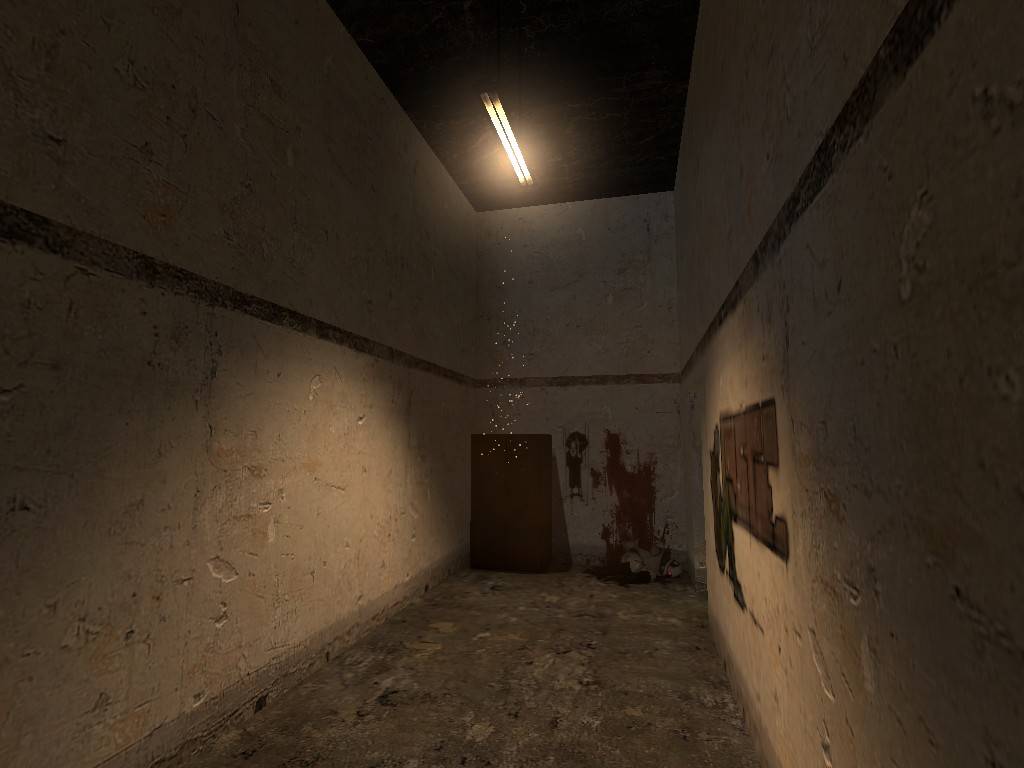 Here, Jgoodroad added more "dustmotes" and soft lightning to the Combine monitor.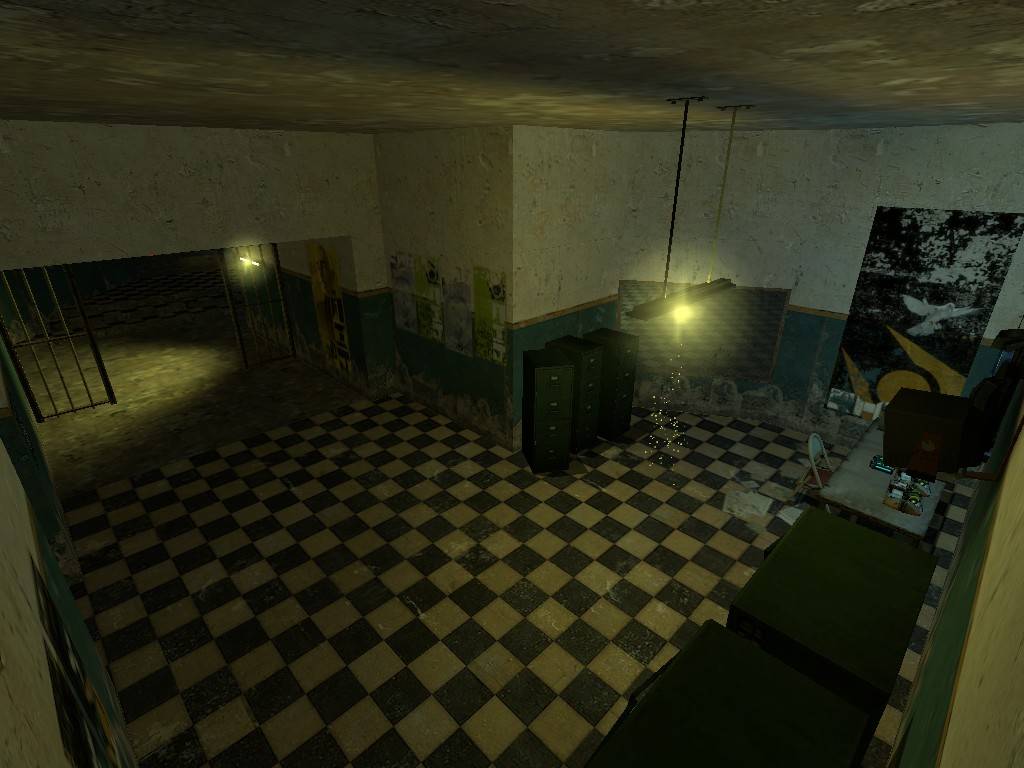 It really helps me learn new tips and tricks when mapping, as I consider Jgoodroad a veteran. He has mapped many things in the mod that give the maps and atmosphere a real charm.
2nd, I have hired a new music designer. In my opinion, he is very talented and his music that I have heard is great. I am already using some of his songs he has made for the mod. With him as a full-time sound designer, I have done a sweep of all of our music, removed inappropriate sounding stuff, and completely made our music unavailable to the public. We have some interesting additions that your just going to have to wait for. To see the complete list of my team, go here.
3rd, I recently mentioned I had new skins and sounds for the weapons in the mod. Some of the images were misleading, or not very detailed. So, I decided to make a video of the weapons. Here you go:
4th, I wanted to talk to you guys about the third chapter of the mod, titled "Onward to City 17." In this chapter, the player will travel through the area known as "The Inland" and try to find a way into City 17. Along the way, he will encounter Rebel allies, zombies, maybe some antlions, Combine hunters and infantry, gunships and dropships, and maybe even a hunter-chopper. Soon enough, we will have screenshots of a completed and final Chapter 3_Section 1, which will depict the first small steps of "The Inland."
Well everyone, that's all the news for this post. Please comment, tell your friends, and continue to support Half-Life 2: Retaliation! You won't be disappointed!
- Adrian "The Joker" Lopez
Half-Life 2: Retaliation Lead Developer