Welcome to the Grimm: Strategy and Survival Guide, General Guide!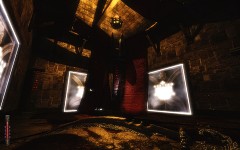 Grimm is what I call a Hack & Slash first person Platform game, you could shorten it to 'HSFPP' but that just sounds daft so I'll call it a platformer. It's gameplay was inspired by games such as Prince of Persia, DarkSiders but also titles like Quake 1 and Doom. It features a mix between platforming (navigating traps and pitfalls) and hectic combat with demons stuck in a place called 'Purgatory'.
There are two main aspects of the game: Platforming and Combat. Both aspects are explained in more detail in the other tutorial sections available here at MODDB.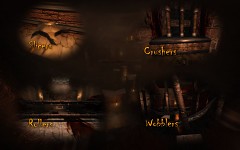 Platforming and routes in the game
Platforming consists of navigating and avoiding traps in the game. There are sometimes different routes that the player can choose to navigate areas and traps. Often one route involves more combat and the other involves more traps to avoid. Always keep an eye out for alternative routes that may help you avoid enemies or traps.
There is often a certain way and order to navigate traps in. Sometimes navigating traps or areas in a certain way can give you a clear advantage in other traps. Sometimes choosing the most difficult route first will nudge the observing Gods into rewarding Grimm with weaponry or items. This is always shown via hints in the form of small notes stuck on the wall, so keep an eye out for those!
Click here for much more information about traps!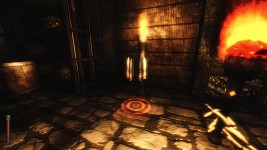 Combat & Weaponry
Combat is always hectic in Grimm. Monsters and enemies will try to swarm and surround you. And they will always try to force you into the direction of a deadly trap by use of sheer numbers.
Luckily Grimm has a lot of options to deal with enemies, based on two sets of equally powerful weapons: Melee weaponry and Long ranged weaponry.
It's smart to experience with weapons and enemies to see which weapon is most effective against enemies. For example, ventril are always easily killed with the Scythe and Firy Scythe, but the Scythe can be nearly useless against flying enemies like Dark Spirits. Or the soft and big bellies of Elite Ventril--with their destructive mines--can easily absorb the effects of the Blood Stone weapon, but the knives and Spikestaff rip through it like it's butter.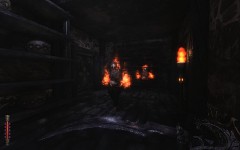 Enemies
Grimm knows many enemies and each enemy must be dealt with in a certain way. Because some enemies react differently to some weapons than others it's a good idea to always conserve ammo. Switch to your Scythe whenever possible so you can take out the more difficult enemies such as Elite Ventril, Dark Spirits and the Daddy Longlegs spiders with your ranged weaponry.
Creepers
Each map has a secret enemy called a Creeper' This enemy always runs away from the player and can take any form or shape. Every time the player kills a Creeper he is rewarded with a powerful new weapon. Usually Creepers show themselves at the beginning of a map so be ready to run after and smite any Creeper you see as the new weaponry will always give you an advantage in the map to follow!
Click here for much more information about enemies and weaponry in Grimm!