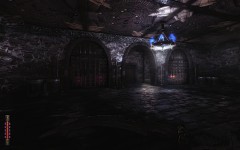 Despite a nasty toothache that's lasted for weeks now I've managed to squeeze in some work on Hub 2, which is progressing nicely. Because of the new system for creating maps things are going much quicker than they went in my previous system for creating maps. Areas are churning out like it's an automated process, the maps nearly create themselves because of all the building blocks I have available.
Where the first three maps still relied heavily on map scripts for trap--and the accompanying elaborate script set-ups--the second hub has no map scripts at all so far. Doubtless they will come for some cinematics, but all the movers, shakers, crushers, traps and gameplay is setup from within the map editor, which makes mapping intricate traps and lock-systems for doors easy using trigger relays and a bunch of custom assets.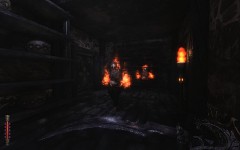 I've uploaded 8 new screenshots of Hub2, the ice hub.
There's still work to be done, there will be more particles to make it more dusty and cold. I'm also trying to work out a really good ice textureshader but haven't had much luck so far in that area.
Hope you enjoy the shots! And leave a message if you can!
I enjoy reading them and it motivates me to keep working on the mod. :)