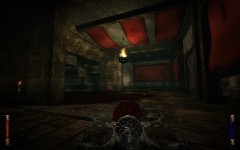 Today for your entertainment is the completely unannounced but very real mutliplatform release of Grimm Quest for the Gatherer's Key. As I lay, stricken once again by some bizarre illness you wouldn't wish upon your worst enemy, a friend of mine called to say he'd created this package for release for the general public. Tested on Mac. As I'm jumping back into bed he even wrote up a small readme so all I had to do was edit it a bit.
Have fun with this release!
Because the gameplay and map side of the mod does not contain any SDK coding at all, it was merely a task of taking out references to SikkMod files in order to create a multi-platform release. The consequence is that players on these platforms must miss some of the visual enhancements. On the other hand, those visual enhancements aren't exactly central to the game or it's gameplay any way (ed. 'and I always told you that shouldn't be a focus anyway').
This build should be compatible with any platform that can run Doom 3 mods. That includes any Linux distro that can run Doom 3, Mac and even consoles like the XBox 360 that can play Doom 3 mods.