Release: Galactic Armory 1.9.2
Less is more
Sometimes, less is more. This became evident after we have been receiving lots and lots of reports from players that their game was either repeatedly crashing during gameplay, or not even load at all.
After weeks of searching for the cause for this severe issue and with the help of the SR Devs we had been able to narrow this down to being a memory issue. However, player reports clearly indicated that they did not, in fact, run out of system memory. The main cause for this was running out of video RAM.
So in order to significantly reduce the load on RAM and VRAM we decided to cut down on texture resolution where we could. Additionally, we removed the two recolor shipsets (terrakin green and neumon blue) from the main release. This was especially necessary with the addition of a new, completely original shipset. As a result, the average memory usage should be several hundred MB less without noticeable decrease in visual quality.
All of the content we removed from the main release - loading screens, shipsets, high-resolution textures - are available as separate, optional download in our Galactic Armory Optional Resource Pack (GA-ORP).
The arrival of a new fleet
One of the main features of this release is the addition of a new original shipset. The models were created by Polarstorm, creator of the Race Evolution mod for Star Ruler. Textures and UV-Mapping were done by XTRMNTR2K.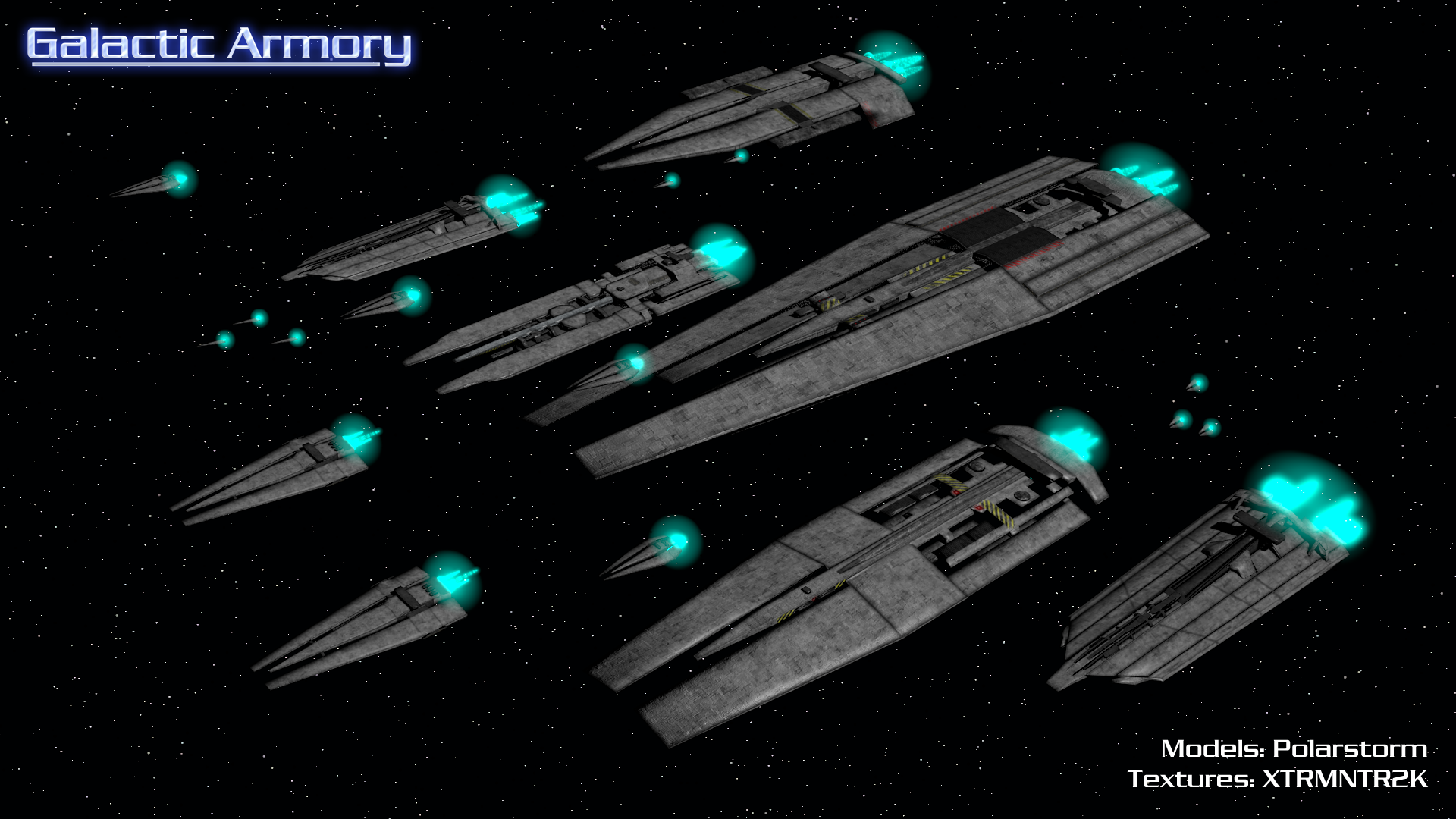 It is important to note that this shipset had originally been created with a texture resolution of 2048x2048 in mind (regular SR textures are 1024x1024). However, the aforementioned memory issues forced us to use 1024x1024 in our main release instead; sadly these don't look as good and crisp as the original textures. If you have a particularly powerful system and lots of VRAM, you can download the Optional Resource Pack and install the high-resolution textures manually. Be warned, however, that these can and will increase memory usage by a huge amount.
tl;dr you can enjoy the high-resolution goodness if you want, but don't come whining about frequent game crashes because you are running out of VRAM.
More bling for your buck
Well, technically you shouldn't be paying any money to get this mod, but we'll get you more bling anyways! We are proud to present a complete redesign of almost all custom (and some vanilla) subsystem art featured in the mod. Here's a preview: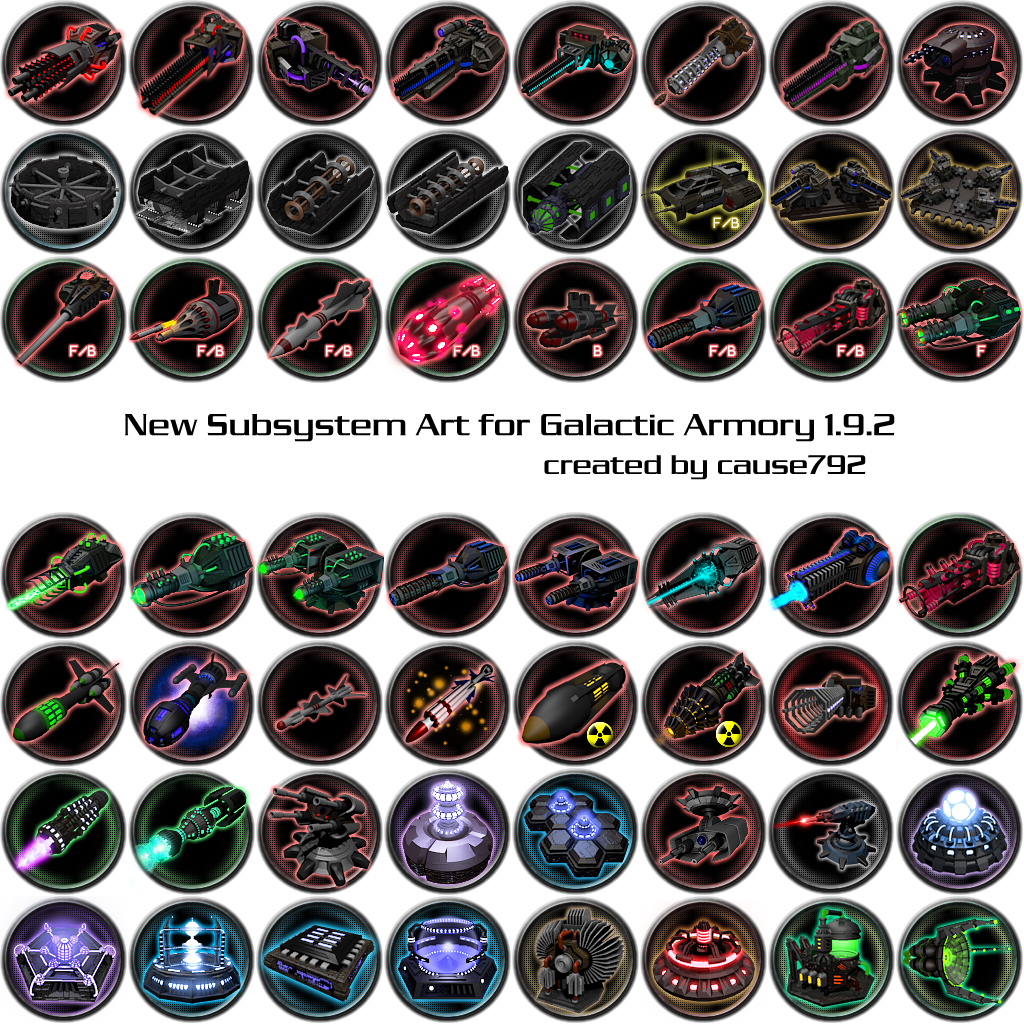 These were created by our talented and hardworking team member cause792, with approximately 1% additional work done by XTRMNTR2K.
Aside from these obvious changes we also enhanced various other graphical aspects of the mod, such as the engine flares. Each shipset in Galactic Armory now features custom animated engine flares, based on graphics provided by Tyrador: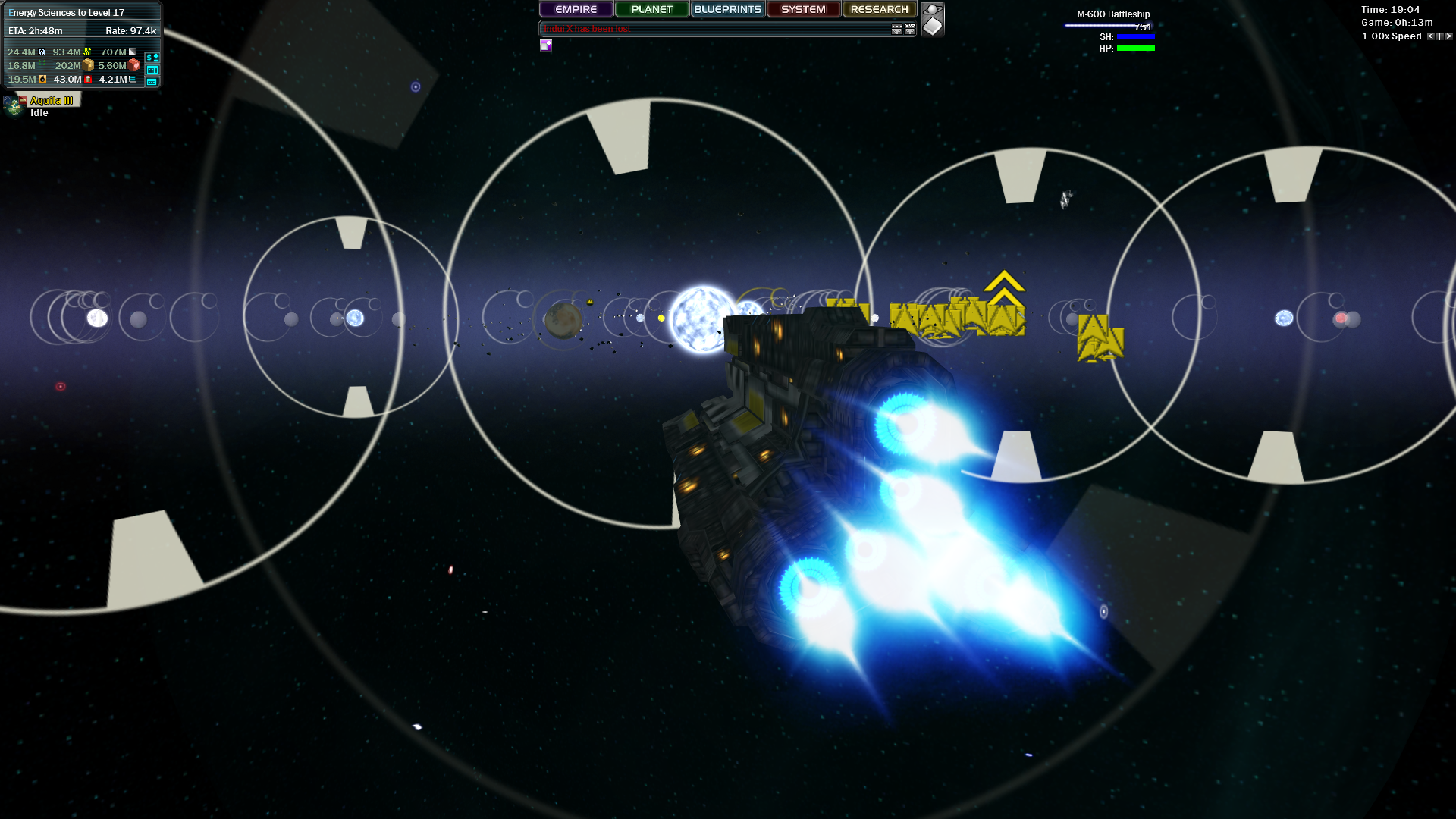 Gameplay changes
Aside from bugfixes, new content, graphical enhancements and minor balance adjustments Galactic Armory 1.9.2 also includes a (hopefully) major change to gameplay. It occured to us that Remnant Jump Bridges weren't really often used by players, mostly because of the fact that they only spawned in otherwise empty systems. This meant their impact on gameplay was negligible.
Not anymore! In order to spice things up somewhat, the spawning method used to place Jump Bridges in the galaxy at game start was altered. Jump Bridges no longer spawn in their own systems, but instead have a chance of appearing in every type of system in the galaxy. This should encourage their use and spawn some interesting tactics...
For more information on Jump Bridges, check out the updated ingame Stellarpedia!
Thank You!
This mod wouldn't have come this far without the help, support and, of course, hard work of a lot of people. Since it would be inevitable that I'd forget to mention at least a few people, I'll keep it general (because YOU know who YOU are!):
A 'thank you!' goes to
the Galactic Armory Core Team for their hard work and generally just being awesome people
everyone who has contributed something to the mod in the past
our loyal fans who continue to inspire with their support, knowledge and ideas
and last but most certainly not least the developers of Star Ruler, Blind Mind Studios - for a great game, their continuous support and for being the coolest game developers around these days.
Final Words, or: The Future of Galactic Armory
After releasing 1.9 and 1.9.1b, we originally intended to focus our efforts towards the development of Galactic Armory 2.0 (gasp!). The need to create yet another release inbetween came up due to the aforementioned memory issues, game content that hadn't been finished by the time 1.9.1b was released as well as some bugs that needed to be fixed.
What does this mean? Well, as long as there are no urgent bugs that we need to adress with a hotfix, this will be the last release of the mod... for a long time.
No, we aren't stopping development of Galactic Armory. Quite on the contrary! Compared to what we have done and achieved so far, our goals for GA 2.0 are quite a bit more ambitious. And ambitious projects need development time. Remember folks, we are doing this in our spare time, without getting paid... Not that we mind. But our main resource isn't money, it's time; and we intent to make the best use of it. So stay tuned for more Galactic Armory news in the coming months!
---
Changelog:
[Added] New Effector Graphics
[Added] Boarding Defense default blueprint for human player
[Added] New Page to Stella pedia explaining jump bridge mechanics and usage.
[Added] Polarstorm shipset
[Added] New and improved planet and lightmap textures
[Added] Separate animated engine flares per shipset (base graphics provided by Tyrador)
[Added] Additional new subsystem art
[Added] Achievement Systems and Spectator Multiplayer Added from 1.2.1.0
[Added] Remnant Bridge Charge 20m Roughly
[Added] Bridge Recharge 10 mins to 0 - Max
[Added] Overlay to Display Bridge Charge
[Added] Function to stop bridges from moving when bumped
[Added] Game Setting to Control Bridge Density
[Added] Change for multiple bridges per system
[Added] Loading Screen Update Progress for Bridge Creation
[Added] Mouse Over to Remnant Jump Bridges to show Link State
[Balance] Changed all types of resource storage subsystems to use the same type of formula to determine storage size
[Balance] Reduced Hauler and Tanker hull storage values by 50%
[Changed] Balance Start will ensure no Jump Bridges in starting system
[Changed] Remnant Jump Bridges Now Spawn In System
[Changed] Remnant Jump Bridges Can Link to Any Jump Bridge (Still need to be owned to link)
[Changed] Remnant Jump Bridges Owned By Space On Spawn
[Changed] Space Damage will not hurt Jump Bridges
[Changed] Bridge Spawn Method for random system, no distance tracking.
[Changed] Bridge Tool use will not be offered if a ship that is too big is selected
[Changed] Bridge Activation to Cost Charge with mass as the value
[Changed] Reduced resolution of many texture files to decrease memory usage. Obsolete high-resolution planet textures have been moved to the Galactic Armory Optional Resources Pack (GA-ORP).
[Changed] Replaced various subsystem graphics
[Changed] Replaced various effect graphics
[Changed] Significantly reduced resolution of various ship mark and glowmap textures to further reduce RAM usage
[Changed] Renamed Mass Driver (Light) to Mass Driver
[Changed] Renamed Mass Driver to Large Mass Driver and changed category from Ballistic to Special Weapon
[Changed] Updated Context menu to 1.2.1.0 features
[Fixed] Solar Power
[Fixed] AI Personality Name + Description
[Fixed] Point Defence Null Pointer
[Fixed] Planet Structure Space
[Fixed] Jump Drive Fuel Check
[Fixed] AI personality description
[Fixed] Heliocide Hull tech requirement (Spatial Dynamics) was one level higher than indicated
[Removed] neumon_blue and terrakin_green shipsets to reduce memory usage. These have been added to the Galactic Armory Optional Resources Pack (GA-ORP).
[Removed] Loading screens to further reduce memory usage. These have been added to the GA-ORP.
---