Hi,
First of all thank you very much for coming. Today we will be teaching you how to switch version back to older version.
As of now, almost all servers are still running v0117, its natural that you will crashed when joining a v0117 server because you have v0118 installed. so to switch back to v0117 we have to follow the steps below.
First of all, go to Full Invasion 2 directory.
Mine is :
C:\Mount&Blade Warband\Modules\Full Invasion2
go inside Full Invasion 2 Folder, you will see a folder name "backup for v0.117 to switch version"
Open that, then you should see alot of text files, copy everything from there.
Then paste it inside Full Invasion 2 folder.
if you done right. a message will pops up asking you if you want to overwrite existing files.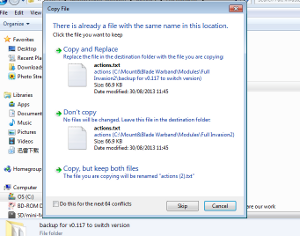 Press yes to all, then its done! Now when you want to switch back to v0118. Go to v0118 Backup folder and do the same.
As for Night Time patch and Day Time Patch/ Ugly Tree Patch, go inside those folder and copy the file inside it and do the same as above! Night time will massively boost performance in game
I hope you understand, if you don't please leave a comment. Thanks for coming and have a good day!