I n FUEL there is a set of in-game debugging menu's that allows you to tweak most aspects of the game in ways you see fit. This particular tutorial will be focusing on the Force Time of Day, and Weather Editing aspects of these menus. It will allow you, for instance, be able to customize the weather and time of day of free roam to what ever you want. More advanced users can then store these values in a Free Roam Extreme scenario if they wish, but I will not be discussing how to do that in this tutorial.
Enabling Debug Menu's
First step is to gain access to the debugging menu's, I will be assuming you are running FUEL: REFUELED and you know the basics of working with Windows (how to manage shortcuts etc.). I will also show you how to do this on both retail and steam versions of the game. But first you need to enable "Optional Mod - Debug Mode" via the JSGME mod manager, this mod is included in all of the recent FUEL: REFUELED releases. This activates one of the in-game debug menu's.
The retail game is fairly easy to achieve, you must first navigate to your FUEL directory wherever it is installed. You must then locate the file "SecuLauncher.exe" and create a shortcut to it. Go to the properties of the shortcut and add "-W" (minus qoutes) to the target field. This enables window mode.
If you use Steam (like me), then its takes a little renaming of files. Firstly go to your X:\Steam\SteamApps\common\fuel\ directory. Second you must rename the file "GameSetup.exe" to something else, e.g. GameSetupBAK.exe. Then rename "SecuLauncher.exe" as "GameSetup.exe". This opens up the ability to use launch commands via Steam.
Now Open steam, go to library, and open the FUEL game properties. You should see a Launch Command button, click it and set the launch command as "-W" (minus quotes). Now when you launch FUEL via steam it will open in Windowed mode, giving access to a second debugging menu.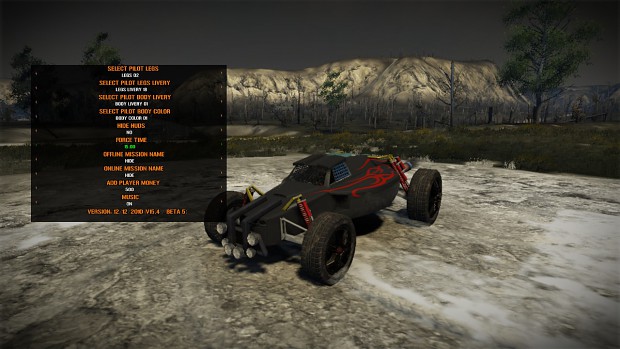 Force Time of Day
This is pretty easy to do, firstly enter the game in free roam (or a race). Next press RB on your 360 Controller or T on your keyboard to bring up a left hand menu as shown in the image above.
The controls are as simple, use either the left thumbstick on your 360 pad or the arrow keys on your keyboard. Navigate to the FORCE TIME option, then navigate left or right to change the value you wish. In FUEL: REFUELED you can customise this value to an accuracy of 15 Minutes, e.g. 6:00, 6:15, 6:30, 6:45 etc. You can disable the forced time at any time by putting the values back to default or simply by restarting the game.
Be careful of other options in this menu, as there are options such as UNLOCK ALL which could have a negative effect your game experience. If you wish to unlock all items then you should use options provided via the mod manager during the FUEL: REFUELED installation.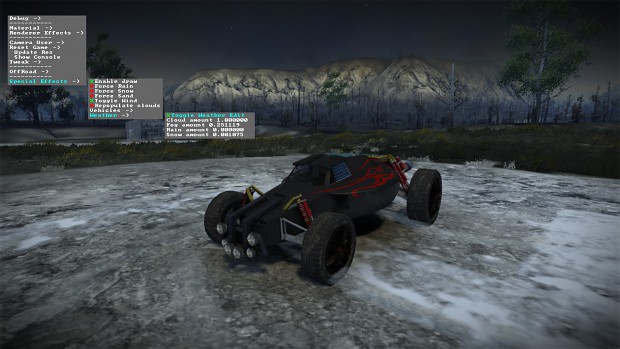 Weather Edit
Next is the weather edit settings. This can be accessed by pressing F1 on the keyboard. Use the number-pad arrow keys to navigate as shown in the screenshot above (e.g. 8 = up, 2 = down, 4 = left and 6 = right).
To select an item you navigate right on that item (number pad 6 / right). Enable the "Toggle Weather Edit" item, so a green X is shown next to it. Upon enabling this you will find it hard to see as by default Fog and Clouds values are at a 100% level.
To change the weather values navigate right on an item to select it (it will turn red), then navigate up or down to increase or decrease the value. Values can range from 1.000000 to 0.000000, where 1.000000 = 100%. Decrease the Fog and cloud values and you should find it easier to actually see, then you can just go ahead and set the values to whatever you want.
These settings can be disabled at any time by disabling the "Toggle Weather Edit" button (so it's a red cross) or you can just restart the game.
Well I hope this short tutorial has helped, if you have any questions feel free to leave them in the comments section and I will do my best to answer them.