Hey watchers,
not much happened lately in development, except for maybe SoUlFaThEr from Kreedz(lead dev) joining our team, kicking all our other mapper's arses by pumping out 3 maps in a short amount of time.
Behold some of the screenshots:
fo_sacred: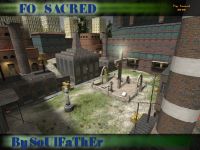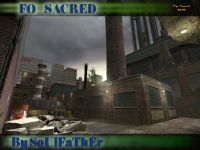 The last one fo_sacred was the first one and has been playtested for several hours already and is really a GREAT map, recently there haven't been playtests so though the rest of the maps weren't tested yet.
SoUlFaThEr also helped improve some details in Alt's map fo_outpost so that's also better then before :)
---
Recruitment:
---
Like said before, SoUlFaThEr(Kreedz Climbing) has joined the team as a level designer, what hasn't been said is that Dj Dogidog left the group, since he doesn't have time to do sounds anymore, he does still allow us to use the sounds that he did make, replacing him is Ghost who is a developer for the mod Ivan's Secrets.
So hopefully he'll bring some quality sounds and maybe some music to FragOut :)
Also Mastix is Lead beta tester, meaning he can boss around the testers, take care of organizing on top of the other things he does, some testers have left or might become kicked depending on their activity so beta testing is gonna become a tad more serious.
---
Development:
---
Development has been both slow and fast:
most of us haven't done a terrible lot lately, been doing other stuff, with coding I haven't spend alot of time but when I did I was trying to freeze the animations whenever a player is hit by our new timefreeze grenade(read more about it further ahead). Since this didn't really work out well, I'm just gonna leave it for now and continue with the rest of the mod so I can get some things done.
However, SoUlFaThEr has really been working SO hard, it's amazing since he pumped out 3 great looking maps and the 1 tested played really well, so a huge thanks to SoUlFaThEr for his hard work.
Also Alt' has taken on Draken's map fo_complex, since Draken wasn't really getting anywhere with it.
So hopefully you'll be seeing some new screenshots of complex soon.
My internship has started meaning I will also have less time to work on the mod but the time freeze grenade will probably be the last grenade to be in the first release meaning gamemodes and weapons are all pretty much done aside from some tweaking meaning there isn't a huge lot of things to do anymore.
---
Time freeze grenade:
---
Also gonna be known as the Stopwatch grenade, as it suggest the model will likely be a stopwatch, the grenade works both as a cookable grenade(think skull) and a contact grenade(think melon) meaning you can make the grenade detonate midair, but once the grenade touches the ground it will always detonate, meaning you can't bounce but still hit people midair alot easier.
As time freeze suggests, the grenade will freeze players in time for a short while, the biggest difference with a cold type of freeze is that players can be stuck in the air while frozen, leading sometimes to hilarious temporary "statues"
---
Well, that was all for now, keep watching! :)