Firstly, the boys over at GameSurge Radio (#gamesurgeradio, guess which network) will be interviewing our own Kelly 'Dospac' Dickinson this coming Wednesday (October 5th) at 7PM PST (10PM EST, 2AM GMT). Head on over to their IRC channel and quite possibly ask some questions of Kellypac while he's on the air!
That Rebo fella's been doin' him some good work, we reckon. Goin' off'a the slew of concepts that dr_nick came up with usin' some of 'dat 'dar "cre-ate-tiv-ah-tea" stuff, Rebo molded some polygons and watched some Die Hard:
Despite what decs might write in his dev. journals, he's a hard workin' lil' viking, as evidenced by his skins of Fooley_Cooley's GL/PL and Innes' hands:
... and because the trepids are damn fine guys, they obliged with a few Hunted 'shots, two of a previously unseen alley-way and one of the updated (but still unfinished) front yard: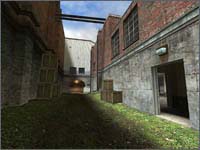 As always, there's mucho más in the media section, including the evolution of dr_nick's soldier concept, a pretty nifty piece.
Home page: Fortress-forever.com