Best example for a secet weapon in ww2 is the Maus tank.
Despite it's rare appearance (only 2 were build, none entered combat) it's pretty famous.
And with 188t the heaviest tank build ever. Perfect fits in FH-Secret Weapon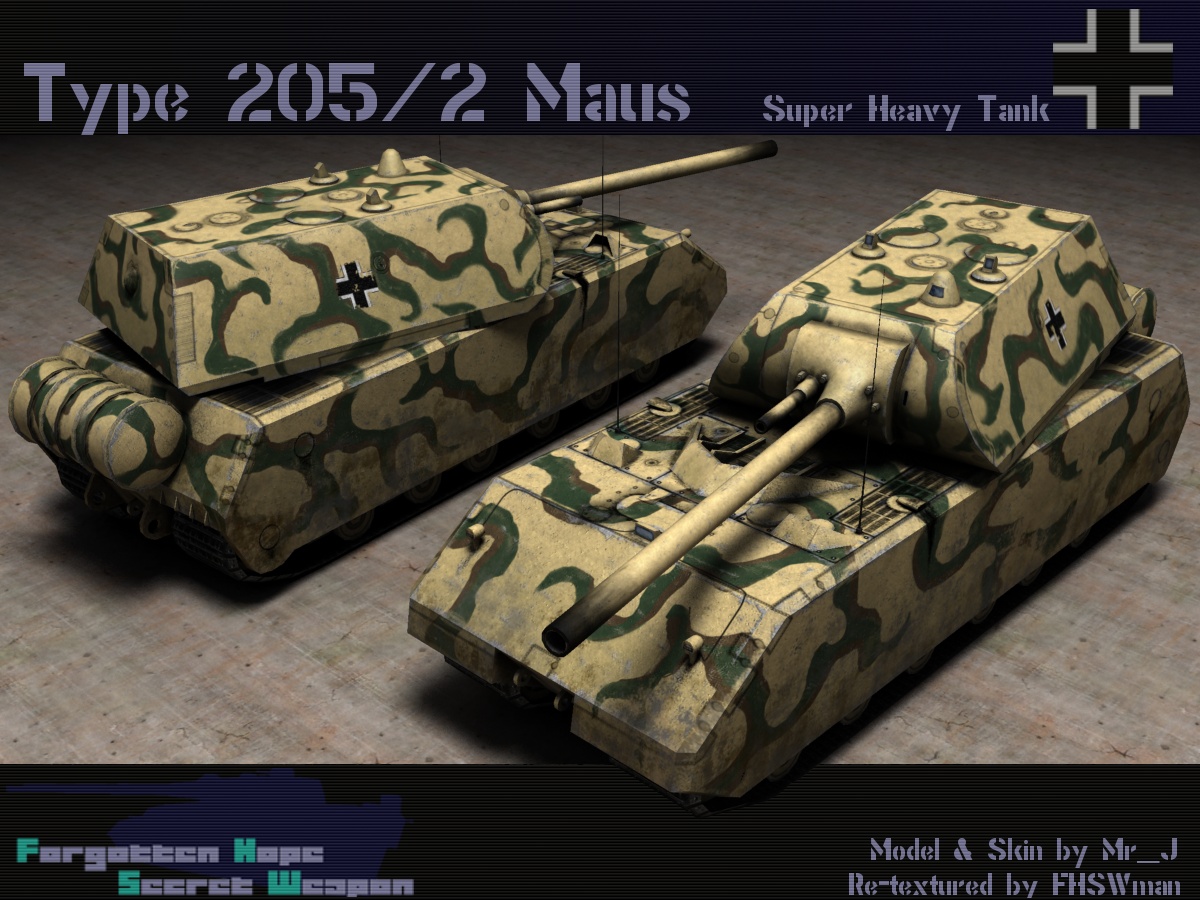 arnament: 1x 128mm KwK44 L/50 (same gun in the Jagdtiger)
1x 75mm KwK44 L/36.5
1x 7.92mm MG34
1x close defense (heat launcher)
3x pistol port (for Mp40)
armor: 200mm front, 180mm sides and rear, 100mm (60mm on turret) top
ingame tactics: + prenetration of the hull with artillery less than 100mm is impossible
+ anti-tank weapons for infantry are useless against the hull
+ infantry can not climb on tank, cause of the high profile
- weakpoint under the front hull (at-infantry can hide and attack here)
- the towers top is weakpoint, perfect target for planes
- it is so slow that attacks are rather senseless (it's a rolling bunker)
historical info: Porsche became order on 21.March 1942 to design a 100t-tank.
While the armor got even stronger and heavier during development, motorisation
remained a big problem. Results were a maximum speed of 20 km/h on streets and
13 km/h on terrain, as well as a consumption rate of 2525 liter per 100 kilometer.
Despite being named as Pzkpfw. VIII, it never got over the prototype phase.
The original name was VK7001/ Porsche Type 205. 160 Maus were planned,
Type 205/1 without turret and 205/2 with turret were build,
5 more were under construction. Type 205/2 was blown up in the testfield,
before soviet troops found it. The red army put the tower of 205/2 on the
mantlet of 205/1 and tested it in kubinka 1945/46. It's exposed in the museum.
In conclusion the Maus was a wrong way in tank development. Much like the american T-28.
Super-heavy tanks are useless in modern mobile war. To slow for attacks, retreats and an easy target for planes.