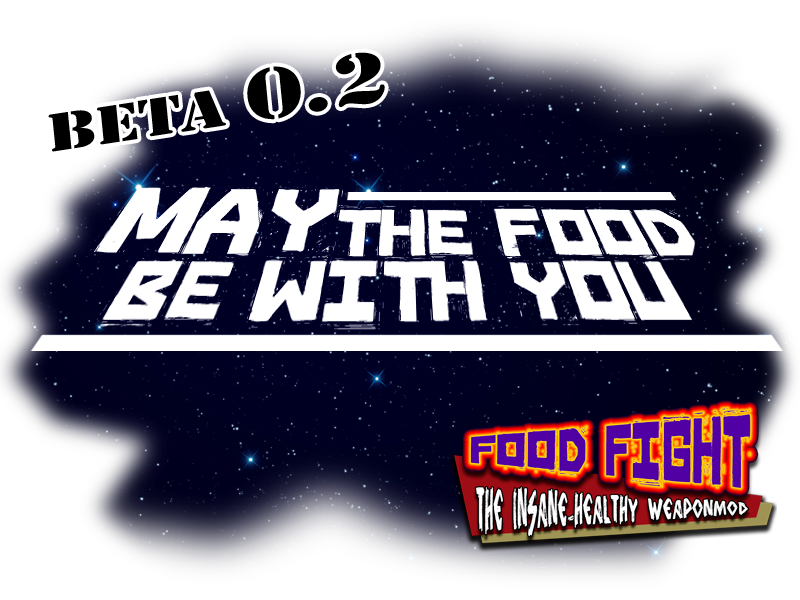 The Food Fight public server has just been updated with the new Beta and is open for everyone. The team has been working daily on this mod and we are really proud of the improvements. There have been various changes across most all the weapons to make them even more fun and visually enjoyable. There is a new weapon for you called the Salad Thrower (pretty self explanatory ) that fires a glob of goods with primary fire and a triple glob with alt-fire. It even has a small, not so obvious ability you may find when playing that could come in handy in the right situation. Never fear though, if you are being blasted by the thrower just whip out your handy electric frying pan and let it block the salad from hitting you.
In fact here's a quick rundown of the weapons and their current effects/abilities:
Frying pan- knocks the hell out of someone in regular and alt. Alt is slower but will knock a player for a loop, bonus points if you clang them into lava While holding it, it will attempt to block incoming projectiles that come from in front of you. Very handy defensive weapon.
CanOpener- No real changes needed. This one was good. If you can find the halapeno ammo then consider that your enemies will soon get indigestion.
H&K Rifle- No scope but the headshots are deadly and it's very accurate even at longer range. Alt-fire is a melee stab with the fork of death...don't get close if you see your enemy holding this or it won't turn out well.
Toastanator- Primary is single fire toast, alt is four toast at once. The flying toasts have much better effects and behavior. This weapon is badass but beware the reloads. Best used as fire-and-duck-behind.
PapriCannon- Some new effects on the explosion and you can fully control the detonation of any projectiles you have shot (just hit alt-fire to blow them up). I love this weapon, it was such a good idea and it translates well into the game. Very fun to use.
PeanutGun- Primary fire lays down a blanket of peanuts-o-death though accuracy at medium range begins to suffer. Alt-fire shoots only three at a time but it is very accurate. Perhaps TOO accurate.
SaladThrower- Our newest addition. Primary fire shoots a blanket of salad parts: tomatoes, cucumbers, greens. Alt fire blasts a triple load but really chews through the ammo. Watch the reload time on this one, it's a little long but the weapon is simply deadly at short to medium range. If you aren't holding the frying pan consider yourself 'salad-ized'.
I hope this little primer helps out. Still to come is the saucier which fires a stream of hot sauce (someone better make some antacids!) and the carroteer, which will be unlike any weapon I've seen. The carrots can kill but are more effective at building things. Interested? More will be coming this summer!
JackGriffin
---