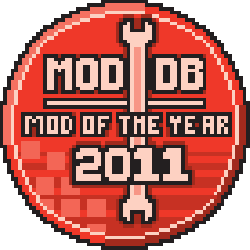 We'd just like to take the opportunity with this timely article to thank all who voted for us in the current Mod of the Year Awards event, it really means a lot to us to be in the Top 100 mods list once again this year, especially as the team is now so small and hard at work bringing new content to you. It has been a difficult year but we're persevering on, and inching ever closer to Hoth, so keep your eyes peeled for new articles on that very subject later this week.
Thanks once again for the support, it is most appreciated, and we look forward to letting you loose on the ice plains of Hoth soon.
Until then get on our servers and let's get some highly populated games of First Strike going, and of course don't forget to register for the NIC Campaign currently being played. Get in on that competitive play action, you'll love it.
Speaking of which, back to business...

The swirling blue soup of hyperspace gave way to a million needles of bright white light, which in turn became the inky blackness of space, and he was at his destination. His tiny starfighter streaked in at incredible speed towards a dull brown orb. Blurs of motion in his peripheral vision notified him that his wingmen had also arrived, the sleek, flat red and white arrowhead shapes of the Rebel A-wing fighters dropped into formation either side of him as he checked his readings. There it was. Locking on he led his wing of starfighters as they peeled off towards their target, a shining space station floating in orbit around the planet Parmel. Then his ship's computer engaged a high pitched alarm notifying the pilot that the enemy installation was launching fighters. His tactical computer locked on and identified each ship class as it exited the space station's vast hangers. TIE Fighters and TIE Interceptors. The station was well defended, it looks like they'll have a good fight on their hands this day. But wait, a new signal comes across his screen. A TIE class configuration, but the likes of which he'd never seen before, a three wing array? But before he can really give it any more thought a storm of laser fire erupts before them bathing the cold vacuum of space with piercing hot light. The questions would have to wait. Now was a time for action.
ROUND 1: ENDOR CLEARING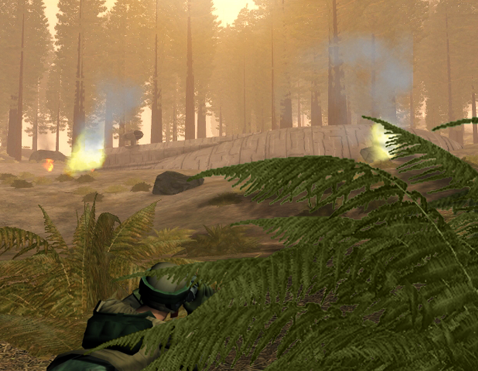 Tracking a crash landed Galofree transport that had gone down in the woods of the forest moon of Endor, a Rebel search and rescue team have encountered a scout force of Imperial troops intent on salvaging the vessel's transponder to aid them in their escape from the world. Realising the threat the Rebel troops swiftly engaged the Imperial forces in a fierce battle to gain control of wreck. The Imperial forces arrived on the scene first, but their initial probing force was eliminated by the advancing Rebel commandos. Once secure they set up an effective defensive perimeter well serviced by sensors and Mk.II heavy repeating blasters, and dug in. By not seeking to advance further, and knowing that the Imperial forces would have to come to them if they wanted to secure the prize, they were able to whittle their numbers down as they left the surrounding tree line from their advantageous position until all the enemy were eliminated.
ROUND 2: ENDOR STRIKE TEAM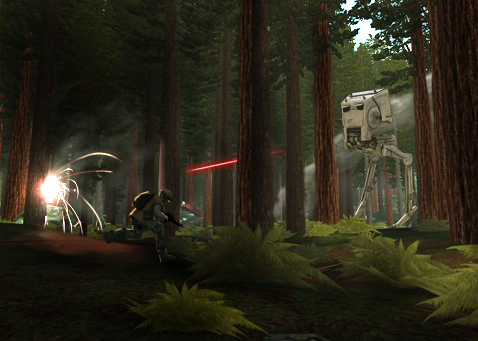 Encountering a crack commando unit of Rebel troops infiltrating their territory on the forest moon of Endor, Imperial commanders made the wise move to pull back from initial contact with the enemy with minimal resistance in order to consolidate their forces in more readily defendable positions. The first of which was an Ewok tree village near their compound. The village was essentially hostile territory, but the local indigenous sentient life forms were considered too primitive to be a threat, but in conjunction with the advancing Rebel commandos proved to be a more formidable foe than expected forcing the Imperial forces to withdraw to their southern most outpost. This proved to be more of a successful location to defend with high walls, defensive turbolaser towers and AT-ST Walkers to hand. The Rebels made many insertions into the compound but were repelled time and time again by the strong defensive measures of the crack Imperial Stormtroopers garrisoned there. Eventually with their mechanised support destroyed, the Imperials were overwhelmed at this location and they were forced to retreat again, but the cost of capturing the outpost had been high on the Rebel strike unit, and once they engaged the enemy once more in the forest trails leading to the bunker entrance, the Imperial counter attack was too much for them and the Rebel strike team was lost.
ROUND 3: STRIKE AT PARMEL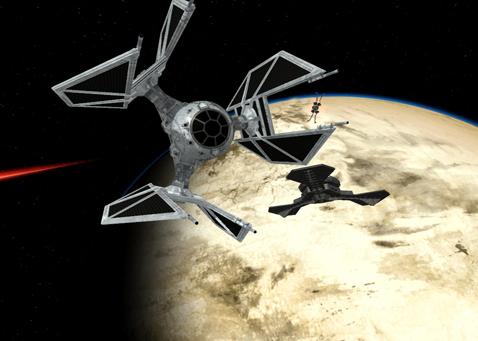 Acting on information provided by Rebel Intelligence, a strike force of Alliance starfighters had entered the Parmel system with orders to destroy all enemy resistance at the Imperial installation located there, and to capture it and any research relating to a new advanced Imperial starfighter. Little did they know that so many prototypes would already be operational. The battle over the Imperial research station was intense with some of the best spacecraft both factions had to offer engaging in head to head combat. What would win that day? The heavy firepower and shields of the Rebel starfighters? Or the faster and more manoeuvrable Imperial TIE Fighters? This time it was the Rebel's hardier vessels and hotshot pilots that won the day and managed to secure the Imperial installation, but the cost was heavy with many a good Rebel pilot falling to the superior weapons of the Empire's new TIE Defender.
Three weeks in and the Empire have managed to still hold onto the lead that they took so convincingly from the Rebels last week, but with a stronger showing this week the Rebellion shows that it is down but not out, with a number of victories that see them quickly clawing away at the Empire's lead, with the scores now standing at 41 for the Empire, and 34 for the Rebellion. So it is still very much all to play for. We hope to see more players in the coming weeks, so if you haven't joined up already get involved and sign up here:
Until next time,
May the Force be with you.