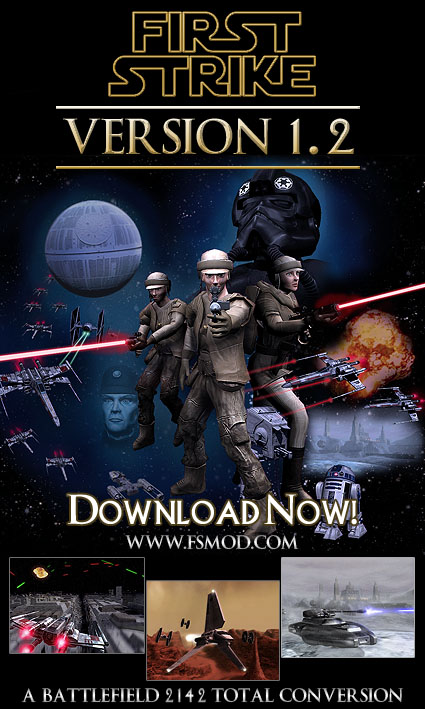 This is it, the moment you've all been waiting for: First Strike v1.2 has finally arrived! The Version 1.2 patch is now available for download and general public consumption.
Featuring new maps, vehicles, weapons, and an array of bugfixes and gameplay tweaks, First Strike v1.2 blends infantry, vehicular, and even space combat for a truly amazing Star Wars experience. This patch has been in the making since the release of First Strike 1.1 in September of 2007, and we here on the dev team are extremely happy to bring to you all of the new toys to play with and experiences to have in v1.2 We can't wait to see all of you out on the servers with us.
Major Changes/Additions in First Strike v1.2 Include...
-7 new maps
-7 new vehicles
-Persistent stat tracking
-Over 12 high priority bug fixes
-A wide array of visual improvements
-Several new musical scores
-Many other miscellaneous tweaks
For the official list of changes for the First Strike v1.2 patch, click here.
Now what are you waiting for? Go download the patch from one of the mirrors below and join the fight!
More Mirrors will be added as they come online.
Client [1GB]:
MD5: 64FB68408D0082D99546D5A2E407F20F
ModDB
WolfServers.com and Shattered Planet (East Coast)
WolfServers.com and Shattered Planet (Central)
WolfServers.com and Shattered Planet (West Coast)
FileFront
Client Torrents:
GameUpdates
TorrentReactor
Server [72.3MB]:
MD5: F2A863E5246C797E68465CF262F9F5F0
ModDB
WolfServers.com and Shattered Planet (West Coast)
WolfServers.com and Shattered Planet (Central)
WolfServers.com and Shattered Planet (East Coast)
FileFront