Greetings Troopers!
Welcome to the release of First Strike version 1.55. So what do you get with this edition of First Strike? Well for one thing you don't get the hassle of any new files to install, that will all be taken care of by our custom Launcher which when prompted will automatically update your current version of First Strike to the new 1.55 build, so you should have a smooth transition to 1.55 if you already have an up to date version of First Strike.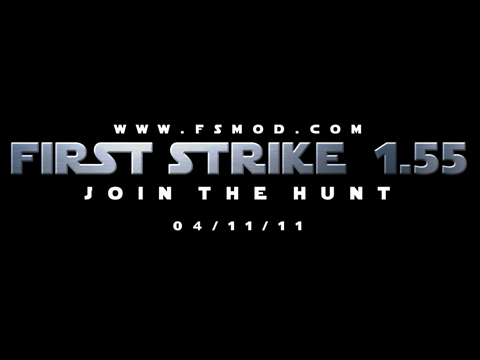 So what exactly is new with First Strike 1.55 you might ask? Well the major selling point is a vastly increased co-op and singleplayer section to the mod which now gives you bot support for a good portion of the vehicles available within the mod which have allowed us to provide you with a singleplayer/co-op experience which more fully reflects what you'll find playing the mod in multiplayer. We have also advanced leaps and bounds in the sophistication of the bot AI in general too, with bots now able to utilise ammo boxes, bacta canisters and various other team assist items, most notably the defibrillator and fusion cutter, which really changes the landscape of the battlefield when facing the bots, additionally the bots now have the capability to utilise grenades and other explosives making them more deadly than ever. Basically these improvements just provide an overall more well rounded experience when playing co-op or singleplayer with maps that better reflect the mod as a whole.
Another bonus of these new co-op maps is an additional feature we've added, which are bonus multiplayer maps based on the smaller layouts used by some of our co-op maps, which should give you new and unfamiliar experiences on some of our classic maps, I think you'll be pleasantly surprised by these.
In addition to this, myriad tweaks have been made to the general gameplay and graphics of the mod, solving many balance issues, and bugs which have been an issue in the past which should improve the entire First Strike mod experience.
Last, but not least we have the return of an old favourite, the Bounty Hunter pick up kit. This is only available in the co-op and singleplayer version of the Mos Espa map, but I'm sure you'll have fun hunting down the location of this highly sought after asset which will allow you to rain down death from above.
We hope you enjoy these improvements, and look forward to seeing you all on the servers soon.
First Strike v1.55 Changelog:
Weapons:
- Further enhanced AI tweaks for turbolasers
- Further enhanced AI tweaks for anti-starfighter turrets
- Proton Torpedo yield and range setting adjusted for a more intuitive effect and better gameplay balance
- 1.4 FD P-Tower laser cannon blast yield increased to improve effectiveness against vehicles
Vehicles:
- Further enhanced AI tweaks for all starfighters
- AI support added to various land vehicles including AT-PT, Armoured Rebel Freerunner, Firehawke & T1-B
- Further tweaks to Firehawke and T1-B for better balance
- Auto-turrets added to Imperial Convoy Raid Freighters
Singleplayer Map Support added to:
- Imperial Convoy Raid
- Null Sensor Station
- Rhen Var: Ice Plains
- Rhen Var: Research Facility
- Strike at Parmel
Co-op Map Support added to:
- Imperial Convoy Raid
- Null Sensor Station
- Rhen Var: Ice Plains
- Rhen Var: Research Facility
- Strike at Parmel
- Tatooine: Mos Espa
Improved Singleplayer & Co-op Map Support for:
- Battle of Yavin
- Encounter at Mos Entha
- Endor Clearing
- Endor Strike Team
- Tatooine: Bestine
- Tatooine: Mos Espa
Co-op Map Variants available as Multiplayer Maps:
- Null Sensor Station
- Rhen Var: Research Facility
- Tatooine: Bestine
Visual:
- Portable Shield Generator effects, and impact effects enhanced
- Enhanced star fighter and capital ship explosion effects
- Imperial Outpost Building texture tweak
Gameplay:
- Bounty Hunter kits added to Co-op and Singleplayer Mos Espa maps
- AI enhanced for more complete bot functionality, bots now able to utilise grenades, explosives and team assist items such as ammo boxes, bacta canisters, fusion cutters and the Defibrillator
- Balance issues addressed on Lok Wastelands map
- Freighter hitpoints increased on Imperial Convoy Raid to improve balance
- ISD Heavy Turbolaser effectiveness improved on Escape from Hoth
- Null Sensor Station complex optimised
- Tank weak spots added
Various bug fixes:
- Including special effects graphic issues present since BF2142 v.1.55 release
- Snowtrooper skirt black patch bug fixed
- Python tweaks added to reduce server crashes and solve Battle of Yavin end of round bug