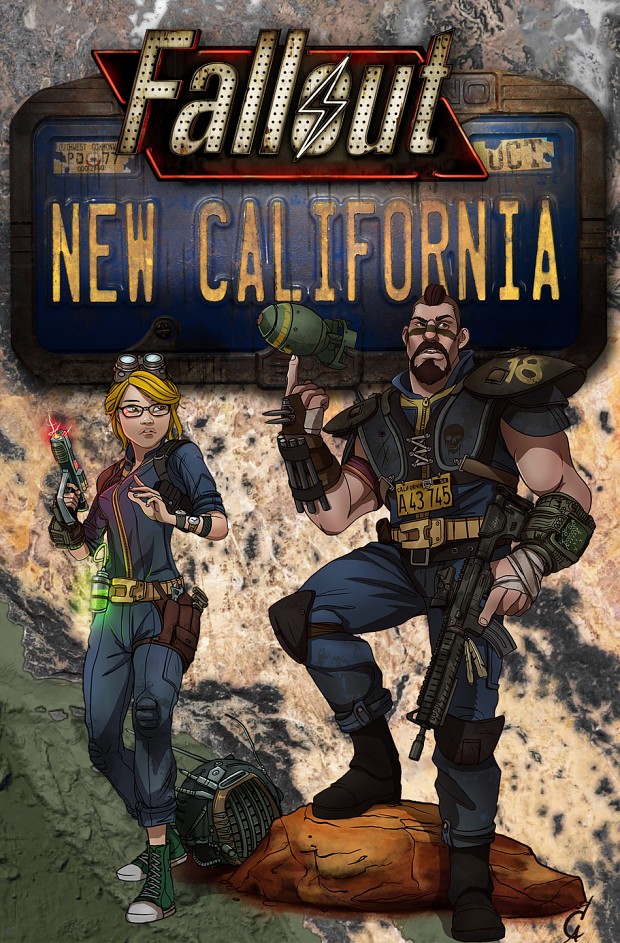 If you had told me back in January 2012 that in 2018 we would finally be releasing the final chapter of this mod, I'd have said, "pbbt, nah, we'll be done by like, 2014. 2015 at the latest. If we go til 2018 I'll be dead."
So yeah, that didn't work out as planned. :p
The good news is that the mod, finally, after slogging through this Tantalus like recurring nightmare where it's 2018, the mod isn't done... it's finally, actually, "*done."
New California is now playable from start to finish with no major interruptions in all paths. Rick's update last night and my updates tonight have made it so that you can play FNC from the boot screen to the ending credits in all 12 major endings.That's a major accomplishment. I'm proud of us.
We're gonna test again through February, see what else is broke (there's always something) then do some revisions in red on the image above.
The Main Menus and Music are replaced, all new intro movie, the Vault 18 segment is now feature complete with no significant flaws, escaping Vault 18 to Pinehaven is now also complete with no significant flaws, and the first 2 quests for the NCR, Raiders, and the branch where you escape the Raiders and join the NCR are now working. The companions are sorted out again and now work through almost the entire mod; there are a few hitches here and there we need to adjust, but nothing huge.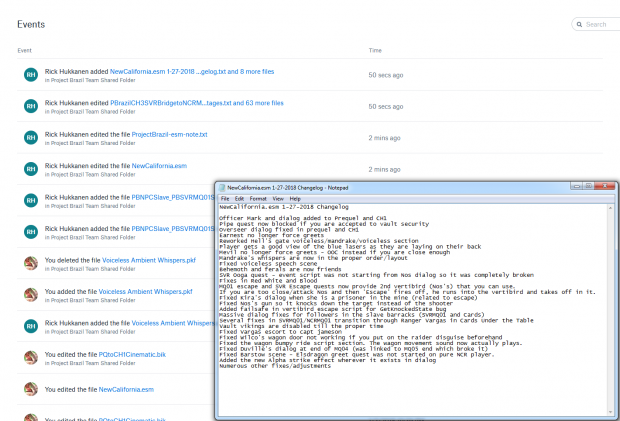 The third quest for Raiders and NCR needs some adjustments. The caravan quest is... a long walk. And boring. But it's optional, you can fast travel ahead. But doing so also skips content, and we need to fix that little oversight, having the Caravan fast travel mark further back away from the destination and walk (then run) into the zone to trigger that dialogue and the battle to get inside will fix it. Then after that quest competes, we need to start transforming the area where you are running away for your life. That part is both too easy and not "finished" yet, since it's supposed to be a major chase and it's kinda lame as it is since no monsters spawn and re-spawn to chase you during the chase! :p
(That's the big one right now, to me.)
Then in MQ04 we have some minor adjustments that will be tied into that same MQ03 revision. We need to spawn more bad guys in little outposts all over The Pass. Not a huge change, but will be significant to balance and make sure it all works.
We need to make minor adjustments to MQ04's ending on the NCR side. Just move an NPC. That's all, I think. But as testors said, it seems awkward that Spoiler McSpoiler tried to kill General Spoiler and no one says anything about it other than him. Like, come on. :p Not sure what 'm gonna do abut that part though, since it would require more scripting and acting to make it a bigger event...
Then it's time to make the battle leading up to the MQ05 ending area more exciting and set dress some more outside the Fortress. Get that all pretty and scary, really change the whole mood of that to be a more green-is-evil looking zone full of flames rather than boring whatever time of day it is as we have it. The Weather system in this engine is a pain in the ass, so we may just leave it as is for the sake of not making a mess.
Minor adjustments to the ending boss spawn rate and items for balance need to be made and tested, then bug test the hell out of the final boss. Fix some NPC behaviour that makes the plot kinda janky with the online girlfriend and final boss with some clever fixes, and then maybe adjust how the final conversations with your companions works before the final chat with your Faction Leader.
Then that's it. We're officially, actually, completely done. And a release date is imminent.
Here is my pre-release fix list: Docs.google.com
Now for pretty pictures!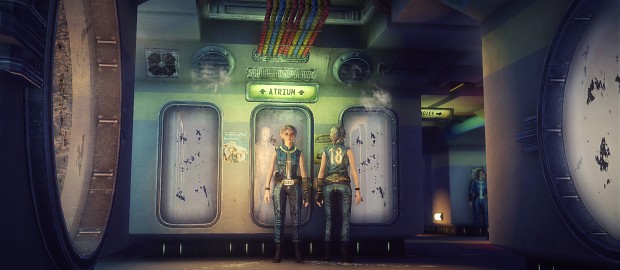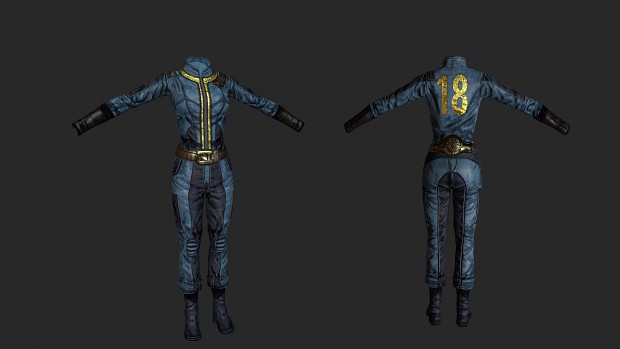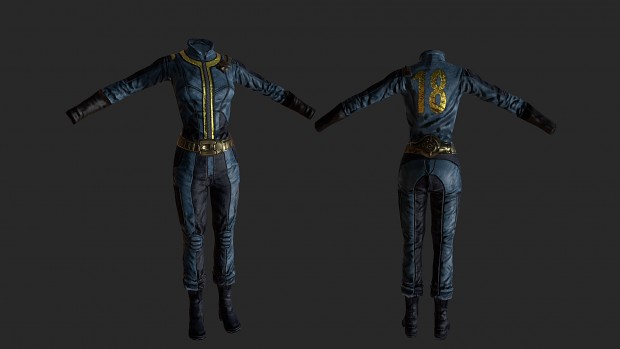 Female version of the male suit upgrade from last month!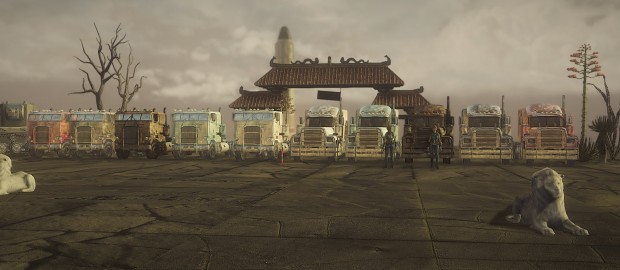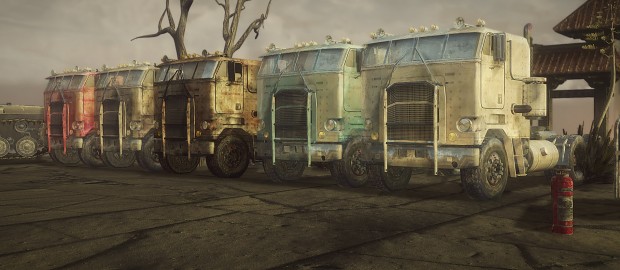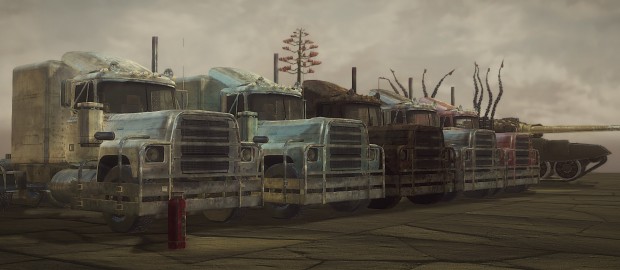 This is my final art update. No more art will be added to the mod unless something crops up, or another artist adds it to the world really quick.
I added a ton of new art for our Raiders, Wasteland, and Fortress. Some, like these trucks and the statues, I made myself, others I found for free or cheap on Turbosquid or CGTrader. I'll credit those guys in the readme. I then got all the collision geometry done after a HUGE struggle, and now you can shoot these things with the correct material reaction and you won't fall through the floor of the atrium!
The trucks are actually lore friendly to Fallout 1 and 2. They are based on the designs by Adam Adamowicz, the Fallout 3 artist who passed away a few years ago. His work was a big inspiration to me as an artist, so I like paying a little tribute to him where I can. The man was brilliant and his early death was unfair to him and all of us.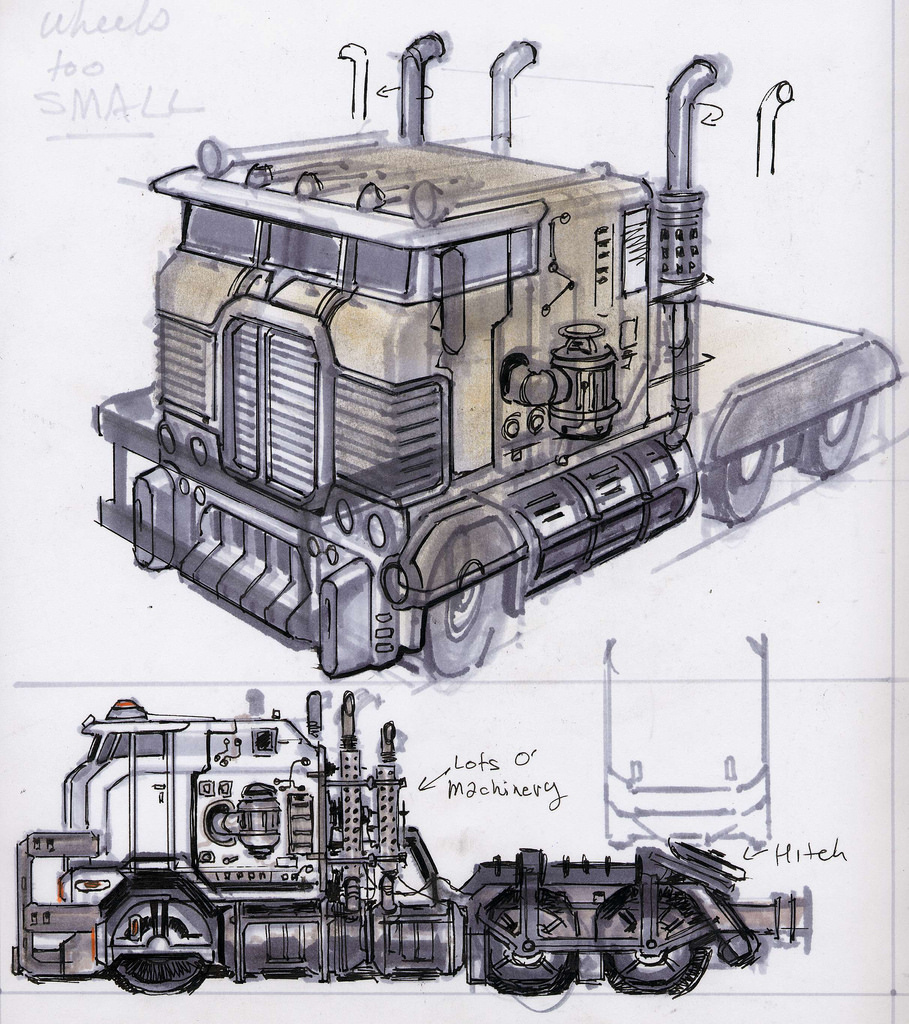 Mine are a little more tame, but that's because I wanted to keep the already kinda high polycount low for this old engine. If we were on Fallout 4 we'd have no problem rendering all of that. Still looks cool though. And I like seeing these in place of the blander fat ones. Makes our wasteland catch that Mad Max 90s-50s Reto-future blend vibe the original games from Interplay had.
On Tuesday, I'm re-recording our lead bad guy Elsdragon at our makeshift little studio in Tucson, AZ. Eddie Bolero is back in town so I'm taking the opportunity to grab his lines that came out really poor the last time in 2015. The Bluebird microphone recording to an H6N Handy and a little monitor are new. I borrowed those from a friend to replace my old Rode NTG-2 and H4N. This setup will help make his quality the highest in the mod!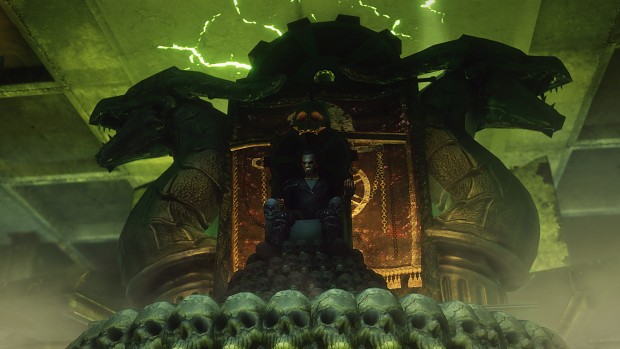 This is an important remix, because for some reason his audio quality from September 2015 sucked by comparison to everyone else. Even testers have been like, "dude, what? Things were so good then I can barely hear this guy."
So we're fixing that. Which hasn't been easy to book! Was very expensive for me and took months to finally get the stars lined up where this veteran actor can fly to town, record, and all for free.
That's a serious Good, Fast, Cheap trifecta right there.

And it was. Not. Fast.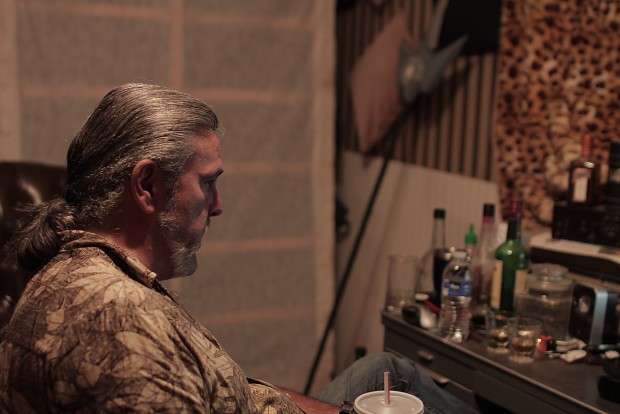 We've come a long way from our original setup in May 2012 though. :p When we had mattresses on the walls for insulation and it was 112 degrees in there. XD We had to stop recording and vent out the sweat of 3 dudes every few minutes to turn the little AC back on.
This has been a major thorn in my side for the last 2 years so it feels SO GOOD to be done with all that. 14,000 lines of dialogue was a bear to write, revise, record, edit, cut, implement, master, remaster, and lipsync largely by myself. That alone took all of 2013-2016. Cutting audio is basically all I did for a year of my life after work, every day, along with Mark and sometimes Dustin, Thomas, and Quinn online. 2016 was editing audio files just, til I couldn't anymore.
Now I'm going to do it one last time and that'll be it, for good.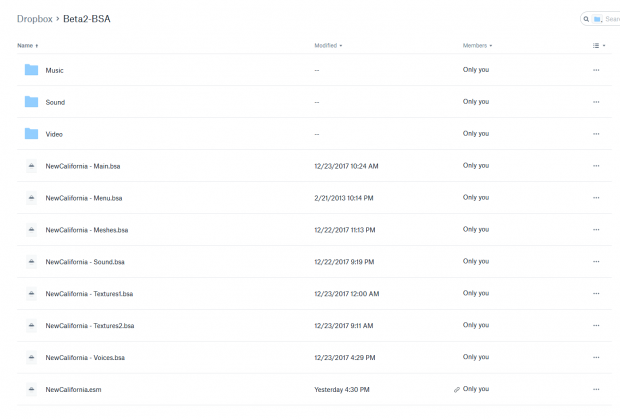 Now that we are done making the mod's core content, my main worry when we started this in 2012 has come true: we made this entire mod just Rick and I basically alone. And that led to a significant problem: The Main Quest is replete with content, and the side quests are non-existent.
It was always my intention that someone else would come in to do side quests independently from us. A 3rd guy with as much dedication as we have, or just random modders who join our community, to write and execute their own short quest content. I could do the voice recordings and editing, and "they" could populate the empty corners of the map with little narrative stories.
Well, it took 6 years just to make the Main Quest, which when you play it feels like you just got a new Fallout game. It's everything outside of it that feels empty and kinda hopelessly desolate. Which is lame, if you're looking for a Fallout installment. Fallout is all about a landscape full of stories, this is a story on a landscape, as one of our Russian translators aptly put it. The Pass has just 2 major civilized locations: Union City and Athens Tec. And those places are immense, full of detail. Just the NPCs in those towns are basically there to wander around and say a stock hello, and comment on the events going on. Not a lot of substance for such big hero locations.
We need Venders, and that's important. After we shove those in that's a huge problem of gameplay fixed, just as an RPG those need to work so the player can sell and buy shit. But it won't kill that main gripe: There are no other side quests. It feels like they should be there, but they're just not.
We had some planned, and we recorded their audio, but they got cut for time early on.
I, am exhausted. Rick is exhausted. Everyone waiting for this mod to be done is tired of waiting, so we're just going to bite the bullet and release it as-is, with no side quests, like we planned all along.
So we're gonna clean off the table, get the game ready to fly, and announce a release date either February or by March. I don't want to still be working on this any later than May. So if the mod isn't fully done by May, I'm just calling it, we're tapped out and releasing it anyway. So sometime between now and then I'll post my Release Trailer, we tie a bow on it, and there we go. Done. After 6 years in the making!
I am... so fucking tired this month. Holy shit guys. I have never been this exhausted in my life. Not even war zones and hurry up and wait left me this physically drained. I've done Hollywood jobs working 16 hour days multiple days in a row, I've had to take care of screaming newborns -- the most tired I have ever been is finishing this mod this January. I had some really painful rough patches in 2016. 2017 wasn't so bad. But This year? Nah man, I'm fucking wiped.
I feel lucky to wake up by 10 and make it til 7 or 8 before I'm so tired I just pass out at my desk. It's getting pretty ridiculous, and I don't feel at all justified in feeling that tired when really, I haven't accomplished very much. Like today, I woke up, took a shower, did some blacksmiths prep for a smelt next weekend and that was it. That was all I managed to accomplish today. Now I'm writing this.
I went back tonight to check our ending videos from the November update and was just like... dude. I did that. HOW did I do that? With what inhuman energy did that happen? Were you on drugs? Can I have some? Jesus boy.
So I'm fairly positive that was my last big sprint. There's nothing huge left on the mod other than Eddie's recording on Tuesday and more dustoff work. As long as I snap out of this depression by February sometime I can get all the remaining tasks done and we can merge it together, then I'll record our trailer and do a limited semi-private release to ensure deliverables are ready to go out to the public and we make last minute patches & website work.
On a 6 year project around release is the worst time to get slobber-knocked by the chronic sads. :p So I really need to pull out of this and get some last minute stuff done.
And do all the little check-marks I always meant to do one day! Now is that day! Ahh!!
You can read more about our progress on the Design Documents Found Here. In the mean time, you can keep track of us on ModDB, Fallout Nexus, or Facebook. We've got a thriving online community centered around each one.

You can also throw dollars at me on Pay-Pal so I don't starve to death at my desk: Nexusmods.com
Cheers
Brandan Lee
Project Leader