Per the usual here are the newest weapons.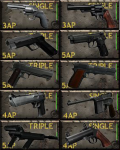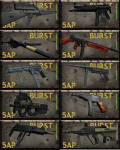 These are all of the existing pistols and most of SMGs from the original game.
In order by row (left to right) they are:
Colt Python, S&W Model 29,

Calico Liberty 100, HK MP5

Sig P220, Beretta 92FS, Sten MKIIS, Thompson M1928A1
Colt M1911A1, Browning HP,

Walter MPL, MP38

IMI Desert Eagle XIX, Mauser C96, FN P90, Skorpion Vz.61
Calico M950, "Grenade Pistol", IMI UZI, Steyr Aug 9mm
I'd like to point out a couple of creative changes:
Casull Revolver has been changed to a Colt Python,
Sten had been suppressed,
MP5SD has been switched to the un-suppressed MP5A3
Tommy Gun changed to a Thompson M1928A1 (Tommy Gun will be an upgrade)
Steyr AUG has been changed to a 9mm SMG version
M79 GL, and Ruger AC556F are no-longer classified as SMGs
An important note: Unlike previous news posts, were the weapons images were just renders,
these images actually how the weapons look in-game. From now on most of the weapons will be presented as in-game shots rather than renders.
A quick sneak peek at the next group of sprites: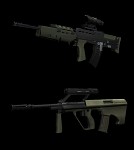 Now for a status update, the work on the demo is progressing well. Most of the weapon sprites re-dos are already completed. I just have the rifles and a couple of misc. sprites here and there to finish. I've also started re-balancing and editing the weapons descriptions, so all in all progress is getting made.
Here is where we stand on progress toward the release of the demo:
Pistol Sprites 100%
SMG Sprites 95%
Rifle Sprites 65%
Re balance of weapons 25%
New weapon sounds 5%
Alright that is all for this week. I have finals next week so things might be a little quiet on my end. Best of luck to anyone else taking finals next week. As always, feel free to contact me if you have any feedback or questions. I'm always willing to listen.