First off, as always the new weapons.
Personally, I'd like to point out the Silenced .22 LR which will be the first silenced weapon available to the player. Additionally, the Ruger Mini-14, the HK MP5 all have upgraded variants and the FN FAL Scoped is an upgraded form of the FN FAL. The Manticore Assault Cannon or MAC is the first of many additions to the "big gun" weapons category. The MAC fires canister rounds loaded with multiple Flechettes and will be the focus of the next video demo.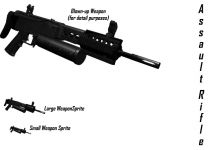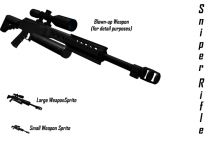 These are two unnamed unorthodox weapons both based around a helical magazine design seen on the Calico pistol and the Bizon SMG. The sniper-rifle is chambered for .338 Laupa Mag., whereas the Assault Rifle lacks a caliber. If anyone has suggestions for names or a caliber for the AR please let me know.
Next up, updated screenshots from Mission 1 and a status report on the demo.
Notable changes are the addition of a security office and a store-room in the sub-way area. Also a bar area which is accessible from the subway has been added (seem in the right image). Overall the mapping is mostly done...I'm just adding the detail into the map.
The demo is still not done, I'd like to have it done/tested and released by the Jan. 1st 2009.
I'd also like to introduce a new member of the mod team Ryuga who is currently working on the mapping/triggers files for Mission 6: Quincy.
Introducing a new feature to FOT:R, stealth kills with "covert" weapons. During certain missions/encounters the player will have the option to utilize "covert" weapons to avoid enemy forces/alarms, and receive bonus xp/reputation points. Additionally an entire "stealth" side-story is planned in which the "covert" weapons are a necessary to complete. Unfortunately, the "covert" weapons don't work as stealth weapons without the proper triggers; in which case they operate exactly as a normal weapon would.