Today marks the first official announcement of Explorer! for Mount&Blade Warband, and to begin it only makes sense to showcase one of the most core features: A navigable world without an overland map.
Travelling in Explorer is quite intuitive: Instead of leaving scenes with TAB or going through a game menu, simply approach the edge of one scene, and you will travel to the next.
Think of each scene like one square on a grid that covers the entire Warband map. Explorer correctly tracks your position and translates it to the same position on the adjacent grid: If you leave the Northeast corner of one scene, you will start in the Southwest corner of the next one. You can get an idea how the game deals with scene borders by looking at this picture: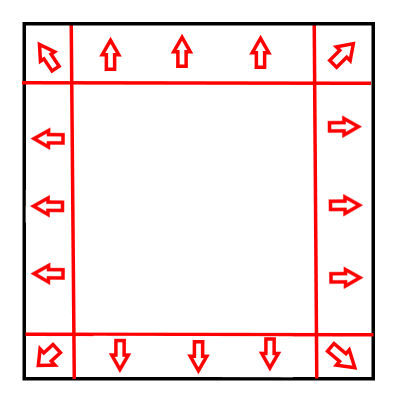 Here, the black border represents the absolute boundaries of the scene. The red lines are the "leave borders", the places where the game considers the player to be out-of-bounds and begins sending them to the next scene. The arrows represent the direction of travel: In order to go North for example, the player must cross the horizontal red border at the top. To travel East, they must cross the vertical red border on the right. So in order to travel Northeast, the player must cross both boundaries. Position along the border is also tracked; if you travel East/West, the game will remember your position along the North/South axis and vice versa.
Well, now that the basics of travelling are out of the way, we must ask ourselves: How can we navigate?
Without an overland map, it can be hard for players to get a sense of where they are and where they are going in the broader world. Lucky for me, someone named ShaunRemo had a brilliant idea: What if we used the world map as our terrain borders?
Implementing this concept was almost criminally simple. Export the map, create a scene prop, and use the player's coordinates to position it. There are a couple of tricks you need to pull to get it working smoothly, but I think the results speak for themselves:
Now players can use the landmarks of the world to orient themselves and reach their destination. But, we can take it a step further than this. Players will also be able to see settlements on the map that are within a certain distance, based on the party's Spotting skill.
Here, you can see Tulbuk castle up on the ridge to the left, and Tulga settled in the fog down on the right.
This picture is a bit clearer, with a view of Kwynn and Curin Castle, as well as an overview of one of the bridge scenes - which relates well to the topic of next week's article: Creating a system for rivers, bridges, mountains, and ocean shores.
Any feedback is more than welcome, thanks for reading!