This tutorial is going to show you how to create your custom recipes for workbenches and campfires.
This tutorial is only for Fallout: New Vegas.
Programs needed:
- G.E.C.K. (FNV) version 1.4 used for this tutorial
Crafting is a feature introduced in Fallout: New Vegas that allow you to create weapons or cook new type of food. Along with the hardcore difficulty mode, this is one of the main feature of Fallout: New Vegas.
For this tutorial we are going to create a new type of food by using default items of FNV using the campfire. The principles are the same for workbenches too.
We are going to create a Strange Meat Pie, using various animal meats.
Summary
1 - Creating the Recipe
2 - Ingredients
3 - Output
4 - Sample File
5 - Conclusion
[1] - Creating the Recipe
Open up the G.E.C.K., load the FalloutNV.esm going to File/Data and after loading save immediatly your addon, we are gonna call it for this tutorial MyRecipe.esp.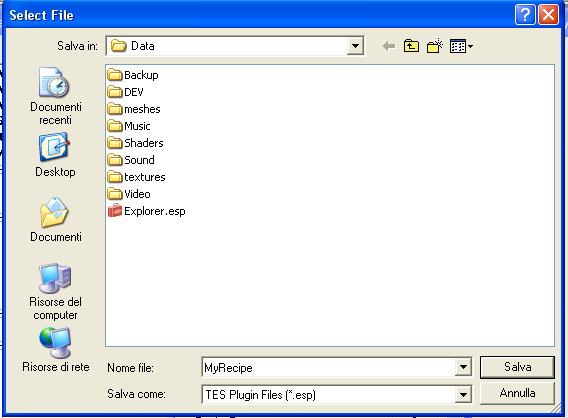 Let's create our recipe by going to the Object window and:
Miscellaneous>Recipe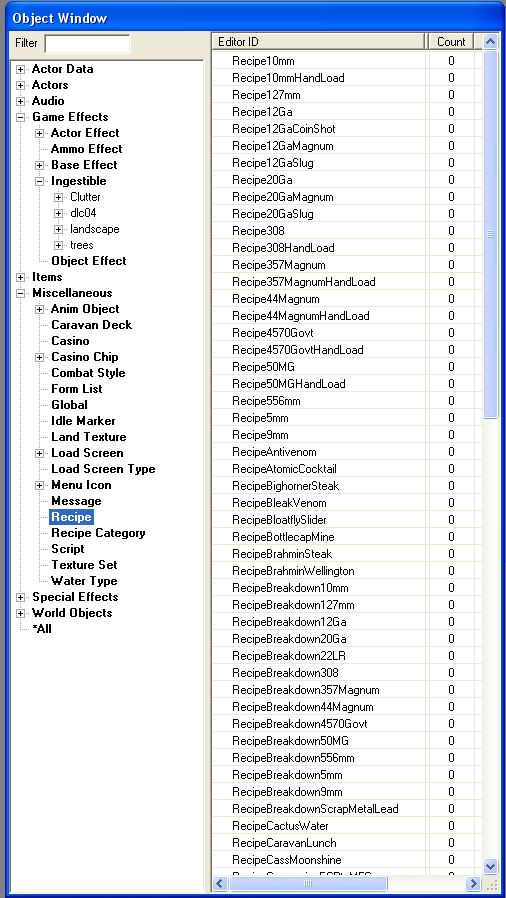 On the right column where all the game recipes are, right click and select New. A New inspector window will appear iwth all the recipe options.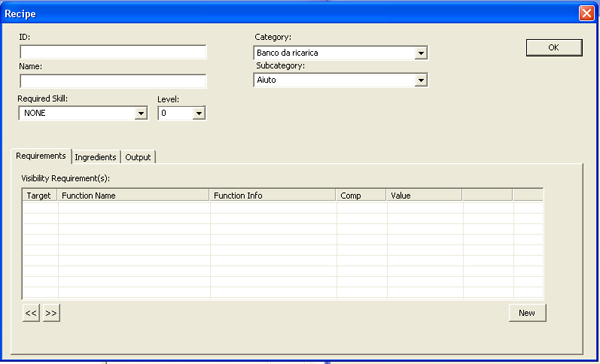 We are going now to analyze all the options of the tab:
ID: Editor ID reference
Name: Name of the recipe that will be shown in the campfire/workbench menu ingame.
Required Skill: We can add a skill requirement to craft that certain item, if the player doesnt have that skill the recipe can't be crafted.
Level: The level of the required skill.
Category: Here we can select which type of "devie" to use to craft or cook our food, it can be a campfire or Workbench.
Subcategory: What kind of category the item crafted have.
Requirements: We can add variables to make the player need something in particular to be able to use our recipe (Eg: Schematics)
Ingredients: The items we are gonna need to make our recipe.
Output: The result of the cooking/crafting.
Ok, now we can start filling up this tab, for the ID we are gonna to put an easy to find name, for now just write aaaMyRecipe, this will be our editor reference in the Object Window.
For the name we are gonna put Strange Meat Pie as we said before for this tutorial. On the Required Skill let's leave as is for now, but you can put whatever you want, usually for food the Survival skill is used frequently in New Vegas. But for now we want just to be able to cook our recipe immediatly.
On the Category part select campfire and on Subcategory, Food.
[2] - Ingredients
Is time to fill up the lower tab, just skip Requirements for now, as the function of this option need a more in depth tutorial as is used for a whole range of other functions in the game and require some game logic knowledges.
Go to the Ingredients tab, you will see a list with Name and Quantity, this is where we are gonna put our ingredients. Right click there and select New, a new small tab will appear:

On the new tab we have some more options:
Category: The type of item.
Component: The entity of the item itself.
Quantity: How many of this item are needed.
For our Srange Meat Pie, we are gonna use just two kind of meat, on Category select Alchemy Item, then on Component select AntMeat, let's leave the quantity at 1.

Click OK and repeat again the whole process to add another item, this time let's add BrahaminMeat, then click OK again:

[3] - Output
Last step before wwe finish, now click on the Output option and we will get a similar tab as before. Here we are gonna put the result of our recipe. As before right click on the list adn select New. It will appear the small tab as before, just select StrangeMeatPie in the Component option. and then click OK.

Our recipe is done, click OK on the recipe inspector and save your plugin.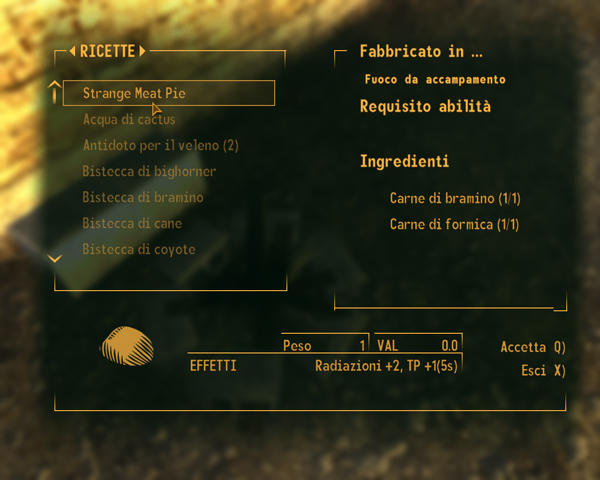 Now your new recipe will be listed when using a campfire for cooking food.
NOTE: The item icon used on the crafting menu is the one of the Output item.
[5] - Sample file
You can download a sample file for this tutorial and compare with yours, this addon is for Fallout: New Vegas.
In order to edit the addon, when loading into G.E.C.K. make it as Active File uner File>Data.
You can reuse it as base for your mods without asking permission.
The sample Addon adds a chest with all the needed ingredients and a campfire outside the store in Good Springs (on the side of the store).
[6] - Conclusion
This is a powerfull feature of New vegas that along with the hardcore mode is one of the best feature of the game. If you are also an artist you can create new models for new ingredients and have even more recipes for both food and weapons.
- Nicola "Neurological" Capecci