Today after some time of not posting any works in progress screenshots or news of forward progress, we're pleased to release this latest large sized general overview of various works in progress to our fans. As a side note, in the near future the XWW2 team will be bringing you more screens and more news in the coming weeks (not months) ahead.. First off we have news of a new member to our team, The XWW2 team formally welcomes LHumphries to the XWW2 Mod team as our 2D concept Artist! Lewis's work is a welcome addition to our mapping department and static modelers. He has already shown us his talents in more ways than one and we continue to look forward to his work ahead in the future! He's already designed some really cool stuff!
If you've been a regular visitor to our forums you'll have already seen and known of some news we've already mentioned that some of you may or may not know. So for the first bit of news, the team has overall decided to go with the removal of the historically correct German swastikas from our content. It was decided that because there are many places in the world which still today forbid even the general use of the swastika (yes even in game content) we felt it would be in the best interest of our fans to remove the symbol.
Next up is our new JU87B-2 Stuka in game modeled by Abyx with contribution modeling by SjustaSnake and DemonDelta. Cockpit 1p modeling by Uberduber. Unwrap by Abyx and DemonDelta with skinning done by DemonDelta. Export and code by mschoeldgen.
Here is a quick render of our all new and improved MG34 model (by Abyx)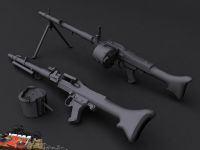 Here we have our Japanese Army surveying their options and marching into the XWW2 camp. We present them to you via render and in game views!
The XWW2 team wishes to thank our our team contributor for all his hard work in creating these great pieces of work in every aspect from modeling, unwrapping and texturing! Export and code work by mschoeldgen.
For vehicles, we have the following to present as a sample - with many many more coming for you (our fans) when we release. Models and unwrap by Caribcanuk, skins by DemonDelta. Export and code by mschoeldgen. Shown are our: Opel Blitz, Type 95 Ha-Go, AEC command vehicle, and a Grant tank.
For some statics, we have the following work by Caribcanuk (crane and bunker radar dish), mschoeldgen (BF1942 style aircraft hanger) and DemonDelta (barbed wire and electrical generators)
For more news and additional news screenshots, please visit our home page and forums at www.xww2.com
Already planned for our next news post will be some work from our mapping department... always hard at work creating very cool places to enjoy the mod!
Stay tuned for more future news posts and as always if you'd like to help us out with either your contributions or would like to bring your talents to this team, drop us a line! Help always accepted!
Brought to you by the XWW2 Mod Team!