The Warriors of the Areuakoi.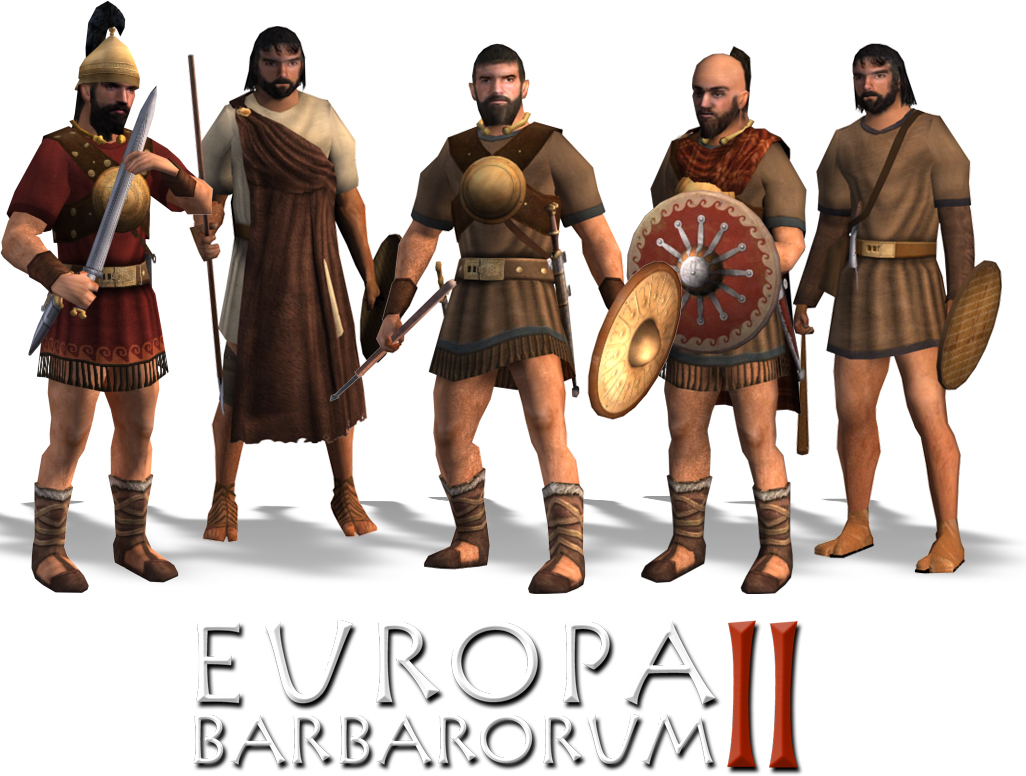 Arevaci Champions - Birikantinoi "High Ones"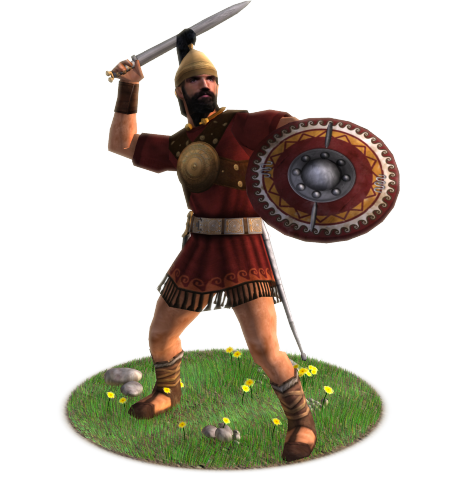 The first into battle, last the leave the fray, the bravest of the brave. With the strength of a bull, the ferocity of a wolf and the agility of a lynx, these men are without par among the ranks of the Areuakoi warriors. They stand as giants in their community, the envy of lesser men, the dreams of maidens and the idols of children. It is these men upon whose shoulders the honour of the Areuakoi rests, and they seldom fail to live up to their reputations. Hailing from the nobles of Areuakoi society these men are unaccustomed to sweat behind the plough or bake their own bread. Instead, they live off the labour of others, perfecting their deadly art, practising their skills from sunrise to sunset. Their wealth also allows them to equip themselves with the finest arms and armour the smith can produce. Donning a well made bronze helmet which projects a plume of horse hair, wielding a terrifying "Spanish sword" beaten from the best iron in Iberia, grasping a beautifully decorated iron bossed shield and clad in bronze armour and fine woollen battle garments, these men present an awesome sight on the battlefield. Their élan ensures that no man will shirk from his duty but will instead commit to the fight with the energy of an enraged bear.
Historically, warriors such as the Areuakoi Birikantinoi appear to have had a very old pedigree within Celtiberian society. Warrior elites are present in the funerary record of Celtiberia from the Bronze Age, and would have been a catalyst in transforming the indigenous Bronze Age substratum into the Celtiberian society of the Iron Age. Due to the low social complexity of late Bronze Age society, warfare would have been seasonal, likely ritualised and probably settled by duels between "champions" similar to the Birikantinoi. It is theorised, based on the etymology of the names of Celtiberian gods, that such champions would have belonged to warrior fraternities, initiation thereinto requiring the completion of acts of physical endurance and religious ceremonies. Such fraternities are recorded as having existed in such societies as those of the Dorian Greeks, Gauls, Scythians and Dark Age Irish, among others. As the proto-Celtiberian society of the late Bronze Age transformed into the early Celtiberian society of the 7th-6th centuries BC, the funerary record of the Celtiberian homeland attests to the increasingly prominent role that warriors such as these played in society. The weapon of choice for these early Celtiberian champions was a long spear, likely intended for use as an infantry weapon, a theory which we base on the lack of horse harnesses recovered from graves.
Celtiberian champions began to equip themselves in the way they are depicted in EBII from the 5th century BC onwards; cemeteries from the area of the upper Tagus river have been excavated containing bronze helmets, bronze cuirass discs and embossed shield umbos. The formidable slashing sword of the type this unit uses was likewise adopted by Celtiberian warriors during the 5th century. The high regard with which the owners of such swords were held in society can be seen in the sculptures from the contemporary Iberian haroon (hero cult shrines) at Porcuna. As the armies of the Celtiberians expanded with the emergence of oppida, champions such as the Birikantinoi became a minority within the ranks of warriors. Despite this, duels between champions appear to have remained an important feature of Celtiberian warfare, as evidenced by the tale of Scipio Aemelianus and a Celtiberian noble engaging in single combat in 151 BC. Ceramics from the final stages of occupation of Numantia also show warriors similar to the Birikantinoi engaging in single combat with other, comparably equipped, foes.
Arevaci Medium Swordsmen - Mezukenoi "Mead Born"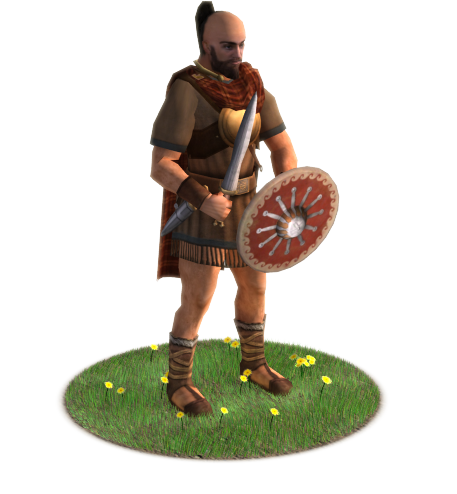 With skin made tough as leather by the Iberian sun and hearts made hard by ceaseless inter-tribal warfare, the Mezukenoi swordsmen form the core of any great Celtiberian army. These men, supported by the revenues from trade and the lands they have won for themselves, have the leisure time required to enable them to train to a standard which the Romani and Carthaginians would describe as "professional". This wealth also means that, unlike less affluent Areuakoi, the Mezukenoi can afford to quench their thirst not with water, but with honey sweetened, intoxicating mead. Armed with the feared "Spanish sword", a weapon as formidable and fine as that which any enemy wields; a fistful of javelins, well crafted helmets of leather and bronze (although some choose to demonstrate their courage by entering the fray without a helmet) and a circular shield, these determined warriors pepper the enemy with projectiles before launching into a spirited charge intended to immediately break the enemy's lines. Their reputation as warriors is such that they may be found working as mercenaries as far away as Sicily.
Historically, the Celtiberians had a long lasting affinity for swords from c. 500 BC onwards. The designs of Celtiberian swords changed much over the years. Initially, antenna swords, so called because of the two nodules which emanated from the hilt, were employed. By c. 300 BC the straight-edged antenna sword had been replaced by the formidable Gladius Hispaniensis (literally the Spanish Sword), as described by Diodorus of Sicily: "The iron of their double-edged swords, shorter than the Celtic great sword, is capable of cutting anything" (Hist. 5.33). The Gladius Hispaniensis attained such a formidable reputation that the Romans adopted it themselves. By this time in history the Celtiberians were also making use of long slashing swords of the La Tène variety and the falcata, the formidable curved blade which these caetratii are depicted as wielding. The caetratii themselves were considered fearsome opponents by the Romans and Hannibal doted over those in his army, with many wearing white linen tunics with a crimson border as a mark of their service with the Carthaginian general.
Arevaci Medium Spearmen - Retukenoi "Right Ones"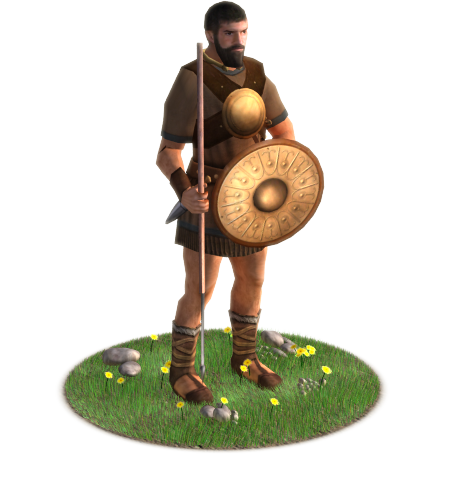 No longer can disputes be settled by duels alone. Raids may bring wealth and new cattle, but what use are cattle when you have no land on which to graze them? Already the armies of Karthadistim have laid claim to the southern cities and the Hellenes have planted their emporia upon the coasts. If we are to expand and defend our lands, it cannot be done by the champions and nobles alone. Fortunately, we Areuakoi being the martial people that we are, there is no shortage of men who are willing to swell the ranks and bolster our armies. Do not be fooled, however: these men are not simple levies. Although they may be potters, cobblers and farmers when not called to arms, this should not give one reason to dismiss their potential as warriors. The spirit of battle flows in the blood of every citizen of the Areuakoi. Even in the wombs of our women, fertile as the soil of our lands, grow wolves and lynx; children more formidable than any others born into this world. The Retukenoi may not have the blue blood of their comrades, nor the swords and high-crested helmets, but they will still hold the line when asked, they will still pepper the enemy with javelins and run down and trample all those who seek to put a yoke on our people.
Historically, as the Celtiberian population and the social complexity of Celtiberian society increased with the rise of the oppida, so too did the ranks of Celtiberian armies swell. Historical accounts of the size of these late Celtiberian armies provide numbers comparable to those of the armies being fielded by Rome and Carthage. At Carabis in 188 BC, for example, the Celtiberians fielded 20,000 men, whilst Carus, the leader of the Areuakoi and Segendenses, commanded 20,000 infantry and 5,000 horse. Not even the richest Celtiberian oppidum could hope to field enough champions to make up such numbers; instead, increasing numbers of warriors were made up of the middle and lower classes of Celtiberian society. The cemeteries of this period reflect this demographic change. Whereas in previous periods of the Celtiberian archaeological record, warrior graves had accounted for, on average, 1% of those buried there, during this period, in some cemeteries warrior graves account for as many as 44% of those interred. Despite the effects of urbanisation, Celtiberian armies were not citizen armies like those of the Hellenes and Romani. Weapons and armour from this period show no signs of standardisation, and although capable of siege warfare and winter campaigning, discipline was lacking, as shown by the events following the defeat of Mummius' army by the Lusitanian Kaisaros. The command structure likewise remained one of familial ties and personal loyalties, rather than a formalised general staff. These later Celtiberian warriors, unlike the citizen armies of the Mediterranean, were primarily light infantrymen, ill suited to facing the legions in pitched battle; the graves of many of these warriors tend not to contain helmets, pectoral plates or the large embossed shields of preceding periods. Despite these limitations, these enlarged Celtiberian armies proved adept at scorched earth and guerrilla tactics, and even operations at night. Many a Roman met his death at the hands of a Celtberian ambush and even Scipio Aemilianus, the man who destroyed the Areuakoi capital of Numantia, found himself the victim of an ambush.
The shield type with which this unit, and several other EBII Celtiberian and Iberian units, is equipped is known as the caetra, and deserves a special note here. Diodorus describes the use of these shields by Celtiberian warriors saying that "...other [Celtiberians use] a round shield of the kind more familiar in the Greek world" (Hist. 5.33). The sometimes beautifully decorated bronze shield bosses of caetra appear in the Celtiberian funerary record from c. 500 BC until the Roman conquest. Caetra are also depicted on several stone sculptures, such as the infantryman from Castro di Lezenbo, Portugal and the mounted warrior from Porcuna, Spain as well as ceramics from the Areuakoi capital Numantia and metalwork from El Amarejo, Spain. Caetra were unlikely to have been much use in protracted melee, their small size being ill suited to absorbing heavy blows and deflecting missiles. Instead, they were likely used either in duels or to allow their owner sufficient speed and mobility to effect deadly ambushes.
Arevaci Skirmishers- Neitotoi "Neitos Men"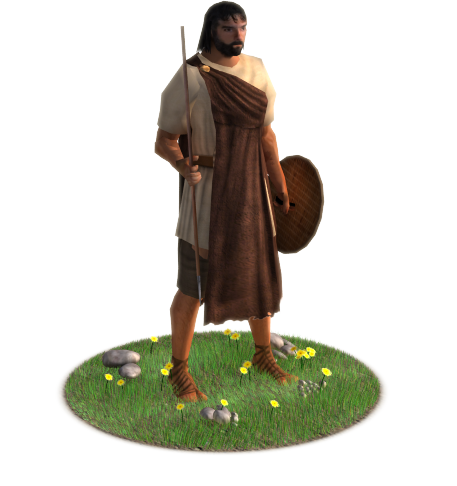 The Neitotoi are composed of the poorest and youngest members of Celtiberian society. They spend their lives eking out an existence wherever it may be found; watching the cattle by night, sleeping wrapped up in a coarse woollen blanket, sustained on a diet of buttermilk, wild grapes, hard tack and dried meat, rarely living in conditions which one might describe as comfortable. Unlike their comrades they do not enter battle clad in armour and grasping well made swords, but rather, clad in the same clothes they wear throughout the year, their simple shields composed of reeds harvested from the banks of streams. Their simple garbs, rude speech and unkempt appearance may cause haughty and arrogant upshots to dismiss them as they would dogs, but the Neitotoi carry with them not only javelins, but the protection of the divine. They take their name from the god to whom they dedicate their service: Neitos. Neitos, the greatest warrior god of Iberia; only Lugos, it is said, does not fear him. Thus although the Neitotoi will not withstand a charge by heavier infantry and are easy prey for most cavalry, they are not soft men. Their equipment may be poor but their souls are rich. A simple diet makes a man hardy; he becomes as hard as the stone he calls a pillow. His wanderings at the side of cattle give him a stamina which many others lack. If employed as skirmishers, scouts and ambushers these men can prove their worth in battle; sowing the furrows of the enemy lines with javelins, before withdrawing to the trees to cut down foes who seek refuge there.
Historically, spears were used by Celtiberian society from before the Iron Age until the Roman conquest. Early Iron Age Celtiberian spears of the 6th century BC were formidable weapons, with a central spine, like the Bronze Age spears they were developed from, and blades as long as later types of swords. This may indicate that they were intended to be used as slashing weapons as well as for stabbing, an idea which is supported by the fact that when long slashing swords appear in Celtiberian graves it coincides with a reduction in the length of spears. These early spears would have been poor projectile weapons, their heavy blades inhibiting their range. However, from the 5th century BC Celtiberian graves begin to include lighter, javelin-like spear points which would have been ideally suited to projectile warfare. From the 5th century BC until the Roman conquest, spears remained much the same, coming in two types: long but lightly built javelins and melee spears with broader but shorter blades.
Shepherd Slingers - Trokaloi "Slingers"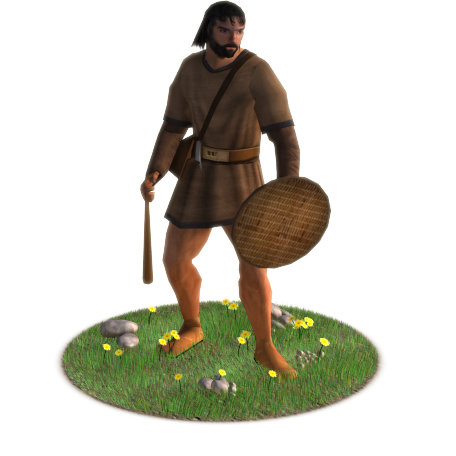 The taste of battle is sought by all Celtiberians. The thirst which only combat can quench taunts the tongue of even those who tend to the flocks and sup on goat's milk and mutton. With a robe of coarse wool, a sling made from rawhide and a shield fashioned out of reeds from the rivers and streams of the land, these men may appear wretched compared to their noble comrades, but their art is a deadly one. A lifetime of corralling beasts and driving off predators has made these men as much a part of the land as the grasses and bushes their flocks feed on. Their aim is superb, and even the highest born warriors clad in the finest armour may meet a bloody end from one these men's slingstones, their heads dashed to pieces as a slingstone passes through their eye and out of the back of their skull. Able to unleash a deadly storm of stones and baked clay upon their foes before withdrawing fast as rabbits to the safety of the woods or the rear of their armies. Trokaloi are likewise indispensable when a Celtiberian army sets itself to the task of besieging an enemy stronghold. Despite their aim and speed, however, their equipment is of little use in melee. Capable of killing from a distance, these men stand little chance should their foe catch them. The knives they carry may be useful for skinning rabbits, but they fair poorly against the spears and swords of trained warriors.
Historically, antiquarians and early archaeologists were quick to ascribe a martial purpose to many of the items they discovered. One British antiquarian, writing in the 18th century, was so sure of the purpose of the Neolithic polished stone axe he described that he concluded that it had been used by an ancient Briton to attack one of the Emperor Claudius' elephants (he was writing at a time when scholars had not yet realised that there was the difference between the Stone Age and Iron Age Otherwise). As time has progressed, archaeologists have applied new and different approaches to their analyses of the material past, including the role of weapons. Today, many weapons are viewed not solely as implements of war and battle, but also as prestige items and objects with domestic as well as martial roles. The sling is one such weapon. Previously, discoveries of slingstones were readily interpreted as stores of ammunition, placed where they were in preparation for an attack. Analysis of the ammunition of slings, and experimental archaeology using the various types of ammunition, has shown that the sling was, in fact, a versatile tool. The fact the sling was used in war is beyond doubt: historical texts mention the use of slingers in battle as far apart as Rhodes and the Inca Empire; vernacular texts such as those from Ireland mention its use as a weapon; it is depicted in Greek and Roman sculpture and other works of art as a weapon; and even the Bible describes how David used his sling to slay Goliath. The ammunition which slingers used for battle varied. The most effective, but also the most costly, were lead shots; however, sizeable rocks could be just as deadly. Analysis of slingstones, though made from baked clay has also shown that this type of ammunition was likely used for battle.
Apart from the preceding types of ammunition, two other types of slingstone appear to have been regularly used. One comes in the form of pebbles (the exact difference between a pebble and a rock relies more on common sense than a precise, agreed upon, weight) and the others are balls of unbaked clay. It has been argued that the first of these, pebbles, were employed in driving off birds and other predators. The Eurasian golden eagle is large enough to carry off a lamb or kid with ease, whilst other raptors such as the Griffon vulture (a year-round resident of Iberia) would have been a risk in the presence of newborn calves. Ravens, too, have been recorded as feeding off the open wounds of sheep and even consuming sheep's eyeballs while they were still alive (a rare occurrence, but one of the associated problems of domesticating an animal: it does not put up much of a fight). Pebbles would have been ideal for precision shots, intended to either harm a predatory bird or just scare it away. Pebbles would likely have been effective against other Iberian predators such as wolves and the Iberian lynx. However, only a suicidal shepherd would have launched one against a bear. Unbaked clay was likely used for corralling flocks. When baked, clay can become as hard as some rocks and just as deadly when loosed from a sling. However, if left unbaked it shatters on impact, producing no lasting damage. Shattering clay and a sore rump would have been sufficient to bring stray animals back into the herd or flock, and much more precise than using a dog to round up stragglers.
Skirmisher Cavalry - Redoi "Riders"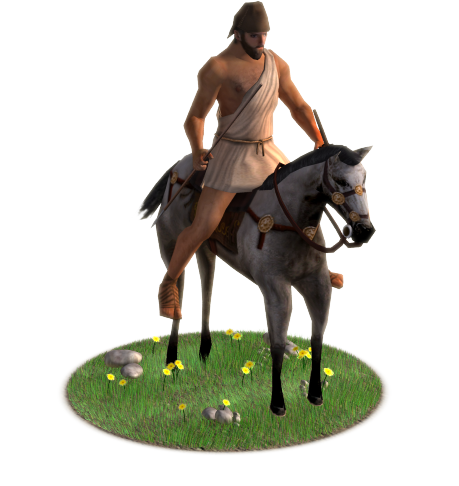 Not every man who rides into battle in Iberia is blue blooded. Although the glory of the thunderous charge is reserved for those who have the wealth and time to purchase and train a war horse, this has not prevented many a well-to-do farmer from throwing a woollen cloth across the back of his faithful nag and setting off on campaign. Hardened by a life of scratching a living from the ebony soil of Iberia, sat upon a sinuous and dogged steed, these men and their mounts are no strangers to the hardships of life. Preferring to keep what iron they have for ploughshares and scythes, they arm themselves lightly; a few javelins and a light shield are all these men require in order to harass the enemy before the nobles steal the glory of the day. These men rarely find themselves in real danger, their ponies being fast enough to escape all but slingstones and the most determined enemy horseman.
Historically, purchasing a horse large enough to be an effective charger, having sufficient time to train it to charge into enemy lines and being able to afford the panoply to perform such a tactic (lance, body armour, helmet, Celtic sadle etc.) was no mean feat. It was simply beyond the means of many men. Even after so much money and effort, some troops still preferred to fight as infantry. At the Battle of Ticinus in 218 BC, for example, the Roman cavalry, finding themselves hard pressed by Numidian and Carthaginian cavalry, simply dismounted and fought as infantrymen rather than attempt a cavalry charge. Although many men in Celtiberian society could likely afford a horse, only a fraction of those who rode did so as heavy cavalrymen. Many instead likely performed a role similar to that of the Redoi: harassing the enemy and retreating from danger. This type of warfare was preferred by the Celtiberians to set-piece battles. The Kantabroi of the north-west of Iberia would become so adept at this form of riding that they would become famous for the formation they employed; the Cantabrian circle. This form of mounted cavalry would continue to be used in Iberia long after it had vanished from elsewhere in Europe. In Medieval Iberia, troops known as Jinetes would continue to fight just as their ancestors had done. Only the arrival of effective pistols in the 16th and 17th centuries AD would cause javelin-armed riders to disappear from the Iberian Peninsula, and that was only because the men who had previously wielded javelins now fired guns and fought as Carabiniers.
Bodyguard Lancer Cavalry - Katuekuauiroi "Battle Horses"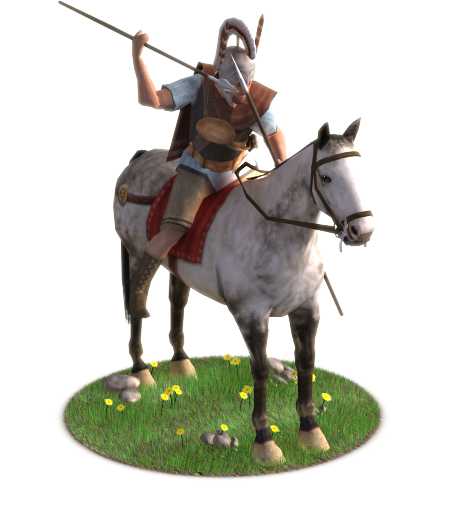 When an Uramos (war leader) of the Areuakoi sits atop his steed and surveys the men assembled before him or examines the enemy yonder, he needs to be assured that the men who ride by his side will do so even if they escort him into the otherworld Wouldn't hurt to trim this sentence down. The Uramos need not worry, for not only is it illegal to survive one's leaders in battle, but it is a thought abhorrent to all but the most insidious Celtiberian. Selected from among the ranks of the regular Katuekuauiroi, these men are an elite corps. Their bravery, loyalty and ferocity cannot be equalled. These Katuekuauiroi live, breathe and drink the heroic mantra; that it is better to enjoy an heroic and glorious death at a young age, than to suffer to live to be an old and forgotten man. The bards sing songs of how many Katuekuauiroi, upon seeing their Uramos hard pressed and near overwhelmed, have used their bodies as shields, thrown themselves in front of charging horses, or stripped nude and charged to certain death upon hearing of the death of their leader. The generals of foreign lands might wear more armour, or surround themselves with a larger retinue, or even ride to the battlefield in hulking chariots, but few can claim to have a bodyguard as fanatically devoted and loyal as the Katuekuauiroi.
Historically, the law that Celtiberians were forbidden to survive their leaders in battle, was a feature which was by no means unique to the Celtiberians: the Gallic soldurii and ambacti are recorded as having done the same, as are the bodyguards of German war leaders. The story of the Numantian Retogenes who broke through the Roman siege defences with five comrades in order to try and raise help from among the Arevaci may belong to this tradition of dedicated bodyguards. Likewise the story of the Arevaci leader Carus may be an example of this type of dedicated service. When Carus was killed pursuing a Roman force, 6,000 of his followers, according to Appian, fell with him as he performed acts of valour. The leaders who led these bodyguards likely did so at the request of their retainers. Celtiberian generals attained their positions through election rather than birthright.. Carus, for example, was elected to lead the armies of Numantia and Segeda; two generals named Ambón and Leukón were also elected to lead the forces of Numantia and in 153 BC the Areuakoi voted for war. This combination of ferociously loyal bodyguards and a command system based on democracy would prove ideally suited to Romanisation, with many Celtiberians later enjoying prominent careers in the Roman army and government.
Lancer Cavalry - Katuekuauiroi "Battle Horses"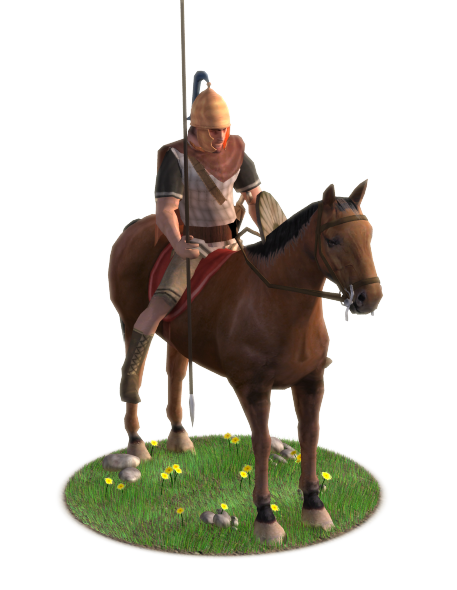 Carried into battle on the finest cavalry in all of Iberia, the Katuekuauiroi are an awe inspiring site as their capes flutter behind them, their plume- and crest-adorned helmets catching the rays of the sun. Wheeling around near the enemy they proclaim their deeds and exploits, hurling abuse and insults at their pitiful foe. Then, in a portent of the vultures which will feed on the enemy at the end of the day, they unleash a flock of javelins. Should the enemy, tired of such humiliating and deadly treatment, attempt to charge the Katuekuauiroi, then these Celtiberian lancers will spin their steeds around, spurring them back to their own lines. Now is the moment that the enemy dreads. Should they continue into the dusty haze kicked up by the hooves of the Katuekuauiroi, or should they turn and reform their lines? If they continue their pursuit it will be in vain, for only the swiftest of warriors can hope to catch the Katuekuauiroi. However, should the enemy turn their backs then they will find themselves, like rabbits far from their burrows, pounced upon and devoured by the lupine Katuekuauiroi, the lances of these Celtiberian horsemen dispatching many an impetuous fool to the otherworld.
Historically, the equites, as the Romans would term the cavalry of the era of Celtiberian oppida, appear to have been composed of the ruling classes of Celtiberian society and their retainers. They issued coinage in their name, displaying themselves as cavalry warriors, and were the first section of society to Romanise. This correlation between cavalry and power was by no means unique to the Celtiberians; this pattern can be observed across the late Celtic world. Just as with the Celtiberians, the nobles of Gaul and southern Britain issued coinage displaying themselves as cavalry warriors, equipped themselves with the panoply required to fight on horseback (typically longswords) and, like the Celtiberian nobility, were the first to enter the ranks of the Roman army and political establishment. What is unique about the Celtiberians, however, is their fondness for cavalry. Whereas the normal ratio for infantry to cavalry in Mediterranean armies was 10:1, in some Celtiberian armies it could be as high as 4:1. The "horseman" brooch is a further example of this Celtiberian liking for cavalry. "Horsemen" brooches typically depict a cavalry warrior riding over the head of a foe, the overwhelming majority of these brooches have been found in the Celtiberian heartland of north eastern Spain
Medium Cavalry - Ekualakoi "Horsemen"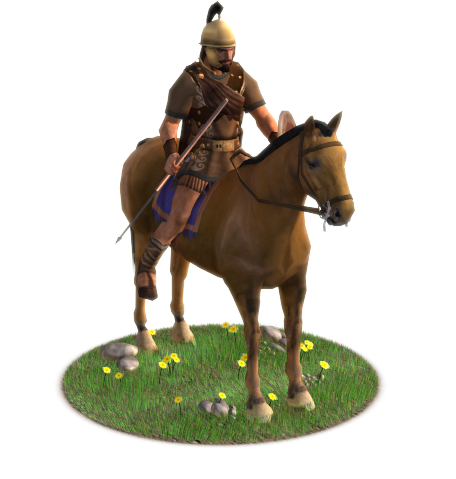 Anyone who has fought against the Areuakoi and lived to speak of it will describe with wide-eyed terror the sight which emerges once the ground begins to rumble. As swift as arrows, and just as deadly, Celtiberian cavalry are renowned for their speed, discipline and deadly skill. These warriors, hailing from the upper strata of society, can afford excellent weapons and armour, and their mounts are some of the finest in Western Europe. Being from the upper crust of society also affords these warriors plenty of time to practise, and it is reported by observers that Celtiberian horses will remain stationary even when their riders have dismounted and wandered into the fray. Possessing as they do excellent stamina, they can harry enemy columns, weakening them before launching a deadly charge to break the enemy lines.
Historically, Celtiberian cavalry developed as a result of contact with the armies of Rome and Carthage. Like the Native Americans of the plains some fifteen hundred years later when they were introduced to horses from Spain, the Celtiberians rapidly became cavalry masters. Celtiberian cavalry was one of the few forces of antiquity which could fight effectively nocturnally, as evidenced by the story of the Roman general Lucullus who was pursued through the night by Celtiberian cavalry. Cavalry was held in high esteem by the Celtiberians and became the subject of jewellery, as evidenced by the Celtiberian horseman fibula; money, such as those coins minted at Sekobrikes; and sculpture, like the statue from Porcuna. To be a cavalryman was also a mark of status, and funeral reliefs, such as two from Lara de los Infantas, allow archaeologists to identify the occupants of graves as cavalrymen. Both the Romans and Carthaginians made use of Celtiberian cavalry and Celtiberians would participate in many foreign campaigns including the Second Punic War and Caesar's conquest of Gaul.

We would also like the announce the reappearance oThe Warriors of the Iberians.
Iberian Light Cavalry - Iberi Equites Caetratii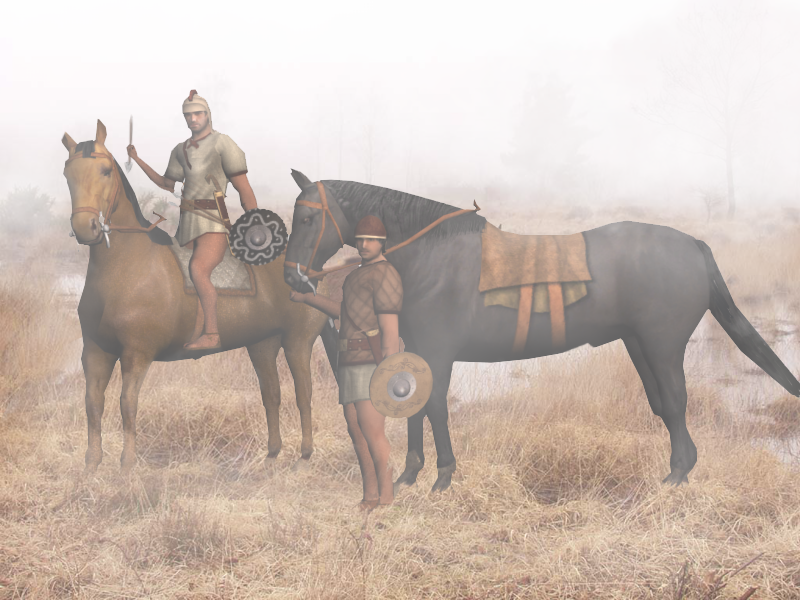 The Equites Caetrati are a very useful light skirmishing cavalry. Their surefooted, agile Iberian horses and ability to fight in a melee for a limited duration make up for their lack of armour or heavier weaponry. The Equites Caetratii are armed with several javelins and the standard Iberian "falcata" and "caetra" combination. They are very good horsemen, but do not have any armor at all other than their shields and caps. This could be a disadvantage to less hardy horsemen, but the Equites Caetratii make up for it by trading protection for agility, stealth and resistance. They are excellent skirmishing cavalry, able to carry many javelins and hurl them at enemy formations while staying out of that formation's reach.
Historically, Equites Caetratii were used many times to great effect by the Carthaginians. The Iberians used them more as stealthy, mobile guerrilla troops to harass and cut down a few unwary enemies before disappearing back into the hills. This was possible due to one of the surprising characteristics in Iberian armies: their peculiar training of horses. They were taught to keep silent and laying down, in all situations when their rider told them to. As such, many of the deceptive ambushes performed by Iberian tribes were even more surprising to the incautious enemy. Centuries of feuding among the Iberian tribes hardened the people in such a way that there was no shortage of tough and cunning warriors. Iberians used varied weapons, shields and armour, differing according to region, wealth, specific battlefield tasks and personal preference most swords ("falcatas" and "gladius hispanniensis") were custom built to suit the arm length, weight and strength of its owner.
Iberian Light Cavalry - Iberi Equites Scutarii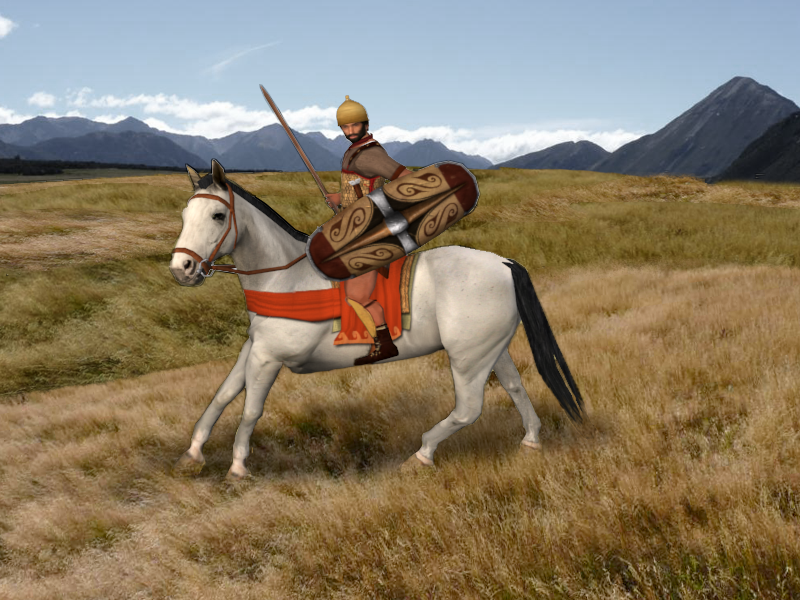 When a Celtiberian Uramos or foreigner, with silver lined pockets, is in need of Iberian riders who are simultaneously able to raid and endure the fray, they select these men. Unlike the Iberi Equites Caetratii, who harass the enemy from afar, these men will readily ride into the fray. Their armour and long shields, from which they get their name, are sufficient to enable them to close with the enemy and hold him there, pinned on the teeth of the beast. The teeth with which these men bite their foe are well made lances and the bite is delivered with the speed which only mounts of fine breeding can provide. This renown has meant that in the towns of Iberia it is common to see high plumed Greek captains and portly Carthaginian admirals offering fine wages for mercenary service from these men. Celtiberian leaders will do likewise, although lacking the level of silver and gold of their rivals, they have been known to offer cattle as well.
Historically, these men, and their infantry counterparts, were termed so on account of the shield they carried. Unlike the caetra type shield, the long shield of these men was readily recognisable to Roman legionaries and so they applied the Latin name for shield, scutum, to these men. Exactly how this type of shield came to arrive in Iberia is unclear. We know from Celtiberian cemeteries and painted pottery, as well as Iberian sculpture, that it was present in the peninsula from c.200 BC but from where did it come? One possibility is that the Iberians adopted the design due to their conflicts with Rome. However, when describing this type of shield Diodorus of Siculus refers to it as being "of lightly constructed Celtic type". Furthermore the central "butterfly" style shield boss is similar to contemporary shield bosses from Gaul. If the origin of this shield type in Iberia is as a result of contact with Gauls then there are two mechanisms to allow this contact; intrusions by Gauls into Iberia and contact between Gauls and Iberians serving as mercenaries elsewhere. We know that that there were folk movements from Iberia into Gaul (Caesar described one such event in De Bello Gallico) and vice versa (Cimbri-Teutones for example) and that Iberians and Gauls served as mercenaries together (at Cannae Hannibal's cavalry was composed of both), so it could be either of these suggestions, if not a mixture of the two. However the scutum style of shield arrived in Iberia aside, once there it proved a popular type, being represented in sculptures, such as the famous example from Osuna, Andalucia, and on pottery, such as the example from Liria, Valencia.
Iberian Medium Spearmen - Iberi Scutarii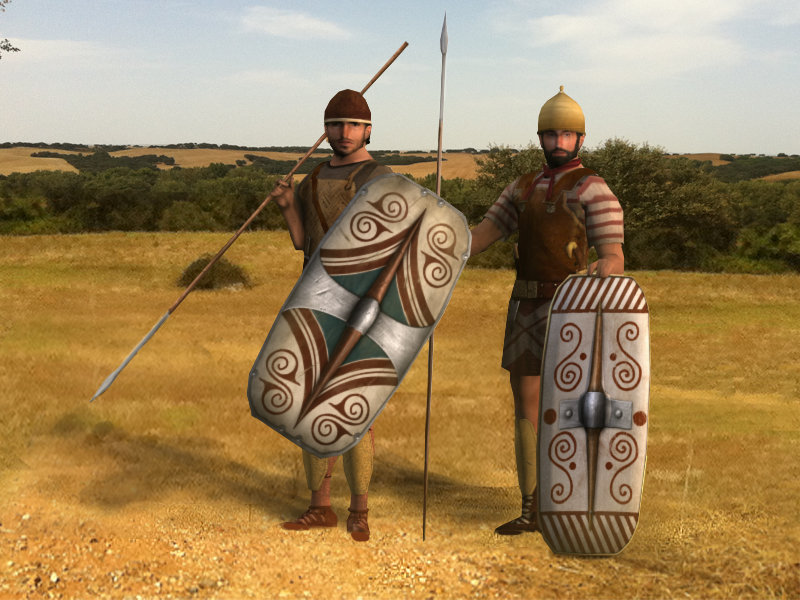 These Iberian spearmen are referred to as Scutarii by the Romans because of their large oval shields (the Latin word for shield being "Scutum"). They are well-equipped medium spearmen, being armed with the dreaded all-metal soliferum, a spear as their main weapon, a short straight sword and a small dagger for backup. They protect themselves with a combination of leather armour and bronze breastplate. When all this equipment is put together you are left with an extremely versatile and quick infantry. As more permanent warriors than the Caetratii, they are more experienced and skilled, as well as better equipped and protected, generally forming the main line in Iberian armies. They use their "soliferum" before closing in for hand-to-hand combat. Although being considered by enemies as heavier troops then the Caetratii, they are, nevertheless, fast and come in handy when springing tactical ambushes on enemy units. Most Iberian warriors were known for their determination and skill and Scutarii are no exception. They are, with the traditional Iberian ferociousness, quite determined.
Historically, even though Iberian tactics were generally constant and specific, they were also unpredictable and very effective when properly used. The Iberians' ability to hide, while keeping their enemy under close watch, before performing coordinated attacks followed by swift retreats, allowed them to surprise enemies when least expected. These Iberian hit and run tactics were called by the Romans "concursare", and sometimes described as "simple absence of tactics". It is known, however, that to perform these coordinated attacks and retreats, across an entire army, in simultaneous different areas, needed an impressive amount of organisation and signalling that was probably performed through the use of rounded ceramic horns. Although the many tribes that populated Iberia never became united under a single ruler before the Roman invasions, several temporary alliances against foreign enemies were known. These alliances, linked to the Iberians' great determination to remain independent of any foreign power, instituted an unenviable obstacle that put Carthage and Rome at check for more than a century.
Iberian Light Infantry - Iberi Caetrati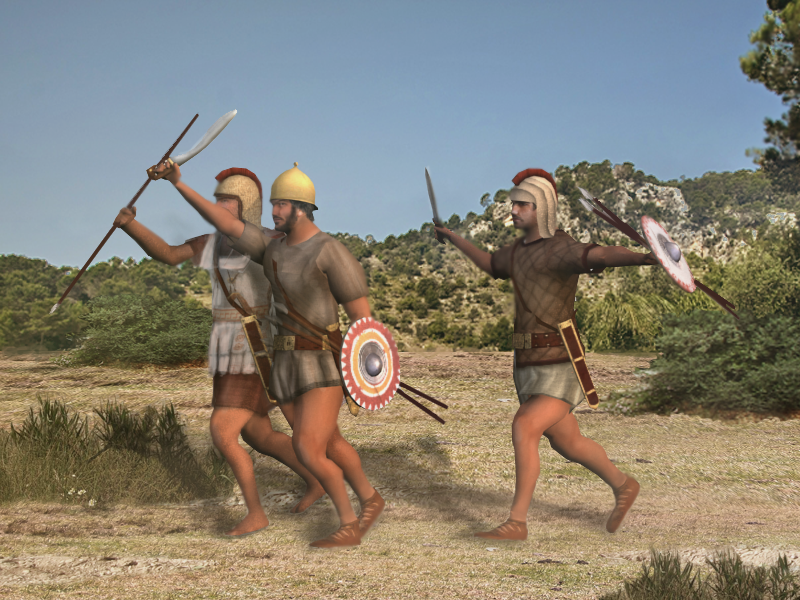 [FONT=Book Antiqua]Caetrati are a deceptive type of infantry. Well able light troops, they can skirmish while softening their enemy before closing in for hand-to-hand combat. Although sometimes they use their mobility to keep them out of the reach of enemies, they are quite often able to produce very unpleasant surprises to units not normally vulnerable to light troops. Four things contribute to this capability: their agility on the battlefield, their all-metal heavy javelins ("soliferum"), the traditional Iberian ferociousness and their superb swordsmanship. They are not, however, due to their light equipment and occasional warrior status, designed to face experienced heavy troops and should be spared to those types of combat. Their lack of anti-cavalry weapons and armour also makes them very vulnerable to such enemies.
Historically, the Caetratii were one of the most numerous type of troops in Iberian armies. They were multi-purpose light infantry made up of non-professional soldiers that filled several roles generally reserved to various types of troops. Although most Iberians were not professional soldiers, they were very used to constant tribal warfare and, as such, became skilled and resolute. Caetratii were known for their unique style of swordsmanship that employs two specific types of equipment: a curved heavy-tipped sword known as "falcata" and the small, agile buckler the Romans called "caetra". Hannibal lavished upon his Caetratii, and many of them wore white linen tunics with a crimson border.
The warriors of the Areuakoi and Iberians in action!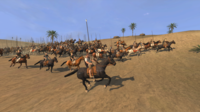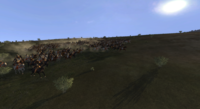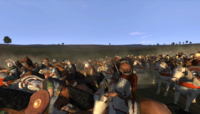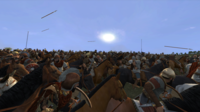 We hope you have enjoyed this preview of the Aruekoi. If you would like to show your support for Europa Barbarorum II and the Areuakoi in particular, then feel free to use these Areuakoi
Signatures
display them with the pride of a Celtiberian!




Special thanks go to Foot, JMRC, Sarcasm, Krusader, Max Maxi, oudysseos, I Am Herenow, Haithabas, Tux and Red Devil for their contributions to this preview.