Just thought I'd let you guys know that as of right now mod progress will be relatively slow compared to the past few weeks. This is due to the fact that, in a last ditch effort to help this modding community, I'll be working for several different mods, including Battlefronts of War, The Clone Wars Mod, and A Galaxy Divided. I'll be focusing on rigging, skinning, and animating things for these mods, all the while creating content for this one.
I do have content for you guys though! Nothing extraordinary, just some better looking models, but lets begin regardless.
---
Vindicator - Class Heavy Cruiser
Developed by the Empire as a replacement for the aging Acclamator - Class, the Vindicator boasts heavier armor, shielding and weaponry, as well as 2 TIE Fighter Squadrons and 1 TIE Bomber Squadron. Armed with 2 Turbolaser Batteries, 2 Laser Cannon Batteriesc, and 2 Concussion Missile Launchers.
Immobilizer 418 - Class Interdictor
Utilizing the same basic hull of the Vindicator but with considerably less firepower, the Immobilizer makes up for it with its unique ability to project gravity wells on a battlefield. Carries 3 TIE Fighter Squadrons and is armed with 6 Laser Cannon Batteries.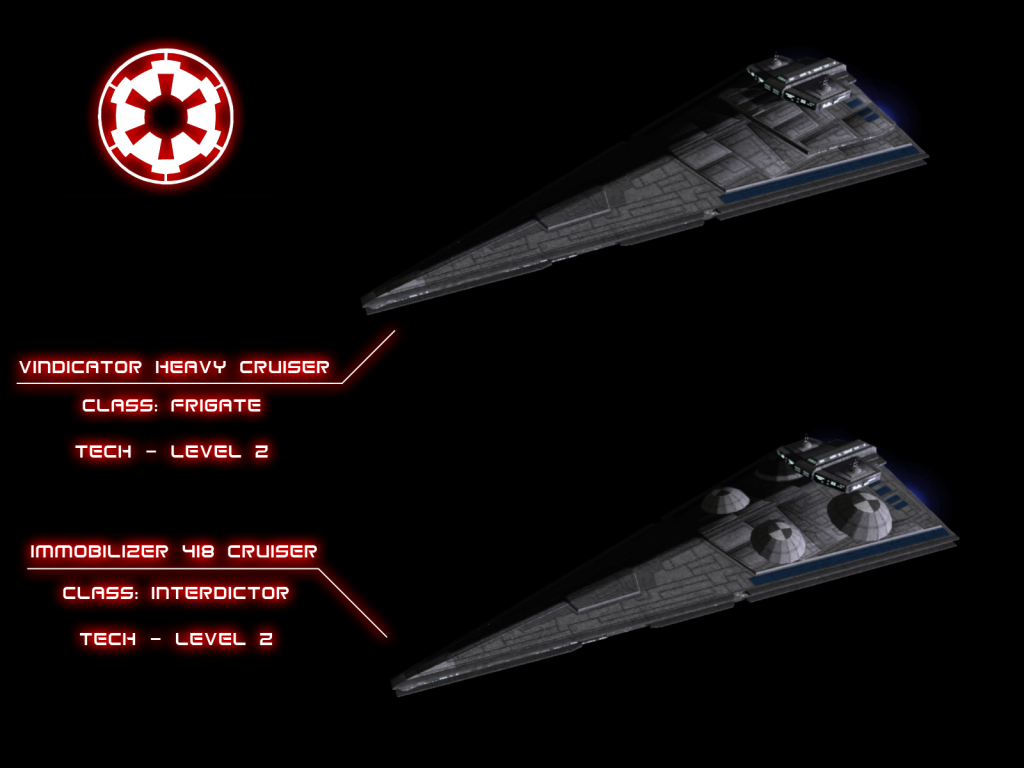 Sister ships in formation: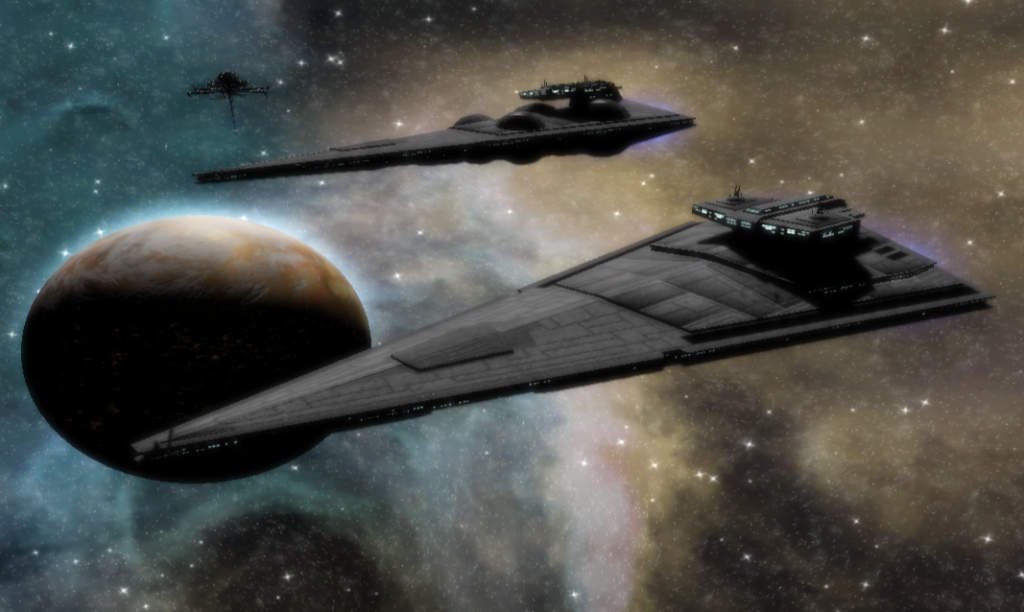 Model by Evillejedi and Arvis Taljik with modifications by Me (Mobius13)
---
Nimbus - Class V-Wing Starfighter
The Empire's main space superiority starfighter by 19 BBY, the V-Wing is a fast, nimble, interceptor capable of being deployed in large numbers without too much cost. Armed with 4 Laser Cannons.
Note: I realize the V-Wing's "canon" wing setup works differently, but I felt like this system would work better in battle, and also looks cooler. Which is always a plus.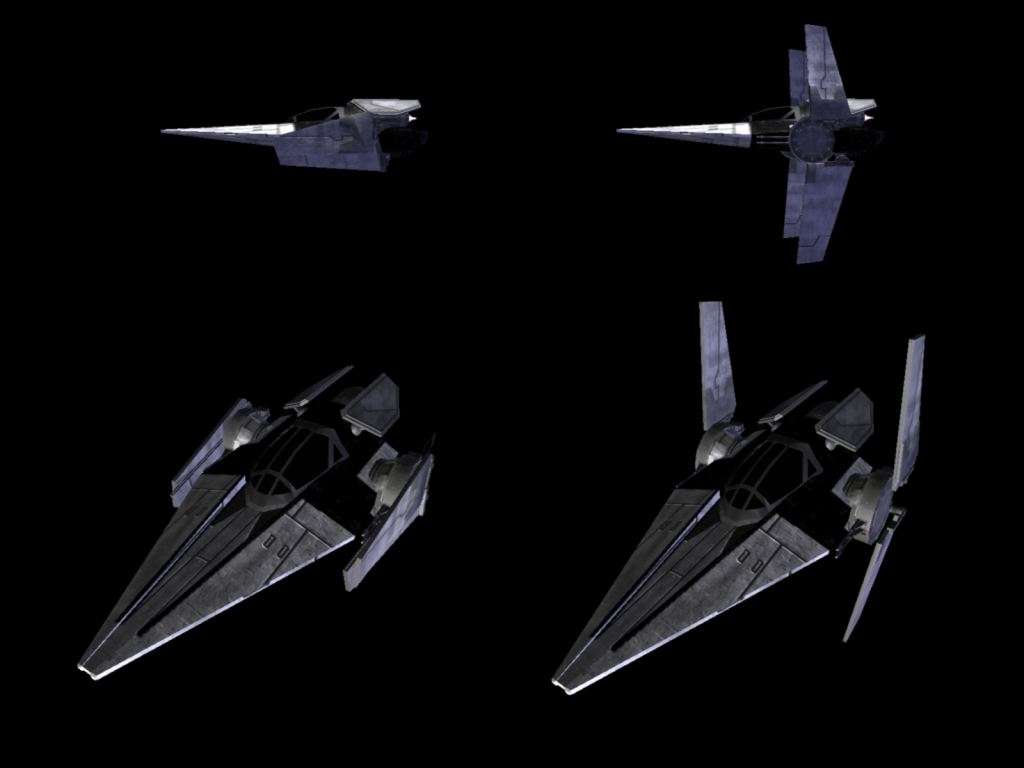 ---
EF76 Nebulon-B Escort Frigate
Originally assigned for anti-starfighter duty among the Imperial Navy, the Kuat Drive Yards design quickly made its way around the Black Market, its biggest customer being the newly formed Rebel Alliance. The Nebulon-B is used by both factions, and this can carry either a 1 X-Wing Squadron and 1 Y-Wing Squadron, or 2 TIE Fighter Squadrons and 1 TIE Bomber Squadron.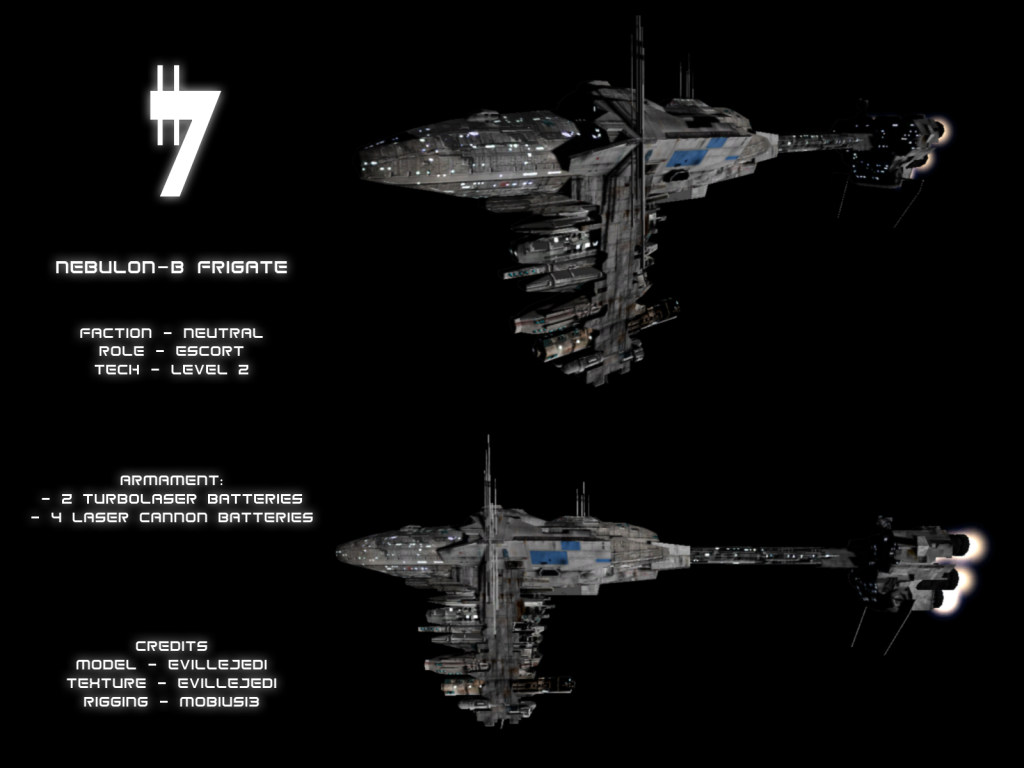 ---
CR-70 & CR-90 Corvettes
Commonly used for light escort and picket duties, the CR-70 and the CR-90 became staples of the Corellian Engineering Corporation during the Galactic Civil War. Armed with 2 Light Turbolaser Turrets and 4 Lasercannons. The CR90 boasts slightly superior shielding, firepower, and speed compared to the CR70.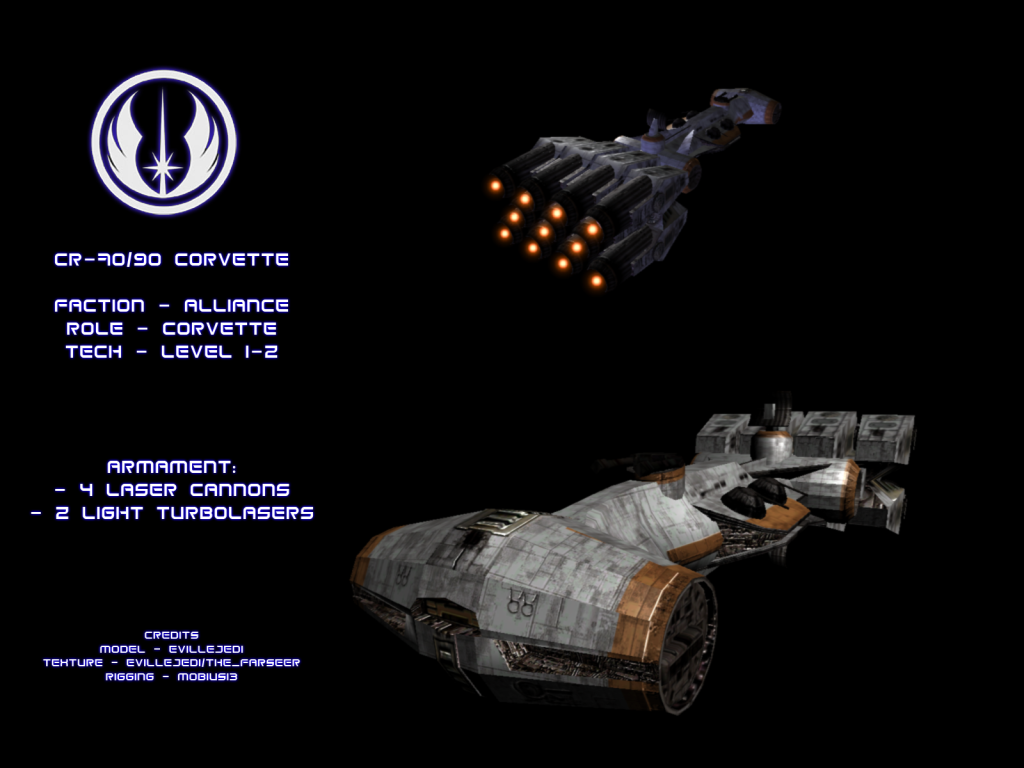 ---
All of the above models are Evillejedi and rigged/edited by myself, with the exception the Vindicator, which is by Evillejedi and Arvis Taljik.
Thats all for now, questions and comments are welcome!