Greetings, companions of Edain!
We've long been looking forward to sharing the Lorien spellbook with you - but there's something else we need to tell you first. Lorien's will probably be the most complex spellbook in version 4.5 and has received the most changes. One of them is that Galadriel will now play an even more important role in it, having two spells completely dedicated to her. That's why we took the opportunity to also rework Galadriel herself while developing the spellbook.
For a while now, we felt her old design was lacking. There wasn't any clear focus in her abilities, and they lacked that feeling of power other heroes in her category like Gandalf convey. Furthermore, they didn't incorporate anything we've seen from her in the Hobbit movies yet. We wanted to creative a more cohesive Galadriel that captured her essence and most important traits and moments while also being fun and interesting to play. This is what we came up with:
Galadriel's abilities

- Rank 1: Light of the Golden Wood. After a brief duration, a blazing light breaks through the heavens near Galadriel or any hero with Gifts of Lorien on the map, driving enemies in the area to flee in fear.
Similiar to her old Gaze of the White Lady, this is a disruption ability that can throw enemy forces into disarray. At her core, we still wanted Galadriel to be a support hero. However, she now causes enemies to flee rather than stunning them in order to differentiate her ability from Haldir's Golden Arrow which also stuns.
More importantly, the ability gains a new twist: It can now be cast across the entire map if you have a hero with Gifts of Lorien nearby. In the story and in the movies, one of Galadriel's most defining characteristics was that she was a powerful source of aid to many heroes of Middle-earth, even appearing to Frodo in a vision from afar to help him in his task. This is what she will be doing in Edain as well, watching over your heroes and bolstering them in many different ways. Key to his are her Gifts:
- Rank 3: Gifts of Lorien. Target hero receives a precious gift, allowing Galadriel to reach him with her abilities.
* Orophin and Rumil: Elven armor that drastically increases their defenses.
* Haldir: Blessed Arrow with more damage and a larger radius than Radiant Arrow
* Celeborn: Lordly armor that increases defences and damage
* Thranduil: Royal armor and an additional row of Palace Guards for his shield wall
* Legolas: Bow of the Galadhrim that increases damage of Hawk Strike and Arrow Wind
This ability remains largely unchanged, but all of Galadriel's other abilities now interact with it.
- Rank 5: Radiant Aid. Any hero with Gifts of Lorien on the map is immediately fully healed and all his abilities are ready to be used again.
Even when a hero is near death and completely exhausted, the voice of Galadriel can reach him from afar and grant him new strength. This ability is based on the movie scene where she helps up Frodo to continue in his quest.
- Rank 7: White Lady's Banishment. Throws all nearby enemy units to the ground, deals heavy damage and robs them of all leadership effects for a medium duration. Additionally, if a hero with Gifts of Lorien is nearby, enemy heroes are blown away and deal no damage for a medium duration.
This powerful magic is based on the Dol Guldur scene from the Hobbit, with Galadriel coming to Gandalf' aid, destroying a lesser Orc outright with her magic and later even sending Sauron and the Nazgûl away powerless. To unleash its full potential, however, it has to be used near an allied hero with Gifts. It's the ideal ability to save a hero surrounded by powerful foes, decimating armies and rendering heroes harmless for a while.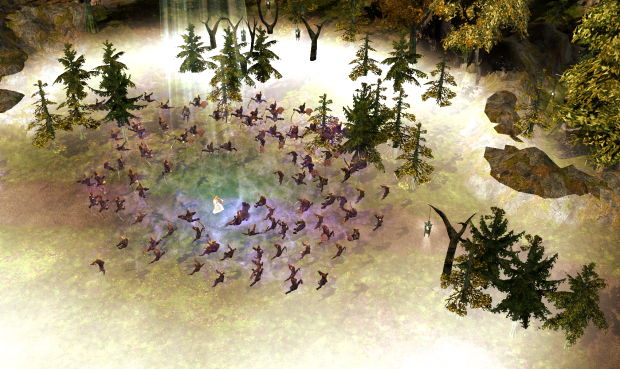 - Rank 10: Nenya's Cleansing. All allied units and buildings on the map are continously healed for a long duration. Units in the vicinity of heroes with Gifts of Lorien additionally become fearless and can't be knocked to the ground. Buildings in the vicinity of heroes with Gifts are immune to fire.
This may be the most controversial change. We didn't feel Galadriel's old invulnerability spell really fit the gameplay of Lorien. This is meant to be a fragile faction relying on trickery and speed to win, not march through any and all damage with an invincible army. If anything, that sounds more like a Dwarven thing! However, we still wanted to showcase Galadriel's healing and protective influence on her realm, safeguarding it from the forces of the evil through the power of Nenya.
Nenya's Cleansing felt like a better way to do this. It still gives you quite a bit of staying power, but you do still need to take care not to run into more damage at once than its healing can handle. This emphasizes that Lorien should be a skill-intensive faction to play, which it hasn't always been in the past. More changes in that direction are coming in Edain 4.5 as well - stay tuned for the full spellbook!
Not only did we retool the basic Galadriel, we also took a look at her Ring forms. As before, Galadriel will be able to choose between using the Ring, becoming the Queen of Twilight, or only keeping it safe, earning the blessing of Earendil. However, until now, the "good" Galadriel especially was actually less interesting than the regular one because she lost one active ability in favor of a passive button!
We decided instead to let this Ring form emphasize the new Galadriel's most interesting play patterns. All of her abilities now gain an extra effect: When used, they spawn a blessing light for one minute that increases the damage, range and speed of all allies (including Galadriel herself) in a wide radius. Keep in mind that while some abilities like White Lady's Banishment will always bless Galadriel's current location, others like Radiant Aid can be cast across the map! This means Galadriel can support several armies on different fronts at the same time, encouraging multi-pronged attacks and hit&run gameplay.
However, we also decided to cut a mechanic: The Blessed Galadriel will no longer spawn Frodo and Sam to safeguard the Ring. This is mainly because the two Hobbits didn't serve any useful gameplay purpose: What good are two additional scouting heroes when you already have your Ring Hero? Instead, Galadriel herself will now safeguard the Ring without using it and drop it upon her death. This makes for better gameplay and Frodo and Sam are still represented in the Fellowship of the Ring in Rivendell, where they fit much better. Though we may reintroduce them to Lorien some day if we come up with a better purpose for them.

Galadriel at her most powerful, the Queen of Twilight openly wields the One Ring. She too has received new abilities patterned after her famous speech in the movies:
- In Place Of A Dark Lord You Would Have A Queen. As Queen of Twilight, Galadriel unleashes tremendous power. Her magical attacks damage all enemies around her. Her attacks against buildings also hit other buildings in the vicinity.
- Not Dark But Beautiful And Terrible As the Dawn. All enemy units near target location cower in fear. Enemy units, heroes and buildings deal no damage for a medium duration.
- Treacherous As the Sea. Calls down a magical flood of rain in target area.
These are the old tears of the Valar. They used to be Lorien's ultimate spell but have now been moved to Galadriel. What's the new ultimate spell instead? You'll see!
- Stronger Than the Foundations Of the Earth. Cracks open the earth in target area and deals heavy damage to enemy buildings.
- All Shall Love Me And Despair. Enemy units in target area briefly fight for Galadriel and have 25% less armor for the duration.
As you can see, these abilities all err on the simpler side of things and focus on raw power instead. We thought this was a fitting contrast to the regular Galadriel, who is much more focussed on cleverly helping others. With the One Ring, she abandons such niceties. We had great fun patterning her destructive abilities after her speech to Frodo and hope you will enjoy wrecking your foes with them!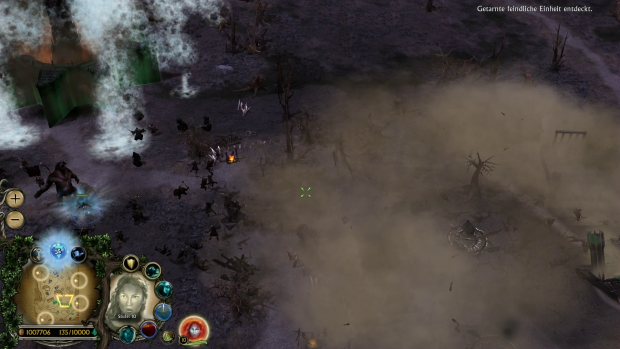 Now you know everything you need to know to fully appreciate Lorien's spellbook, which we will present to you soon.
If you enjoyed this update, we'd be grateful if you could give us your vote for Mod of the Year!
Note: If you have the time, please register before voting - it will make your vote count more!
Let us know what you think about the new Galadriel in the comments!
Your Edain Team