A doom bible mod often attempts to replicate the exact design document, created by tom hall during the earliest phases of dooms creation. This can cause problems as there are really quite a few things that tom hall either overlooked when writing the document, or holes in the story that cause it to leak like a sieve and quite frankly a lot of bland repetitiveness .As a person who is attempting to create a coherent, fun and interesting experience with the doom bible as a basis for characters, locations i have learned that it is immensely hard to create things that still look good, play decently, and still match the doom bible and tom halls thought process when designing the look and feel of the earliest versions of doom.
For example take the original design of the starting room in e1m1 from alpha 0.3 of doom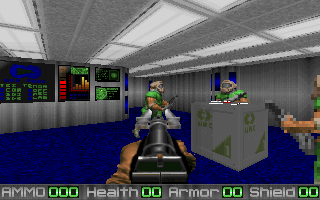 This room seems pretty bland, bright, and does not really fit with a good atmospheric game. A large amount of doom bible wads seek to replicate this feel, which can cause boredom for the creator and player, which often makes the authors of doom bible mods cancel or put on hiatus their mods.
Now take the starting room of doom the tei tenga incident, based off this room.
It looks almost completely different with the added detail, atmospheric lighting and including of different texture choices compared to the alpha design. But at one point the two rooms where identical to each other, in blandness and well lit.
This is what i mean by the curse of the doom bible, is that following it rigorously and the exact way it was wrote will cause an overall boring experience for the player, and not an enjoyable game. For example, episode 4 of the original doom bible, called "base instinct" was essentially a variant upon the theme and setting of the earlier episode "evil unleashed" . In the plans for the tei tenga incident, it was decided to move episode 4s setting from "undecided moon base" to a version of Luna city, from the book "the moon is a harsh mistress" by Robert Heinlein. That varies the environment design and allows for new areas to be created, such as an underground overrun with demons metropolis, which is a lot more interesting that another demon overrun human military base. You can have survivors of the invasion, last pockets of resistance attempting to fight the demons in anyway possible, the demons doing unspeakable atrocity's to mankind, and even sections that use vehicles, like tanks and light armored vehicles. All in a huge non linear metropolis, that feels both massive and claustrophobic. That is what the doom bible can be made into, a huge massive game that has six episodes each with its own feel and style, similar to the original doom. That is my secret to getting this far,not hard headed determination, but variety.
~Demo_the_doomer