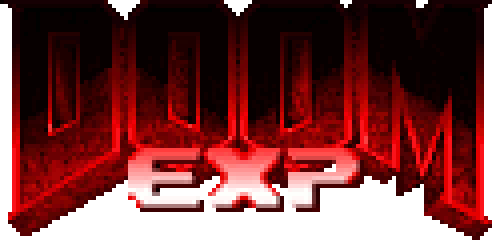 Download v1.9b here:

What is Doom Exp?
A xp/rank/reward/mobility modification with visual/sound/text notifications.
"Doom Exp Settings" menu with many adjustable settings and keybindings.
Edited Sounds & effects, Improved mobility (sliding, dashing, wall latching), More Gore - etc.


Sphere Info:
BlurSphere: This is basically partial invisibility but Revenants rockets aren't able to lock on to you.
InvulnerabilitySphere: Projectiles bounce off of you and will damage other monsters.
FireSphere: Adds 200 armor and a +100Hp boost. You are immune to fire damage caused by the Arch Vile and your own flamethrower. You also won't take damage from damaging floors.
BerserkSphere: +100HP boost. Having this will make your Doom Blade a vicious demons slaying tool and make special monster deaths more likely. e.g. decapitations.
DogSphere: A usable inventory item that will spawn the companion dog.
HUD icons and level rewards:
Level rewards will only remain for the time played on that level.
Completionist rewards are permanent.
Press F1 in-game to bring up this info screen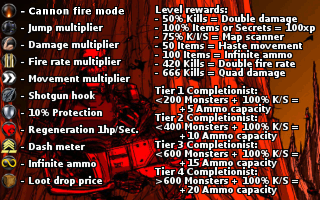 Completionist & random Boss drop lootboxes. 3 types of loot:
-Good (Will spew out a random selection of items + additional XP)
-Bad (Is filled with monsters + additional XP)
-Poop (Well, it has poop inside, a little bit of ammo + additional XP)
Weapons:
Every weapon has a alt fire upgrade. Weapon functions have been reworked and additional weapons added for later upgrades (Flamethrower, Crucible sword).
Chainsaw uses fuel and can alt attack monsters to get extra loot. Also it's on fire.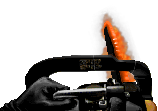 The Shotgun and SSG can get a hook upgrade which will allow you to pull smaller enemies towards yourself. Lager ones will pull yourself towards them.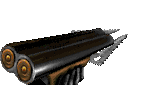 Melee quick attack arm blade. Combined with Berserk, this attack can do some serious damage and also has a high chance of getting special bonus kills on most of the lower tier monsters.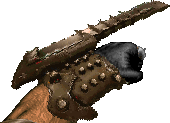 The Crucible Sword is a close range weapon with a attack that pretty much kills anything near it. You have a total of 3 swings before it goes into a cool-down state. It's alt attack is a block state that reflects enemies projectiles.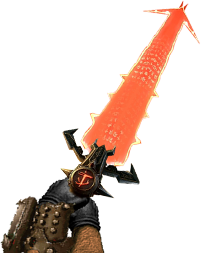 Custom Monsters:
Monster replacer with random chance of replacing certain monsters. On/Off switch in settings.

Difficulties:
Mortally Challenged - Pretty much "I'm too young to die"
Rip and Tear - UV, Monsters have slightly more HP, Ammo pickup amount slightly reduced
The Doom Slayer - Fast Monsters, do double the damage, are more aggressive. x2 ammo pickup amount
1.9 Changelog
The shoulder cannon now has 3 different fire mode types, that you`ll have to toggle via keybind (Options - Doom Exp Settings).
The flamethrower (Ammo type Fuel). Probably the most effective weapon but dangerous to use in tight places. Does not damage Arch Viles and Pyro Demons.
The Grenade launcher (Ammo type rockets). Fires a burst of 10 grenades. Not the strongest fire mode but great for shooting around corners.
The Frost launcher (Ammo type cells). Will freeze any monster besides bosses and is super effective against Arch Viles and Pyro Demons.


Barrels now spawn fire around them when destroyed.
More breakable sprites added (Big Torches, Candelabra).
Minor effects added to the breakable sprites e.g smoke puffs and sparks.
Missing decals added for arm blade, plasma rifle, rocket launcher and BFG.
BFG impact spawns fire.
When standing closer to the BFG impact the player will get a little camera shake.
Zombieman cut in half animation was sped up and minor sprite fixes on the torso.