Doom Eternal Xp 1.7 - News
Doom Eternal v1.7 updates:
Dual pistols upgrade added. Alt fire switches between weapons.
Shotgun spread reduced.
Highly reduced ammo drops for killing monsters.
Ammo capacity upgrade amount reduced.
Random mini-boss encounters added.
Every 5 ranks you get a +25 permanent health upgrade.
Price for loot drops adjusted to ranks. Drops will get more expensive but also give better items.
Here is the info screen since some people don't seem to know about the in-game F1 help screen. It will show you what certain icons mean and when level rewards are received.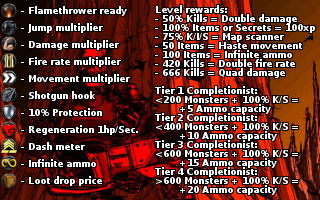 Doom Eternal v1.6d updates:
Buy feature enhanced. Higher ranks give better drops but will also cost more.
Speedometer added.
Small flames no longer do damage.
Arch Vile glitch with railgun attacks fixed. (Arch Vile wouldn't take much damage)
Script clean ups.
Doom Eternal v1.6c updates:
You can now buy random itmes for 500xp.
BFG alt fire reworked to be more balanced.
Plasmarifle alt fire will now always gib enemies.
New HUD font for Health,Armor and Ammo.
BFG alt fire and rockets spawn flames on impact.
Plasmarifle impacts now do shock damage with a chance to stun monsters.
Minor fixes and changes on lighting and monster decorate.

Doom Eternal v1.6b updates:
Some cool GL lighting has been applied to projectiles.
The 2nd Style Bonus Kill on the Zombieman which cuts him in half, has been impoved to look better.
Alt fire on Chaingun uses 10 bullets instead of 5 to compensate the high damage output.
Thx to C.Blacktoe for pointing out a glitch I thought I had fixed. Using Blade/Kick on exit shouldn't break your weapon selction anymore.
Doom Eternal v1.6a updates:
All weapons except for melee, now come with their own custom crosshairs.
Both shotgun weapon sprites have been edited with a visual grapple hook attachment.
The SSG alt fire animation has been changed.
Weapon sway by Nash Muhandes has been implemented into the mod.
A rare chance that zombiemen, shotgunguys, wolfensteinss and cacodemons have a embarrassing death.