Doom Eternal v1.5g updates:
Mainly the shoulder flamethrower has been added. Rank 12 unlocks the upgrade
The HUD autofit didn't use the scalefactor 1. It now should hopefully work properly
Menu new keybind and descriptions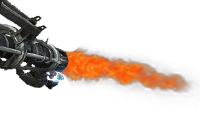 Be sure to bind the flamethrower key in Doom Exp Settings

I noticed that the Auto Fit HUD didn't force vid_scalefactor to 1 which was probably why people still had this type of HUD (picture above).
Go into the Doom Exp HUD Settings and see if "Auto Fit HUD" now works.

The "mapset > normal mapset" menu now has changed to "Xp Giver > High".
It defines how much xp is rewarded for killing monsters:
Normal - Designed for full 32 map megawads
High - Designed for small mapsets or single maps
Low - Designed for slaughtermaps