Hello everyone ! First things first, welcome to my very first Devblog , i hope you will appreciate it, and if you do like it, other posts will follow for sure! I will now present to you how i've created the alarm sound of the shop " from the scratch" portico. In order to fully understand my explanation, you will need to listen to every sound tracks in the order they are shown in this post. To do my work, i use a Frequency Modulation, the "Fruity dx10". While they exist a lot of other modulators in the market, i like using this one because it can combine 2 distinct sound waves while staying coherent.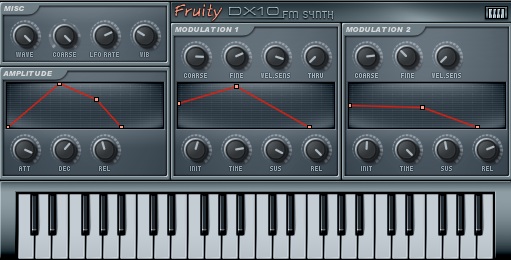 With the settings you can see above, i obtain this first sound:
Alone, this sound is not much, but still, we can feel the possibilities that it can offer to us
2]Amélioration spectrale
Here's what the sound looks like in the spectral view.

The spectral improvement consist of deleting the tones you do not like in the sound. I fist begin this by taking out the high-pitched sounds, that are too strident.

Here is the high-pitched sound separate from the rest. By hearing it, we can understand that they are of no interest for the final product.
We then obtain
Once this is done, i erase the sound that is giving me the most trouble, the one that create the continuity of the alarm. I have to do that since i want it to be discontinued. Because of that, i say goodbye to the high-pitched sound that bind it. Once cleaned, i obtain this in the spectrum

And for your ears
3] The effect (exemple of)
Thanks to a assortments of effects(including a reverb since i don't like the dps of the source engine) i increase the tonality of the sound as well as his speed. I then obtain the final version of the sound that you can hear below. This is not the sound I am using into the game, mine is more dirty ans worked-on. But I based my sound on this.
Well, it seem we have arrived at the end of this dev-blog, i hope that you liked it. I know that they are quicker ways to arrive at the final product, but i preferred to start from scratch in order to obtain a sound as original as possible
Until next time!
Kisses,
khelben