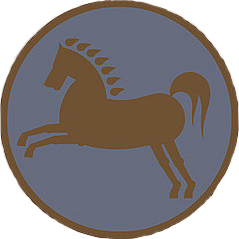 Maures:
These people have long inhabited the western coasts of North Africa. The Maures are often associated with other tribes that dwell just below the Atlas mountains. These are the Nigrete and the Pharusii. The Maures existed as an indepent kingdom for a long time before their last king gave his country to Rome upon his death. The Maures later came under the dominion of the Massylian kings at which time raids were launched upon the Africans down the coast and the Canary Islands were explored. The Africans down the coast were negroid and were often traded with by the Carthaginians. The Canary Islands were believed to be uninhabited at the time but later evidence proves it was inhabited by stone age Berbers who had migrated there around 1000 BC.
Numidians:
The Numidae, meaning 'nomads', were a group of Berber people living in western North Africa in modern day Tunisia and Algeria. They lived a semi-nomadic lifestyle as hunters and herders and were often at odds with the more 'civilized' groups who settled on the coasts. The Numidians were generally divided into their two major factions, the Massylii who controlled the eastern half of Numidia, and the Massaesylii who controlled the western half and the coastline. Born to the saddle and the nomadic lifestyle the Numidians are expert riders and there are few better with a javelin.
Garamantines:
The Garamantines were a group of Berber tribes living in North central Africa on the fringe of the Sahara desert that herded cattle and irrigated farmland. They conducted raids against towns to the North and against the nomadic Saharan people known to the Greeks as the Troglodytai. The Garamantines reached dominance in the second and third century AD and are often referred to as one of the first great Berber nations. They fought on foot, from horseback and from chariots. Much of the evidence for their equipment comes from their own rock art and Egyptian paintings of Libyan soldiers. According to their own later rock art, the Garamantes changed little in appearance from those Libyan tribes which raided dynastic Egypt long before the Greeks and Romans were major world powers.
Herodotos refers to the Garamantes as a fierce and aggressive tribe that would hunt down the Troglodytai but also says that they are a people who know little of war. Herodotos made the Garamantines famous for his fanciful tale of the cattle they raised which supposedly had horns so long they had to graze backwards. The last Roman triumph celebrated by a general not related to the Imperator, or the Imperator himself, was against the Garamantes in the first century BC by Lucius Cornelius Balbus.
You can find the full preview here:
For English readers: Twcenter.net
For French readers: Mundusbellicus.fr