Today we got some interesting stuff for you. There is something you did not know about Desolated till now. Well.. Desolated will contain a multiplayer part called DAZE. We didn't tell you about it because of the fact that we were really not confident if the concept could work as we planned. There were lots of things specified in the first draft so ,for sure, we had to spend a lot of time. This was essential to empower the project, to see if it's worth it at all or not. Up to day we were able to realize more technical issues than we originally hoped that they would be possible for us to do. But hey, we can promise you that it got a very special kind of multiplayer experience and surely a cool one.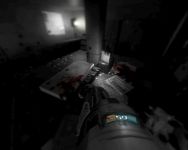 But the question is why does it have such a special and unordinary style? It's because of the setting playing in a near dark future. The world has broken down due to a person called the president of the USA. It started in Afghanistan and ended up with the crazy thought of owning the world. It swapped over to Europe and finally the whole world was in the 3rd world war. The next step have been nukes which destroyed the picture of the world we had in mind. Just a few survived this catastrophe and ended up in holes to hide but the day is coming to cancel stashing. Now it's all about getting back to the earths surface and fight... fight for just one thing: EXISTENCE.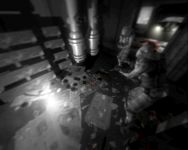 Daze definitely ain't ordinary which you can see on the screens above. The black and white style is matchable with Sin City. The world itself is grey and dark but as an stylistic instrument the blood is red, though. There's a reason for using such a method, it's simple and easy: desolation. A dark world, no hope, everything is messed up? In such a world it can't be colorful!
Now some features and technical aspect of the game, it'll include a lot of shaders and gameplay changes same as a new soundtrack. What you can see on the screens is ingame, the Mod is using bloom, black/white, blur, fake-hdrr, sharpening, improved rendering and realistic light reflections. It's possible to switch between third- and firstperson depending on the situation. The project also is different because of the gameplay, it's not a usual multiplayer shooter anymore, to stay alive you gotta create own tactics which makes the mod definitely special.
Finally you can stay tuned for an art-shooter which will be released together with Desolated: The Crying Fate. In a few weeks the official DAZE page will arrive on moddb so watch out!