DarthMod Napoleon v2.5+++ "Mythos Edition"
+ Over 200 extra units
+ 40 unit armies
+ Many different campaigns
+ Effects that look real
+ Fascinating AI
+ Realistic battle mechanics
---
= M

ythic gameplay experience!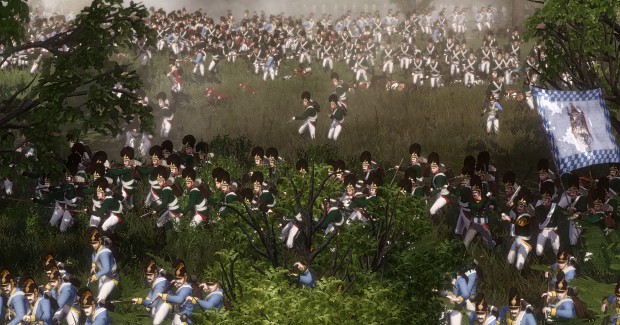 ---
T

he changes that made this version the best yet

Version 2.5+++ "Mythos Edition" (17/7/2012)
Fix of broadside damage being too weak.
Improved melee and animation mechanics for even more cinematic and realistic engagements. The AI is affected very positively and now should behave better and be more responsive.
Adjusted the Formation AI and now the BAI should be more effective overall:

The AI now forms proper double lines, more suitable for the 40 Unit battles engagements.
The AI now can defend more efficiently and artillery fires at the advancing human army without hesitations.
The AI should attack not too stretched out and more coordinated.
Managing properly the formation offsets now the BAI can attack more efficiently by exploiting the weakness of the human player, that is the ability to control many fronts at the same time and musket/charge at will. In short, the AI moves much more decisively in the battlefield and should provoke much more casualties to the human player.

CAI should now be much more mobile and eager to defend borders/settlements/cities and also to invade.
Rank fire has less fire delay.
Melee penetration enhanced to the maximum cinematic level.
Version 2.5++ "Mythos Edition" (10/7/2012)
Artillery more powerful in the battlefield as widely requested. (Also the impact effects of solid shots have been improved).
Several CAI recruitment options have been optimised.
AI France more aggressive to be able to survive and prevail against the CAI alliance packs (In DarthMod alliances are realistic and helpful).
Britain more aggressive so to attack and invade more often.
Naval guns more powerful against crew and have more range. Additionaly many naval gameplay mechanics have been re-balanced for compensation.
CAI better army positioning in the campaign map, hopefully leading to more AI strategic maneuvering.
BAI Formations improved and they make the AI to be far more effective in attacking/defending, in protecting the general and in artillery usage.
The Albtraum23 modified deployment zones submod included in DarthMod is now not creating CTD in siege battles (removed all the possible causes which means siege battles have normal deployment zones).
Version 2.5+ "Mythos Edition" (3/7/2012)
Fixed the Emergent Campaigns that did not not load from the launcher.
Fixed an issue of the launcher that prevented the manual toggle of unit size.
CAI should now defend and attack settlements with much larger forces so it will be even more challenging.
Naval CAI should distribute ships better in order to trade, attack, defend, invade.
Diplomacy should be more rational than before.
Musket smoke fine tuned even better according to some latest feedback.
Artillery ground impact effects enhanced!
Artillery concussion effects & fragment lethality increased even more.
Names of the 2 new units of the latest Creative Assembly DLC are now shown correctly. (A lot of thanks to Marku who gifted me the DLC and so I could trace the bug).
Re-balanced the cost of all units so that there is more economic challenge in the campaign.
Made payments more important in diplomacy negotiations.
Version 2.5 "Mythos Edition"
Adapted for the latest official CA patch of 18/6/2012 (no more CTD at startup).
Improved BAI.
Far more improved responses, unit speeds resulting to even more cinematic and violent melees and to better timed volleys.
CAI should be generally more versatile in diplomacy and improved.
CAI should create more alliance packs.
CAI should relentlessly try to take back its conquered lands.
Autocalc improvements.
Several adjustments to CAI handicaps to make it more challenging.
CAI should help allies more.
Improved musket smoke (thicker, more realistic interaction with gravity and wind).
Fixed a problem with musket smoke that made it too shiny for some Graphics Cards.
More hilly terrains for more tactical battles.
Militia can now be recruited in zero turns so to have a better and more realistic use.
Several unit cap and cost balances. For example Russia and Ottoman Empire have much reduced costs for their infantry and many other.
Artillery fragment + concussion effects more lethal for infantry.
Added 49 New units!

Now DarthMod Napoleon has a total of 191 New Land Units + 14 New Naval Units (work by Swiss Halberdier, Sacrebleu!, md1453, Pdguru, Diamat, AClockworkOrange) which enrich your battle and campaign experience.

Included the 1st Italian Campaign French troops retexture by JustDoit8 changes realistically the appearance of all French Revolutionary troops (Ideally, no more tragic Barefooter clowns).
Several fixes and improvements to the Launcher by husserlTW.
Read more about the full changelog and features of the mod
---
Installation & troubleshooting

It is fully save game compatible with your previous DarthMod v2.5 "Mythos Edition".
It is required to uninstall the previous version and then install this new one.
Read the simple installation instructions
Useful info:
Always open the Steam client before you open the launcher
How to play Multiplayer with DarthMod Napoleon
Technical support
---