Im recreating the item system. All items will be based on different itemtypes. Each itemtype holds the information about the basestats of an item like armor or min/max dmg. Further items can have several affixes that grants bonusses to attributes and skills. Each item will have an itemlevel. The itemlevel effects the affixes and basestats of an item.
Example of an item of itemlevel 1: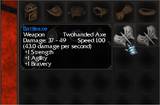 Same itemtype with itemlevel 13: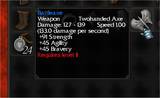 Stronger enemies with higher level have a higher chance to drop items with a high itemlevel.