Another year has past, I think it is time for an update on FORTS!
The first thing to be released will be a new map which features a lava-lake, vast plains, strange rock formations, sand dunes, 2 fortified outposts, impact craters and a valley overgrown with alien plants.
There are 6 PowerNodes and 2 TeleporterPads, so you can get back to the action at any time without having to take long ways between the hot spots. 4 medium sized mineral fields and 3 gas fountains provide enough resources to maintain vast armies. The plains offer several opportunities to set up new structures and deploy vehicles.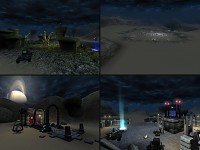 I intend to upload the map within the next two weeks. Any suggestions for the title? ;)
Greetings,
Dennis