Crossfire short stories XIV: Ancient Days
The Scientific colony on the planet Lyr in the Dervon system celebrated. Research of a wormhole found in the asteroid field, that has lasted nearly a century, is finally at an end; only one last step remains. Recent scientific advances in FTL technology enabled specific measurements which clearly showed that the entry point is highly stable. Naa'syll, the Chief Scientist, announced today that the Scientific Council decided to send two automated drone ships equipped with the new FTL engines through the wormhole. Using drones has an immense advantage in that they have almost unlimited operating radius. They may return, in theory, even if they cannot use a wormhole for the return journey.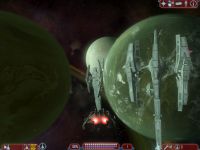 Drones 001 and 002 are ready to enter the wormhole. The last maneuvering commands were successful and soon after both ships in close formation entered the wormhole. Measuring equipment onboard immediately began to record new data. Drone 001 had just sent a picture of the Sun's cluster when communications suddenly interrupted. The last data received indicated that it appeared the wormhole output changed the coordinates. Something is definitely going wrong! The energy output readings from the wormhole shows abnormal values being recorded, seemingly indicating that the other side of the wormhole is solid matter. The device tracking the curvature of hyperspace in the wormhole entry suddenly explodes. Fuses, which should have prevented this, completely failed. Naa'syll left the control center deep in thought. He feared that they had just tried to open a door that should never be opened.
A shock wave spreading through hyperspace, reached a giant Hypergate control station once used by the Dom'Kavash. Coordinates for the location where the disruption occurred in hyperspace were calculated. There shouldn't have been anyone except them trying to study the hyperspace! Who or what is this unknown threat? The orders to their servants (Nomads) are crystal clear, the unknown threat must be eliminated as soon as possible!