Managing a beta for a portal custom campaign like THE CORE requires some planning, conducting playtests, nagging players for their responses, revising puzzles to make them less frustrating. For me personally when I make music (and maps), I'm the kind of person that likes to imagine everything before I start working on the task so I can finish it reasonably fast.
I think about a basic concept for a puzzle, create it and then look how it feels while fully realized. With THE CORE, I don't want to make a super easy campaign. We aren't going to start out with very basic puzzles like in the starting maps of portal 2. The setup will be basic but I'd like the player to work trough a small conundrum for the intro puzzle.
Each puzzle is going to contain pretty straight forward concepts that you hopefully got from the game's stock levels, but sometimes you have to think a bit more out of the box in order to solve them.
Of course I'm aware that portal puzzles have to be not too frustrating, and I need to uphold a delicate balance to make it fun, yet not so hard that you can't keep player's frustration in check anymore.
I've seen players who tested the intro map taking a very long time to get the concept, while others had it in 2-5 minutes. I found that these opposites were way to far apart. After I gave out the beta to selected friends, I have tweaked several puzzles to make them less "elitist".
When I was pondering on how the intro map was first and how I saw players deal with it, I just allowed that info to sink in without rushing for an imediate solution. The morning after I get an eureka moment and i could just make the most straight forward level design changes to make the puzzle more "sane" for the player so he/she can work trough the same conundrum I had set out for the puzzle, but in a more straight forward way.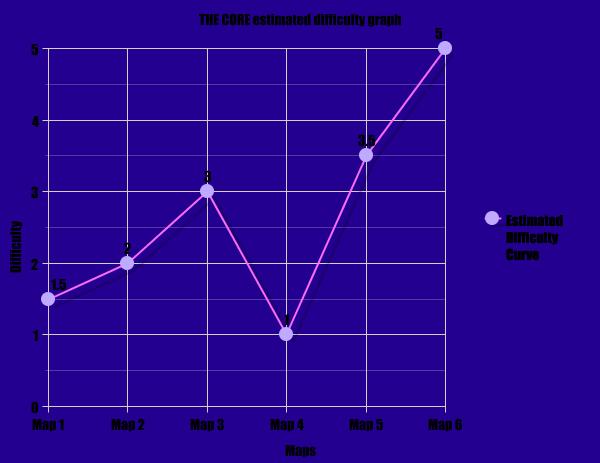 Here's a graph I made on how I imagine the difficulty curve trough-out the campaign. I thought it would be cool to have a few normal to hard puzzles and then have a small intermezzo in the middle of the 6 maps long campaign, and then go the full Monty for the 2 last levels. It will hopefully re-encourage players to do this several times.
The levels and especially the puzzles within have gone trough countless iterations and I've had a few play testers play different versions to see if my changes had any effect. I'm still not quite done with this. There will have to be one more beta to see if I can make the puzzles exhibit balance between frustration, fun and challenge.
This beta will be completed at the beginning of October and will again go out to a few people. Then after a next iteration there will be cake! I'm glad that I had this experience of making the campaign and had a few dedicated and competent team members and advisors to help me out.