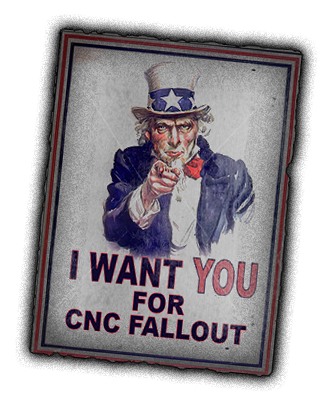 So you've played CNC Fallout, and you know what we are about. You loved the mod, but you noticed something was missing...

It's time to give our units a voice, and we need YOU! CNC Fallout is now hiring voice actors.

Requirements

Fluent English (voices will be in English, but accented..the key here is that it has to be understandable!)
A good microphone
Voice Types Needed
As you probably know, we have many units to put voice to - therefore if you have a good mic and are from the region, it would be awesome if you could just start enlisting everyone you could in recording voices (family, friends, even random people off the street).
Russian and Ukranian (male and female)
Australian (male and female)
New Zealand (male)
American (male)
Canadian (male)
British (male)
German (male)
Dutch (male)
French (male)
Enlist TODAY!
Make sure you meet the requirements.
Email cncfallout@gmail.com, state what accent(s) you can do, and make sure to include in the email's subject "VOICE ACTING".
If you have what we're looking for, we'll get you started on some voices. Full credit will be given, and we can probably arrange some other special goodies for you as well. (internal testing anyone?)
Henford