Intro
In this fourth dev diary we hit our stride and finish off all building types, big ones, little ones, and the biiiig difficult 3x3 super skyscrapers for the Civilization 2 - Red Alert 2 Siege of New York Scenario!
Background
While working with Metropolis on the Civilization 2 - Heroes of Might and Magic 2 Mod I started thinking about how cool it would be to play a C&C2 style dark and moody scenario along with a city siege Red Alert 2 style Civ2 scenario with towering capturable buildings as I'm a huge Command & Conquer and Red Alert fan (so much that I run a retro C&C tribute website). The Red Alert 2 city idea seemed too hard at the time so I figured I'd continue working on the HoMM2 scenario and start work on a fun Command & Conquer 2 Africa Campaign Scenario as training first. Well now after months working on those projects I feel I have the confidence and experience to try and attempt this rather crazy idea of mine to change Civ2's well known world battle map style into a beautiful sprawling urban metropolis of endless tall buildings and streets for your tanks and bombers to fight over, all somehow within the limitations of the old Civ2 MGE engine of course! It's 20 years too late but I'm doing it anyway haha!
Dev Diary
Last few weeks have been busy.. but here and there I've found the time to continue work and am now pleased to say all the diagonal 1x3 combo buildings are finished! Here's a few of them!

Note: some of these buildings will have special un-damaged garrisoned versions that sit over the top of them as units
(Click to expand)




The last of my 1 cell building conversions are done too.. these government buildings, a resort, big trees, a fountain, and water debris replace special resources. The water rocky & cement debris is a bit lousy but I had no choice as any bigger and they overlap the seawall in places.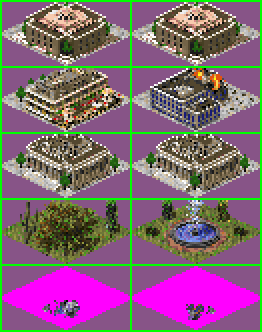 I have also recently finished my first super 3x3 (replacing the simple template you've seen in previous posts), this version is a bit taller, switches the flat roof for a pyramid style, and of course now has a mix of accompanying background buildings squeezed in around it.
(Click to expand)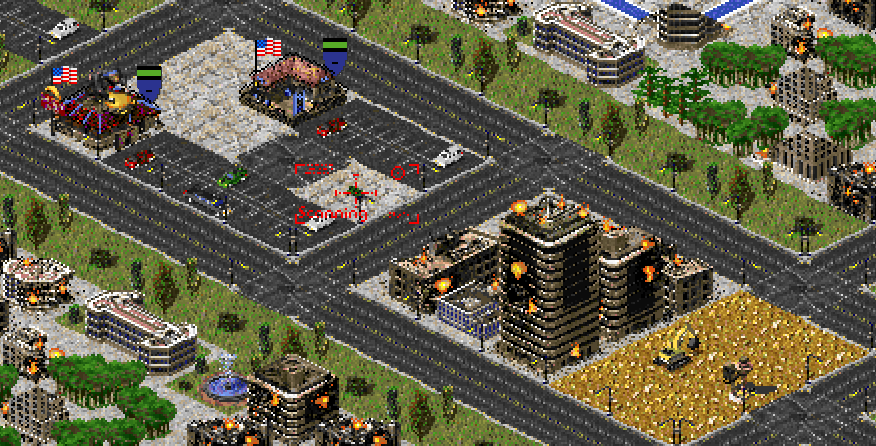 MetroPolis (who worked with me on the Civ2 HoMM2 scenario) had some time to kill so he helped me out by sorting out those pesky seawall coastlines I'd been putting off for ages while sorting out the buildings. Looks pretty good hey!

Note: the water debris locations will be regenerated/re-randomized into better spots that don't mess with the bridge graphics
(Click to expand)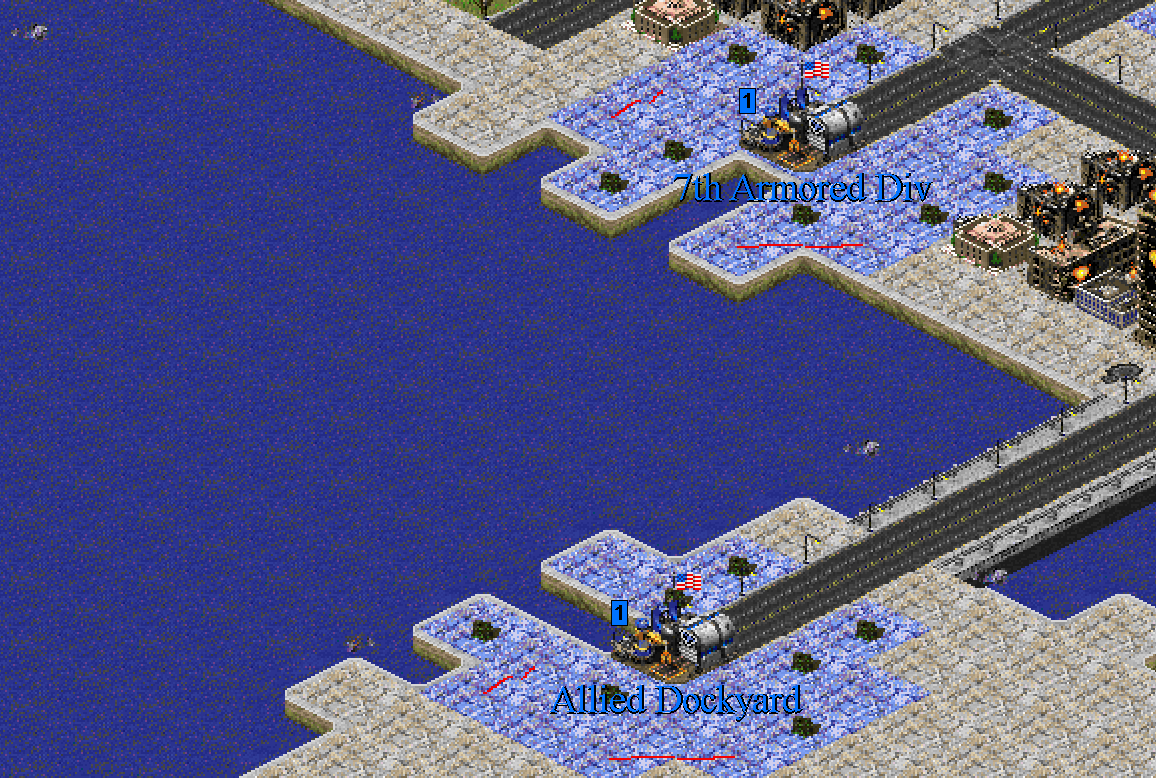 As usual while doing new stuff I start reassessing my old stuff lol and if you look at the diagonal 1x3 long buildings I posted above you'll see I pretty much had 2 of the same design which seemed like a bit of a waste of limited space. I'd run out of free slots and wanted to put in a RA2 church and didn't think it would look good in a 1x1 at all so I switched out one of these similar buildings above and replaced it.
Original / New:


The building I took out I'd use as background elements in my 3x3 super buildings.. which brings me to the best part and what was the hardest part of this whole process! Getting all 4 super 3x3 buildings finished and not just 1 version but 2 versions (garrisoned and empty/damaged). Here are all my finished 3x3 super buildings! With these elements complete I have all the buildings I need and can possibly squeeze into the game so I'm now putting the finishing touches to my big city metropolis battleground map.



Un-garrisoned / Garrisoned:
(Click to expand)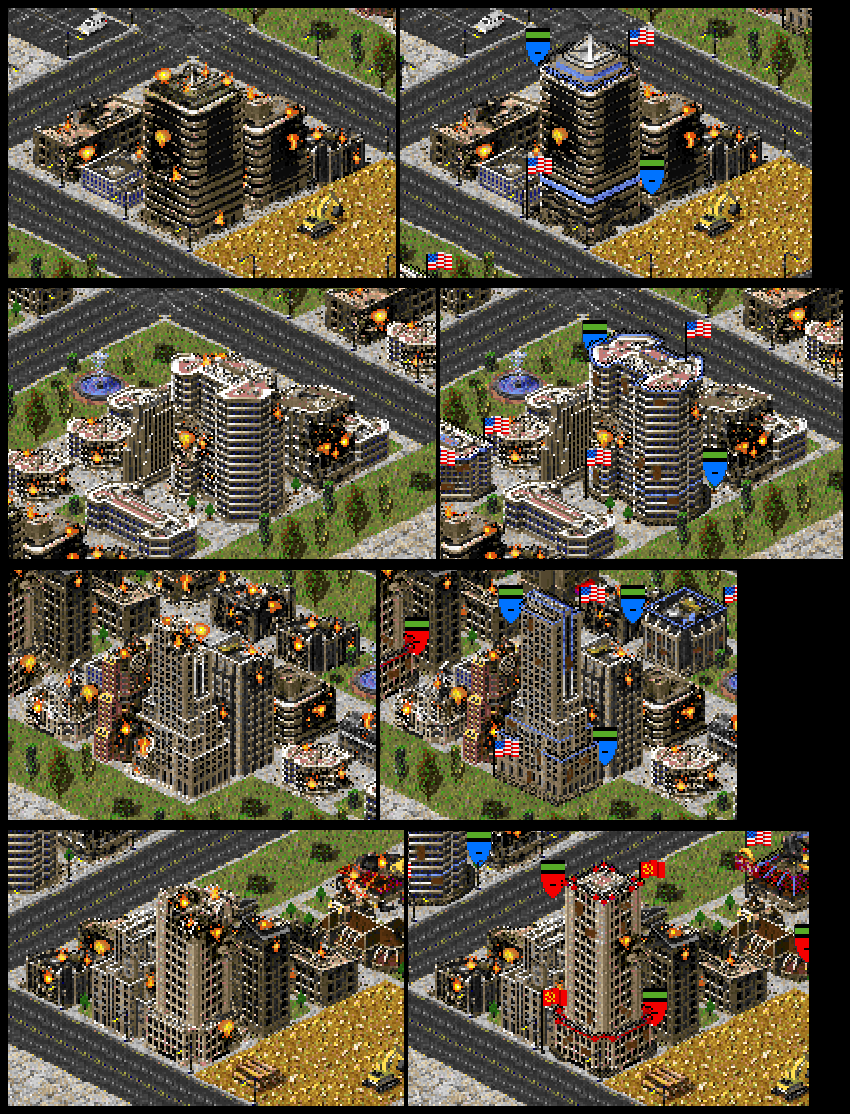 If you like my work please feel free to check out my other mod projects such as my & Metropolis's Heroes of Might & Magic 2 Civ2 scenario, my Red Alert 2 Siege of NY Civ2 scenario, my Command & Conquer Civ2 scenario remaster, my Terminator Future War Civ2 scenario remaster, my Deadworld Reborn Civ2 scenario remaster, my Civ1 Graphics for Civ2 mod demaster, my ToT Graphics for Civ2MGE mod remaster, my Civ2 Playstation Graphics for Civ2MGE mod remaster, my Better Terrain Graphics for Civ2MGE mod, my Alpha Centauri Civ2 scenario remaster, my Attila's Conquest - Play as Barbarians in every Civ game scenario series, my old Star Wars Civ2 scenario, my new Master of Magic Enhanced Civ2ToT scenario, and my Civ1 Soundtrack Overhaul mod. I'm also the creator of the popular Star Trek TNG GZDoom and Quest For Glory IV 3D Hexen GZDoom mods.