Website changes
So, a few of you have noticed that we aren't using our new website we put up a few months back. Long story short: It got raped nice and hard. We had so much tube clogging (bandwidth usage) from the Portal 2 contest that made our Web Hosting not very happy, and our wallets. You can read more about it over at our site: Gear Studios.
City17: Episode One Progress!

City17 has been chugging along. We've just ended the smallest Summer break any of us have had, ever. That means we'll be back on c17. It also means it's going to be really, really hot, seeing as the majority of the team live in mega hot locales.We're planning on doing a pretty big media update soon, but until you guys are gonna have to hold on tight, like a stalagmite.
In the meantime, here's some small media: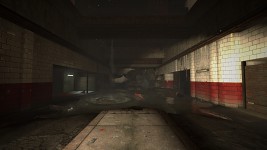 That's it for now. Check back around August, when we unfold a big ass update.
Be sure to check out our site: Gear Studios! You can also follow us on Twitter! Email us any comments/questions to mrtwovideocards@gmail.com.