The add-on has been released for a few days now and we have spent quite some time on the servers to see what people thought of our work. We've had some great feedback from the community so far concerning bugs and suggestions, which we will try to include in upcoming patches. Your feedback is still appreciated though, so if you find a bug or have any ideas don't be shy and post them!
We would like to extend a massive thanks to all the people that have downloaded the add-on. The client files have been downloaded over 7000 times and the server files over 400 times, so that deserves a thank you. We would also like to, once again, thank everyone that has been involved with the add-on over the course of the past year and a half.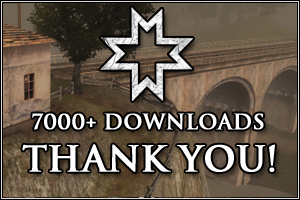 We would like to once again mention that we are always looking for more beta testers. A totally bug free release is almost impossible, but we would like to make sure that a lot of bugs get squashed in upcoming releases, which is we why we need more testers! Our plan is to release some patches in the upcoming future that not only solve bugs, but also add new functionality. If you're a proficient 3D artist, sound artist, animator, mapper, skinner or any other kind of developer, please don't hesitate to join since we can use all the help we can get to deliver patches and updates as soon as possible!
Are you interested in becoming a developer or a tester? Sign up on our forums!