*The mod files will be uploaded tonight*
First of all the Calradia Total War concept should resemble to the game Medieval 2 Total War, giving you a chance to control similar troops in Mound & Blade style(the varied Heraldic armors make it better looking in battle).
I saw there is some mods out there that do the same(and much better) but this mod idea was to be more simple, using native+ with only different troops to control.
This mod use Native Expansion 0.623 as a base mod.
All i did was adding new some items, adding new music, new texture, creating new banners to the factions and re-do all of the troops tree, thats it pretty much.
The problem is:
If a lord move to another faction that mean his banner is not relevant to the current faction he is in, this is an example of what happened after 30 days in the game: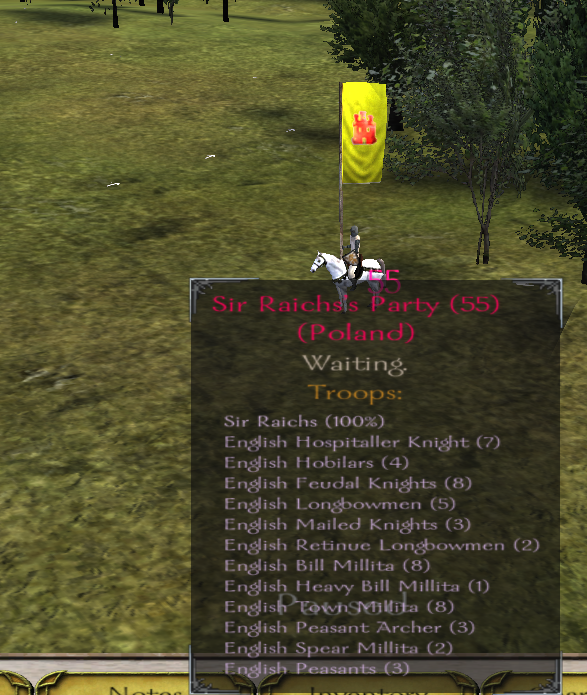 So we got here an English lord with a Spanish banner in the Poland faction, make sense.
Also with that native banners one of the Rhodoks(England) banners is the same with the Khergit Khanate(Spain) banners, so i dont know how to fix that like other mods did, and if all the mod is about the Heraldic armors fitting to the faction banner to make it look better for each faction while having this problem the mod just wont work.. you will see some turkish troops in a russia faction, its too messy.
Also Russia troop tree is missing(names are not), most of the Noble troop tree is missing and the troops stats need to be re-do, i recommend using Morghs M&B WB-WFAS Editor.
I used this website to resemble the troops- Wiki.totalwar.com
So im passing this forward if some1 can or want to fix or to implant this mod to his own creation you are welcome.
Im also creator of another mod - Moddb.com
Cheers.