1.4 Released!

The long awaited patch for Call of Chernobyl is finally here. The mod has seen a tremendous amount of growth and change since 1.3.2; we have been working hard this year to bring the stalker community this new content in the form of the 1.4 update. This patch contains so many changes it would be rather difficult to go through that list here but below is a brief overview.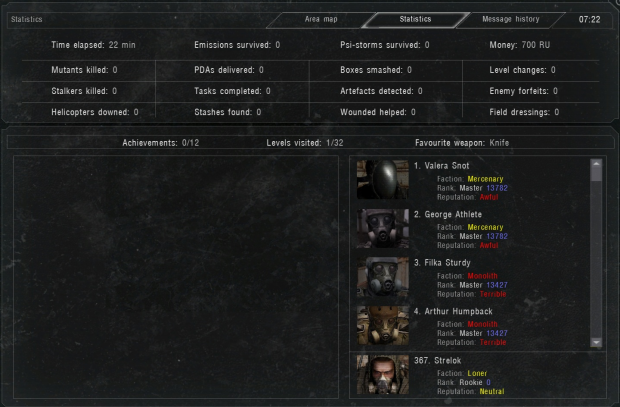 One of the first things to notice when firing up 1.4 are the changes to the PDA statistics screen. Many new stats are tracked and a portion of screen real estate is now dedicated to the top 100 leaderboard. Climb to the top of the leaderboard by increasing rank in-game and by being the stalker you were always meant to be. Hovering the cursor over other stalkers in the list may bring up their statistics but only after they have been encountered on the same map. Not only has the statistics screen seen an overhaul, but a new array of achievements have been added.
It's now possible to select from a broad array of faction-specific starting location. Additionally, the ability to select a character portrait has been added alongside a new game option to display a portrait that closely matches the equipped outfit. If you thought that was all, we added an optional story mode feature which can be toggled during character creation. It has a light dialog-driven focus and includes multiple endings. The task starts with a simple puzzle to find Doc and takes you on a journey throughout many of the game levels to discover the mysteries of the Zone.
Underground labs have been populated with all sorts of creatures. Now mutants can only be found during specific times of the day depending on their behavior type. Night predators like Chimeras, cats and snorks can now only be seen at night. Day time mutants like boar and flesh can only be seen during the day. However, these mutants can always be found in underground labs or during tasks regardless of time of day. Offline A-Life is now much more active and more willing to travel to far off levels. A new game options allows the player to control the population of the Zone, by reducing or increase stalker or mutant spawns based on a multiplier. Online exclusion radius is a feature added to gameplay options that blocks A-Life spawning in the player's immediate area and can be adjusted or disabled.
Artefacts can now degrade when their abilities and bonuses are activated. Degradation decreases the overall impact of both the bonuses and negative effects. Degradation is communicated in-game through the new Efficiency stat. Degradation promotes further artefact hunting and accumulation. In some cases stashing artefacts might be a wiser decision over cashing them in. Having the best artefacts no longer is the end of the line for artefact hunting. Artefact bonuses have been slightly boosted to help balance this feature. I would have liked to make protection artefacts give huge boosts to damage types and give them high degradation rates, but since this feature is optional that can't occur. Perhaps addons will expand on this idea further.
Now it's possible to visually equip knives, binoculars and grenades directly in the inventory menu. The non-slottable equippable items will be highlighted and will allow the ability to equip/unequip them via the context menu. This feature should open up new addon possibilities like tiered binoculars or new melee weapons.
New base defense events have been added to the game. During late night and early hours of the morning in several faction-specific bases, there is a chance swarms of mutants will attack a base. Furthermore, emissions sometimes cause zombified stalkers and mutants to swarm the bunker leaving it up to you to stop them, optionally with the help of a stationary machine gun on top of the bunker.
The arena has returned to Rostok. It is now possible to compete in two different arena types, the one everyone is familiar with from Shadow of Chernobyl and a cut version that exists in build 2571. Compete to win cash rewards as well as notoriety.
Equipment upgrade display has had an overhaul. The display bonuses are now more accurate and based on the real mathematical formulas. This gives a much better sense of what an upgrade is actually going to do. Cut outfit protections, strike and explosion protections have be restored and have been included in many of the existing upgrades.
You can now change FOV and Hud FOV directly from game options via a slider instead of using developer console. A slider for Grass Render Distance is now available in the advanced video options.
For a full list of changes, see the changelog
Happy Anniversary Call of Chernobyl!
It's one year since we released Call of Chernobyl publicly as version 1.2. Thanks guys for all the support and making Call of Chernobyl one of the best mods for Call of Pripyat!