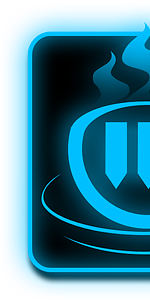 Experiments are interesting things, sometimes they work, sometimes they don't, sometimes they look like they are going to work then go horribly catastrophic and everything explodes, or worse, everything else explodes. We will be looking at things from most of these categories today in the form of BrewLAN's patchy history with experimental units in no real order.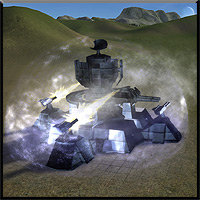 First up is the originally named 'Doomsday Machine'; a UEF experimental point defence I started making somewhere in the early reaches of BrewLAN's history, back when I had absolutely no idea what I was doing with LUA.
The idea was simple; "the Fatboy makes a cool point defence, lets make a cheaper immobile version that can get building adjacency bonuses and the like." Fair enough right? Unfortunately what I ended up with looked ugly, didn't like shooting westwards, and couldn't technically die because of my failed botch job code. The actual thing could blow up (I can't remember if you could then build there again or not) but the unit entity stayed there, probably still taking up unit-cap, and also counting towards units 'still alive' on supremacy mode. The upshot of which being that at the end of the game, the game didn't actually end because it still thought you had living units.
If I actually liked the concept of the unit at all I would have probably fixed these things, but it was an uninteresting idea that was badly executed from the start. So the unit was scrapped. And by scrapped I mean it was removed from the build menus but left in the game, so bored people with the cheat spawn menu open could still mess with the abomination.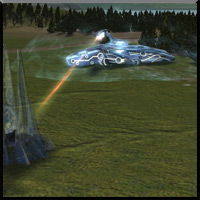 Next up we have possibly one of the most overpowered experimental's I ever conceived; the 'Iyadesu'. A Seraphim experimental engineer. I used the siege tank mesh as a base for it while checking how well it worked in concept. Which it didn't; its engineering speed was such that it could start and finish a tech 3 power plant in literally 8 seconds and it could also self propagate. Nothing should ever be able to self propagate. Once you built one the potential for exponential growth was based only on your ability to micromanage. A single one escaping from the ruins of a base could lead to another one being build within a few minutes. Fights literally came down to who could spam off them more, and who's internet connection could handle that. It was game warping. It had to go. And by go I of course mean removing from the build menu's for cheat spawn menu based shenanigans.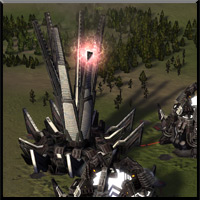 This next one was a 'how it should have been' rather than an original creation by me; the 'Scathis Mark II'. Now, there are a few reasons that I actually actually removed the wheels from the Scathis. For a start the design of the original Scathis has the turrets lowered below ground level while packed up to move, so it realistically speaking shouldn't have even been able to move without leaving a massive ditch behind it. Secondly on multiplayer it has the same range as the Mavor, so it never actually ever needs to move be in range. If you wanted to randomly shell an area, but there was nothing to specifically target there, as a vehicle it would try to drive there instead of shelling the area. While fighting against it you couldn't target your units to attack it from radar readings; this was mostly an issue to bombers, since they would have to do a first pass with no shots fired at it so they could get a target. It also couldn't receive the maintenance cost reductions and rate of fire boosts from powerplant adjacency bonuses, a bonus every other artillery could receive.
As a short range artillery the concept worked fine, even if the design was weird for it, but as a long range artillery it was flawed. The style of weapon works better as a building, I like it as a building.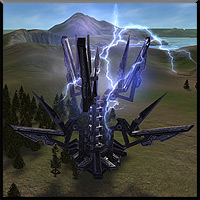 This one might seem an odd; a Cybran experimental shield generator; since the Cybrans have some of the worst shields in the game, and in many cases actually have stealth generators where the other races have shield generators. You might think that a stealth generator, or even a cloak generator would fit better instead. Anyone who used to play GDI instead of NOD on Tiberian Sun can attest that its gets just plain annoying. I won't go into why I don't like the ability to make everything ever invisible. But I will mention that the Cybrans, while having bad shields, did have five stages of shields generator buildings to everyone else's two (three with the BrewLAN additions). It seemed only logical that they would continue this trend of shielded bases and invisible forces. Its also better for game interaction when you cant make your everything ever invisible.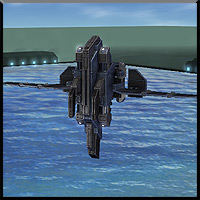 Speaking of game interaction, a massive perpetrator of non-interactive gameplay is the Novax Centre defence satellite. I'm sure you've been there; it feels bad going up against it, it feels cheap using it, and to boot its a satellite that can't even see what its firing upon 90% of the time. My fix; bumping it down to T3, removing its laser and giving it some sensors. Letting it fill the same equivalent design space as the Soothsayer and the Eye of Rhianne; as advanced visual intelligence gatherers. The only difference being that they can see you looking at them.
---
And that's it for now. There are more tales of experimental's to be told, tales of 'ducks', tales of people realising the Galactic Colossus has omni, and tales of exploding Cybran command units at the hands of Galactic Colossi that can see them, but this episode is long enough as it is. So, until next time this is Balthassar signing off. Part two will come, if and when anyone actually asks for it.